In this blog post, we're going to take a look at some very popular products that have just arrived, starting with the ARRMA Granite V3 Monster Truck.
Monster action with the ARRMA Granite V3 3S BLX

The Granite V3 RC Monster Truck from ARRMA has recently arrived in both colours - red and green. It is a 1/10 scale monster truck that comes Ready-To-Run (RTR), factory assembled with all the electronics pre-installed. The transmitter system and receiver are ready to go, but you will need to add your own battery and a suitable charger. The Arrma Granite V3 is compatible with a 2S or 3S battery with IC5 connectors or EC5 connectors. If this is your first RC car, we suggest going with a 2S LiPo. If you're more experienced and wanted to reach the 80km/h top speeds, then the 3S option would be the one for you.
Street bash in style with the ARRMA Felony 6S BLX
The next product arrival that we are going to talk about was probably the most popular release of 2020 - the ARRMA Felony 6S. This RC muscle car is simply cool, it's so popular that we've had multiple shipments of these, however, they were all pre-sold before arriving at our warehouse. This is the first shipment we have had that we are able to promote that we have stock to sell, and even so, we have very limited stock available.

Building on the popular Infraction and Limitless chassis, the ARRMA Felony is an incredible looking car with a multi-part muscle car body shell that displays a matte and gloss finish. Arrma have changed the internal gear ratio in the rear of the RC car to combat the larger diameter and wider rear tyres. Under the hood, you'll find a Spektrum Firma 2050kv motor and 150A ESC, and when you combine them with Spektrum LiPo Smart batteries, you can take full advantage of the Spektrum Smart technology that is available. The Felony can run a 4S setup or 6S set up. You'll get the most out of your Felony with a 6S setup, where you can reach speeds of up to 128km/h with the optional speed pinion gear that is included. A crazy fast vehicle that's sure to put a smile on your face every time you drive it.
Losi Lasernut U4 2.2 Rock Racer
A brand-new product from Losi is the Lasernut U4 Rock Racer. Like the Arrma Felony, it is a popular RC car that saw our first shipment of them pre-sold. It is based on the renowned Tenacity chassis and comes ready-to-run, complete with radio gear and electronics installed, you will just need to add your charger and a 3S or 4S LiPo battery with an IC5 or EC5 connector. It has the most power on the 4S setup, where you can hit speeds of up to 80+km/h!

Losi have done a fantastic job with the scale detail on this rock racer. It features an officially licensed Lasernut Racing scale body and roll cage, LED pod lights and light bar, officially licensed Raceline 2.2 racing wheels with BFGoodrich KM3 tyres, and more! If you're looking for an RC car with the looks, performance, and SMART's, check out the Losi Lasernut U4 Rock Racer.
Learn to fly with the E-flite Habu STS RC Jet!
Primarily EDF jets have been reserved for people who are onto their second or third aircraft, depending on how fast you're progressing as an RC pilot and whether you're using a simulator. They weren't made for beginner RC pilots... until now! The E-flite Habu STS is the ultimate jet trainer and is aimed at someone who wants to get into flying with an EDF jet. To make the Habu STS beginner-friendly, E-flite have added SAFE select and AS3X technologies that feature gyro stabilisation, three flight modes and Panic Recovery. The beginner and intermediate flight modes have restricted control to allow you to learn and get used to the aircraft. Once you become more confident with your flying skills, you can select the advanced mode where you have full control of the aircraft and can perform loops, rolls and more.
E-flite have also included the Trainer Edition of the RealFlight Flight Simulator and the Spektrum WS2000 Dongle, so you can learn how to fly and practise your skills with the Habu STS on your computer. Plus, you can upgrade to the full edition of the RealFlight Simulator at a discounted price and continue to use the Spektrum Dongle that is included. A fantastic forethought from E-flite, helping new pilots' transition into the world of flying with (hopefully) fewer crashes!
The E-flite Habu STS is available as a true Ready-to-Fly (RTF) model, with a Spektrum DXS transmitter, Smart USB charger and Smart LiPo battery as well as four AA batteries for the transmitter - there is nothing extra to buy or provide. The final assembly is quick and easy and you'll be ready to fly in less time than it takes to charge a battery.
Go mild or wild with the E-flite Ultimate 3D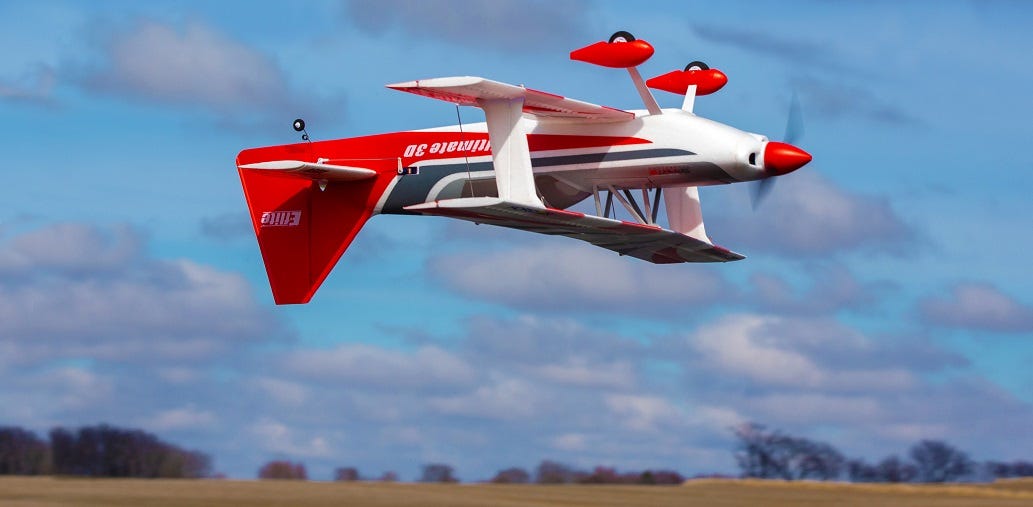 Unlike the E-flite Habu STS, the new E-flite Ultimate 3D is designed for intermediate to advanced RC pilots and is available in a Bind-N-Fly (BNF) and Plug-N-Play version (PNP). The Bind-N-Fly version includes a Spektrum receiver with AS3X and SAFE Select technologies, but you will need to add your own battery, charger and transmitter to complete. With the Plug-N-Play version, you will need to add a receiver as well. The E-flite Ultimate 3D RC plane is compatible with a 3S or 4S LiPo set up. If you're wanting unlimited aerobatics, the 4S setup is what you're going to need to get that kind of performance.
If you're looking for an aerobatic aircraft that is perfect for flying at the park, the Ultimate 3D might be worth a look.
Hangar 9 P-51D Mustang 20cc RC Plane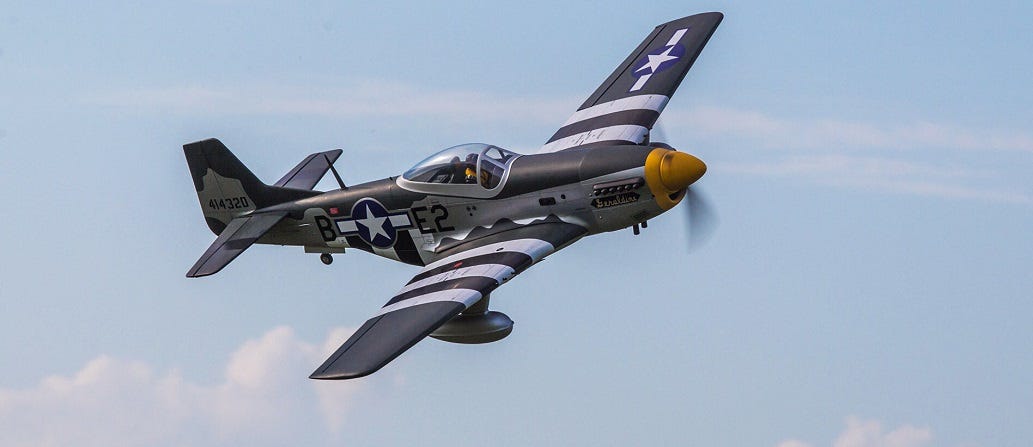 Mustangs are always are popular model among RC air enthusiasts and the Hangar 9 P-51D Mustang 20cc version is no exception. With its great flying tendencies, stunning scale detail and colour scheme, this RC warbird is a model you'll be proud to fly at the field. It comes Almost-Ready-to-Fly (ARF) meaning you will need to add a 20cc two or four-stroke gas engine, 8 servos, 5+ channel transmitter, propeller, and, 2 batteries for the receiver and engine ignition. It also includes all the hardware needed to install an electric outrunner motor system, so you can power it the way you want it!
E-Flite Conscendo Evolution RC glider
Another popular restock from E-flite is the Conscendo Evolution RC Glider. The Conscendo glider line has been on the market for a while and the Evolution is the latest version. The previous version was compatible with a 3S LiPo, while the Conscendo Evolution is compatible with 3S or 4S, giving you more power and performance. It comes in BNF and PNP versions and you'll need a transmitter, LiPo battery and charger to complete these models, as well as a receiver for the PNP version.

This electric glider is sporty, high-performance and quite aerobatic as well, so if you want something you can throw off a slope, fly on a flat field and whizz around the sky on 4S, the Conscendo Evolution RC glider is a great option.
OS Engines Speed B21 Ronda Drake Edition
We received a shipment from OS Engines and within that, we received a brand-new engine, the OS Engines Speed B21 Ronda Drake Edition. This engine is designed for 1/8 scale buggy and truggy racing. Its specifications are identical to the Adam Drake B21, but this version features a new crankshaft, pink cooling head, head button with an o-ring to reduce vibration and keep dirt out, new carburettor ball, and different size Pink venturi. It is available as an engine only or in a combo with the T2100SC exhaust system.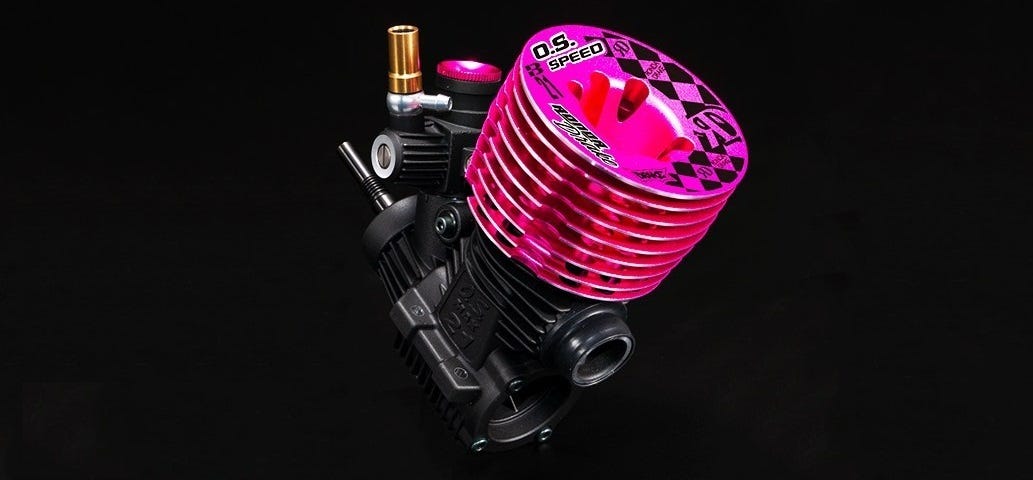 We have also received the Adam Drake edition engine as well as other engines for aircraft, boats, and on-road cars. If you're in the market for a new engine, check out OS Engines. They are the best in the business and we have a wide variety of engines for you to choose from.
We hope you've liked the diverse range of products that have come into stock, with some extremely popular releases arriving. Head over to the product pages for more information and if you have any questions, feel free to contact us and one of our sales representatives will be happy to assist.