With COVID-19 restrictions and delays in receiving shipments, we've finally got our hands on some popular products that we've been eager for. Let's take a look at some of our favourite arrivals.
HobbyZone AeroScout S RC Trainer Plane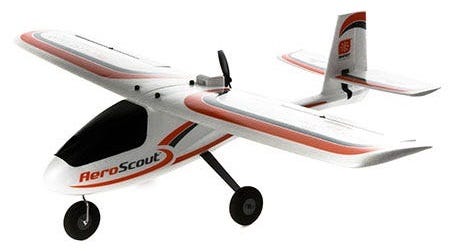 If you are looking to get into the world of RC flying, or know someone who is, the HobbyZone AeroScout S is an ideal first RC plane. It has some great features that you may gloss over outside of the standard features that make it incredibly beginner-friendly. Firstly, the HobbyZone AeroScout S is made from durable EPO foam making it super durable and able withstand crashes well. It also features a 'pusher' style motor set up, meaning the motor is mounted on the top of the wing facing the tail of the plane. This means you're unlikely to cause any damage to the motor propeller and motor shaft in the event of a crash or on landing. Another great feature is the oversized wheels that handle taking off and landing on longer grass and other terrains much better than the standard smaller wheels, giving you the option to fly at more locations. This RC plane comes truly Ready-To-Fly with everything you need to get in the air included in the box. It comes with a Spektrum DXe transmitter, Spektrum Smart LiPo battery and Spektrum Smart Charger. The Smart Charger has a convenient USB plug, so you can take this aircraft out to the park or field and use the charger from the accessory power in your car to charge your battery.
The HobbyZone AeroScout S features AS3X and SAFE Select technologies with Beginner, Intermediate and Advanced flight modes. Once you have graduated through the beginner and intermediate modes, and you're feeling more comfortable, flick over to the advanced mode and you'll find that the AeroScout S is capable of loops, rolls, stall turns and more. You can have a lot of fun with this model, it's quite versatile and is a great aircraft not just for beginners, but experienced pilots too. Our team have really enjoyed flying our demo model!
Air Tractor replica from E-Flite
A popular aircraft that has come back into stock is the E-flite Air Tractor. This beautifully modelled scale RC plane has a 1.5m wingspan and comes in a Bind-N-Fly (BNF) or Plug-N-Play (PNP) version. If you're not a Spektrum user, the PNP version would suit best as it comes with everything except a transmitter, receiver, battery or charger, so you can use your choice of products to power your aircraft. If you are a Spektrum user, the BNF version would be ideal. You will still need to add your own transmitter, battery and charger, but it comes with the Spektrum AR637TA receiver that features AS3X and SAFE Select technologies. A 3-cell or 4-cell LiPo battery would be suitable for this RC plane. A 3-cell battery (not included) combined with the brushless power system and 3-blade propeller deliver an abundance of thrust, while a 4-cell LiPo battery (not included) would give this aircraft even more power and unlimited vertical performance.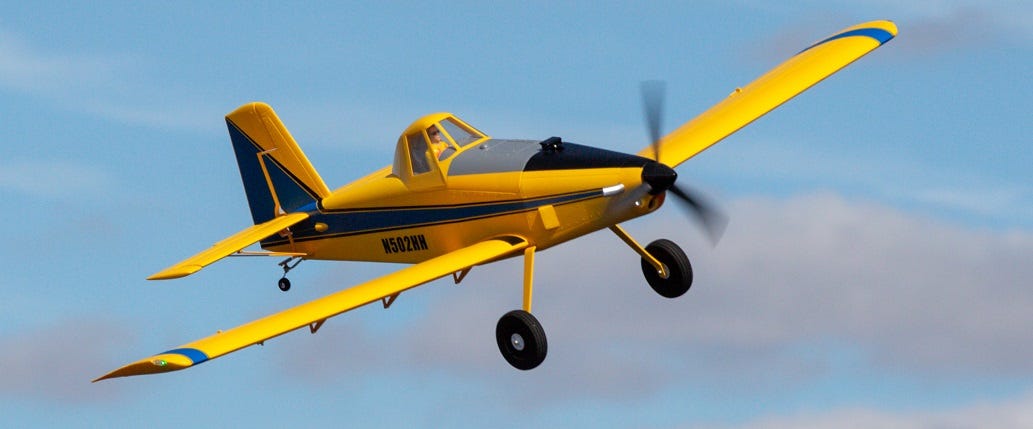 The E-flite Air Tractor is also compatible with floats and skis, so depending on where you're flying or what the climate is, you can purchase floats to fly off water or skis to fly off wet grass, snow or possibly even sand. So, if you're looking for a new sport flying aircraft, the Air Tractor may be the one for you.
Axial SCX10 II UMG10 Rock Crawler Kit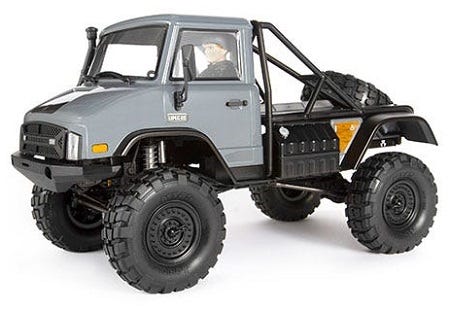 The SCX10 II UMG10 is a scale truck that is built on the amazing Axial SCX10 II platform and was designed with the experienced modeller in mind. As this is a kit, you will need to add your own 2 or 3 channel transmitter, steering servo, ESC, 540 size motor, 2-Cell LiPo or 6-cell NiMH battery, compatible charger, paint and the tools to put the SCX10 II UMG10 together. This realistic RC truck comes with many scale details including a military-styled forward cab, MW19 beadlock wheels with MT45 tyres, mirrors, functional spare tyre, multiple options for the interior details and more.
You can customise this kit to look like the real thing, or really make it your own.
Axial Capra 1.9 Unlimited Trail Buggy Kit
If you're someone who likes hardcore rock crawling, the Axial Capra 1.9 RC kit would be the perfect option for you. It features a realistic tub chassis, metal gears, oil-filled adjustable shocks with a single coil-over spring, hard-anodized threaded shock bodies and a bleed port equipped cap, as well as Currie F9 portal axles for huge ground clearance. By adding an SX107 Spektrum Micro Servo (SPMSSX107), you can utilise the DIG function where you can lock the rear axle at the flick of a switch, going from 4WD to front-wheel-drive and offering a tighter turning radius. The fully-licensed 3-piece moulded Raceline wheels do not come with tyres so you can fit them with your favourites. You will also need to add your own motor, battery, charger, ESC, servo, paint, tools to put the kit together and your own radio system.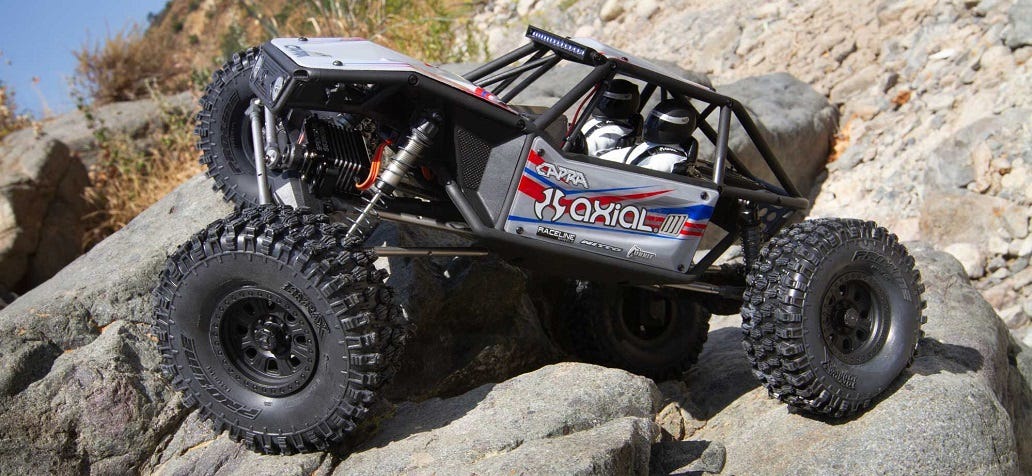 If you like this RC kit but aren't wanting to put it together, the Axial Capra is also available as a Ready-To-Run vehicle and comes in two colours - green and red.
A-10 Thunderbolt II replica from E-Flite
The last product we're going to take you through is another E-flite model, the popular A-10 Thunderbolt II EDF Jet. This aircraft is loved in its full-size form, so it's not really a surprise that modellers and aircraft enthusiasts love this in RC form as well. It features lots of scale details including a detailed cockpit and pilot figure, removable ordnance, LED navigation lights, operational flaps, moulded in panel lines, electric retracts and more.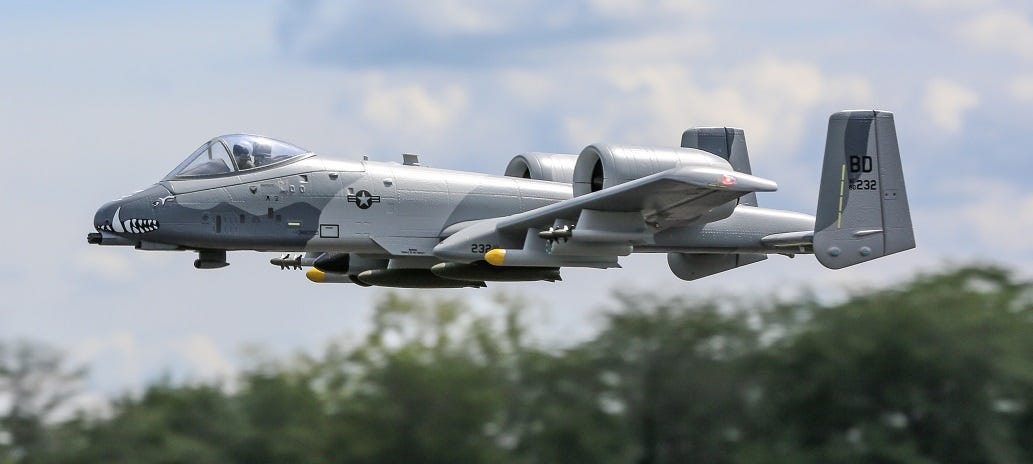 It comes in a Bind-N-Fly version equipped with AS3X and SAFE Select technologies. This powerful twin EDF is not suited for beginner RC pilots, but more for intermediate RC pilots on their second aircraft or first EDF. Running on a 6-cell battery (not included), the A-10 Thunderbolt II offers unlimited vertical performance and an impressive top speed of 160km/h. If comes factory finished in the rare, 'Flipper' grey camouflage, giving it a battlefield look whether it's in the air or on the ground.
These products we've highlighted are only a few of many that we have received. We have also had some RC boats come into stock as well as other popular aircrafts and cars. Head on over to our website to check them out. As always, don't hesitate to contact us if you have any queries.