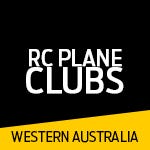 View all
RC Clubs in Western Australia
in a larger map.
This page was updated on January 2020. If you have any suggested changes, please contact Modelflight.
Looking for an RC model aircraft club in Western Australia? Check out the list of WA clubs below: Albany MAC
Flying all sorts of models, Albany MAC was founded in 1980.
Contact: George TaddPhone: 0427-517-618Address: Allmore Road, AlbanyWebsite:
https://www.facebook.com/AlbanyModelAeroClub
Collie Aeromodellers Society
Collie Aeromodellers were
...