RC kits are a fantastic and fun way to pass the time, be creative and even educate yourself on how your favourite RC products work and go together. Plus, it is a rewarding experience finishing and using an RC product that you have built yourself. In this blog post, we're going to take you through a few RC plane and car kits that we have available at Modelflight.
Cross RC SU4A Rock Crawler Kit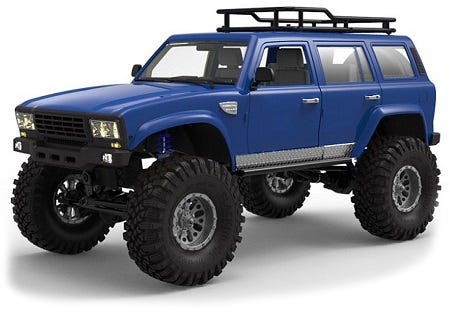 The first RC kit that we're going to cover is the SU4A Sports Edition RC Crawler from Cross RC. This kit comes with a 35T brushed motor, but you will need to add your own radio gear, ESC, battery, servo, charger and tools. Building this kit from the ground up will take you around 4 – 5 hours to complete with the highly detailed, easy to follow manual. If you're a less experienced modeller, it may take you a bit longer than 5 hours.
All Cross RC kits are not only great performing crawlers but they have incredible in-depth detail - and the SU4A is no exception. These details include LED lights, a grill on the front, snorkel, a magnetic rear liftgate, engine cover and mirrors, with interior details like 5 seats, an engine panel, gearshift, drink holders and a hand brake - it's about as realistic as you can get. The tyres that are included with the SU4A RC Crawler are accurate, soft and sticky to get you up and over obstacles.

The SU4A Sports Edition crawler kit is one you can take and really make your own. It comes with a hard body shell, made of metal that you can paint however you like and even create a rust effect, giving you more opportunities to utilise your creativity and personalise your crawler. So, if you're into crawling or want to build something with lots of detail, the Cross RC SU4A RC Crawler kit may be the one for you.
Rage RC Mini-Q 4WD RC Car Assembly Kit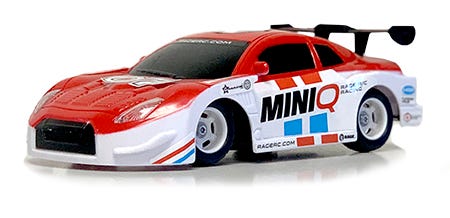 If you're looking for an affordable RC car that you can operate indoors, the Rage RC Mini-Q is a great option. It's an easy to assemble kit with step by step instructions, that will take about an hour to build even if it's your first RC kit. All the gear differentials and suspension come pre-built, making the build process simple and suitable for kids aged about 8+ with adult supervision. The Mini-Q comes with everything you need including all of the electronics, battery, charger, transmitter and even the tools you need to put it together. All you'll need to purchase separately is 4 x AA batteries.
Not only is the Mini-Q an easy kit to put together, but it is a capable RC race car. With an optimised shaft-driven 4WD system with front and rear gear differentials and full ball bearings, the Mini-Q offers surprising performance for such a small package. The included transmitter features adjustable steering rate and uses 2.4Ghz frequency, meaning you can be operating more than one of the Mini-Q's at once with no interference. So, if you're wanting to entertain your family, or even have a few mates you'd like to race, you can buy a few of the Rage RC Mini-Qs, set up a race track in the house and have a bunch of fun!
Seagull Models P-47D Thunderbolt Master Scale Edition Kit

RC aircraft kits are less common these days with the prevalence of Almost-Ready-To-Fly models and others that you can get into the air much faster. For those aircraft kit building enthusiasts who are wanting to build something from the ground up, Seagull Models have a few great options, including their P-47D Thunderbolt Master Scale Edition kit. This beautifully modelled warbird comes with all laser cut parts and is designed to suit 10-15cc engines. It comes with a highly-detailed, step-by-step manual, high-quality hardware pack, sanding block and sandpaper, painted pilot, engine mount, decals, mechanical retracts, cowling, bombs and drop tank as well as LED navigation lights. You will, however, need your own glues and tools to put this model together.

Because this kit doesn't include covering, you can achieve as much or as little detail as you like, adding your own flair, in whatever scheme you choose (through the choice of covering). To get this model up in the air you will need to add all of your electronics, your choice of engine, a transmitter, receiver and servos.
Moustache Model Works DeHavilland Canada DHC-2 Beaver Kit
Another great option for the aircraft kit builders is the Moustache Model Works DHC-2 Beaver kit. This high-detailed RC plane's scale outline has been drawn from factory blueprints and the build will take approximately 100 - 150 hours. The wings and tail are traditional balsa construction while the fuselage is primarily lite-ply. It also features tab-and-slot construction that ensures the straightness of the fuselage, and laser-cut parts to ensure accuracy.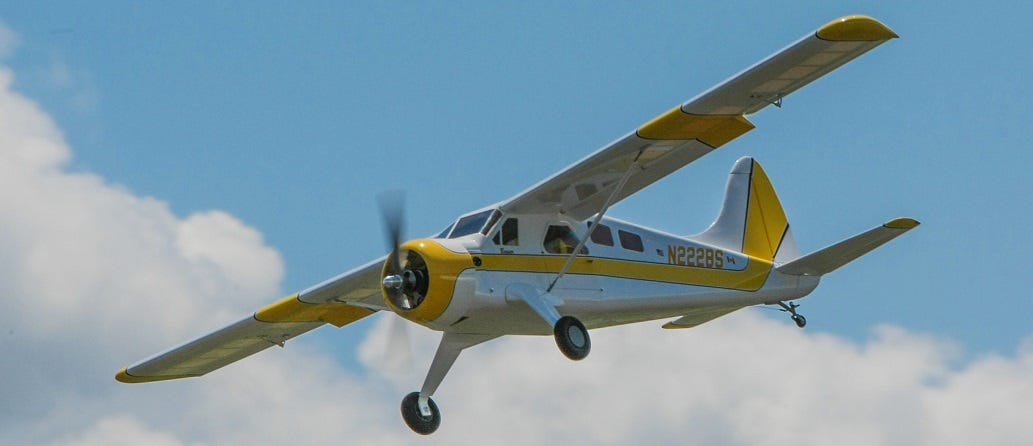 You can really personalise the Moustache Model Works DeHavilland Canada DHC-2 Beaver and not just by giving it a different paint-job. Depending on what you like and what Beaver you'd like to model after, you have the option to choose between an upper or lower intake, as well as choosing the shape of the rear side windows and if you'd like single or dual windows. You can also power this RC plane how you want, whether that be gas, glow or electric powered. You will need to all your own electronics, choice of powerplant, transmitter, servos, wheels, covering material and all of your tools and materials to assemble it.
If you'd like more detail on this RC plane, check out this blog post.
We have a whole range of RC kits available on our website. Click the links below to check them out:
We hope this has helped you gain some insight on some of the RC kits we have available. As always, if you have any questions about these products, or any other products on our site, please contact us on (08) 8186 4250 or via email, and we will be happy to assist.