E-Flite Conscendo Evolution 1.5m Electric Glider, BNF Basic, EFL01650
The Conscendo Evolution 1.5m from E-flite has evolved with a 3S and 4S compatible power system along with a stiffer and stronger airframe. This RC glider can easily handle fun flying to 3D aerobatics and everything in-between.
Looking for spare parts or upgrades?
Next level Conscendo that is more capable, fun and powerful for all kinds of flying
Stiffer and stronger high density EPO airframe gives increased speeds and aerobatic ability
Folding propeller and brushless outrunner motor compatible with 3S/4S batteries
Telemetry capable 30A ESC delivers real-time motor RPM, current, battery voltage and other data with compatible SMART transmitter and receivers
Up to 15-20+ minutes of flight time using mix of on/off power flying with 3S 1300-2200mAh or 4S 1000-2200mAh batteries
AS3X and SAFE Select flight envelope protection technologies available
AR637TA Spektrum receiver with industry leading DSMX technology and full range telemetry. Note this RX does not have the Vario/Altitude function
Ailerons with four factory installed linkages and servos are included in the 4-channel control
High-density composite reinforced EPO construction is lightweight and tough
Perfect for first timers to the world of powered sailplanes given its ease of launch/fly/land
Easy and fast no glue assembly with two-piece wing and stabs making for easier on-field assembly
The most powerful, capable and fun to fly Conscendo yet
The Conscendo started life as an RC glider aimed at newcomers to the RC world. An 'Advanced' version was released a few years later that turned out to be a hit with intermediate/experienced pilots because its increase in power enabled more flight options. Fast forward to now and the latest E-flite Conscendo Evolution 1.5m RC glider is now even more capable, powerful and fun to fly! A higher density composite reinforced EPO gives this airframe a stiffer and stronger feel. When combined with the increased power of a 3S or 4S compatible power system you are guaranteed higher speeds. You also get a more responsive RC glider as the brushless power system works in combination with a telemetry-capable ESC that increases the aerobatic capability of the E-flite Conscendo Evolution 1.5m RC glider to give you a level of sport flying and soaring that you associate with the Conscendo....only better!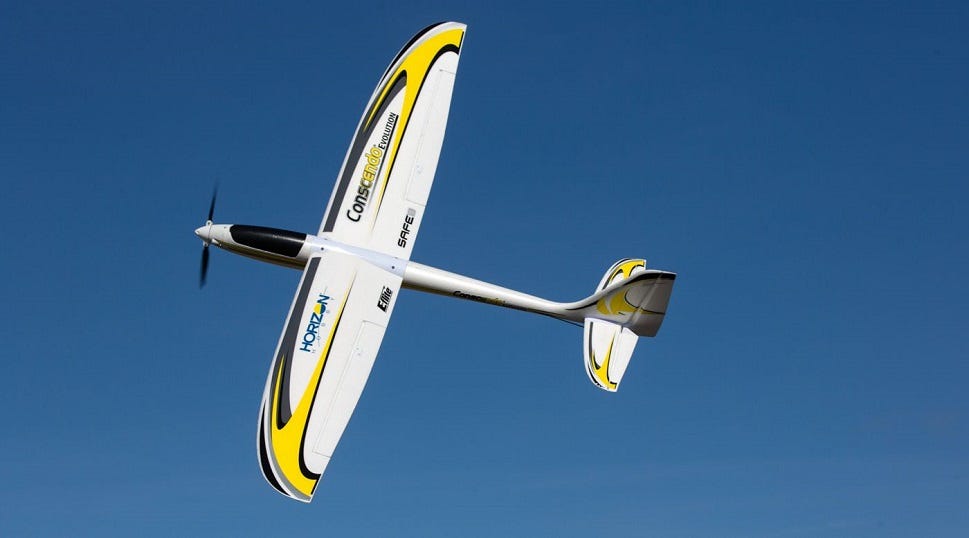 To harness the extra power that the new E-flite Conscendo Evolution 1.5m RC glider utilises it comes with a specially tuned outrunner motor and folding props to decrease air drag. The climbing ability and thrust is increased incrementally dependent on your choice of 3S or 4S battery. To enhance your flying experience and help you get the most out of the E-flite Conscendo Evolution 1.5m RC glider it comes equipped with an ESC that gives you a range of real-time data related to the power system with up-to-date information on battery voltage, motor RPM, current plus more. You will need compatible receivers to take advantage of all this data and that includes the Spektrum AR637TA that is installed in the BNF version only. You will also need transmitters equipped with Spektrum AirWare which includes DX6e and 8e, DX6 G2/G3 and 8 G2, the DX9, iX12, iX20 and others.
Utilising full 4-channel control and the factory fitted linkages and servos the handling and response on the E-flite Conscendo Evolution 1.5m RC glider makes for an exciting fly whether under power or gliding the thermals. This BNF version includes the Spektrum AR637TA and you can take advantage of some exclusive technology that makes flying even easier.
If the E-flite Conscendo Evolution 1.5m is your first powered glider then having AS3X® and optional-use SAFE® Select technologies at your disposal makes perfect sense.
If you chose to engage SAFE Select you can set:
Pitch and Bank Angle Limits
• Prevent rolling or pitching upside down with pre-set flight envelope limits. This will also stop your Conscendo from excessive climb or dive angles.
Automatic Self-Leveling
• When taking off or landing this will help you keep the wings level. If you get muddled up or just simply panic the airplane will instantly return to and hold level flight when the sticks are released and in the centre position.
Easy Switch Assignment—No Complex Programming Required
• To turn SAFE Select on you simply and easily assign a switch on your transmitter to engage or disengage it. This doesn't require any complex programming and takes no time at all.
If you reach a stage of your flying where you don't feel the need to have the SAFE Select features engaged then you just need to bind the receiver normally and it will function like a standard AS3X receiver.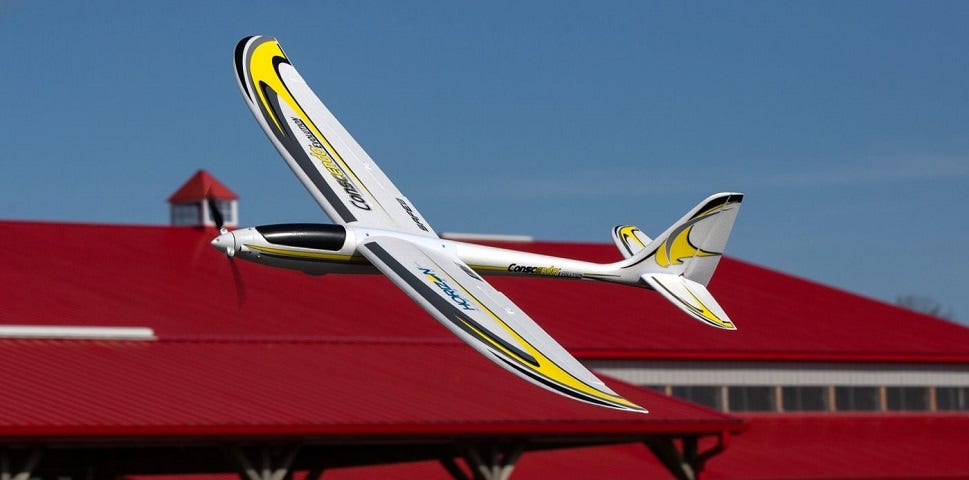 The advantages of Bind-N-Fly
If you own a Spektrum transmitter already then getting the E-flite Conscendo Evolution 1.5m RC glider airborne will be even easier. With the servos, power system and 2.4GHz Spektrum receiver already installed it is simply a matter of binding the receiver to your transmitter and you are ready for supersonic take off!
The Spektrum DSMX receiver fitted in the E-flite Conscendo Evolution 1.5m RC glider features the AS3X (Artificial Stabilization 3 aXis) system that nullifies the effects of turbulence and wind by working behind the scenes to provide increased precision and stability when your RC plane experiences non-optimal flying conditions.
SAFE Select is optional technology that gives the E-flite Conscendo Evolution 1.5m RC glider an extra margin of safety by enabling features that will ensure your flight envelope is limited to keep you out of trouble until you are a better flyer or have familiarized yourself with the controls. No programming is required to engage SAFE Select as it is built into the receiver. You just need to follow the manual directions and change up the binding sequence to switch it on.
Full-range 5+ channel Spektrum™ DSMX®/DSM2® compatible transmitter
3S 11.1V 1300–2200mAh or 4S 14.8V 1000–2200mAh LiPo with EC3™ or IC3™ Connector
Compatible LiPo charger
Wingspan

59 in (1500 mm)

Overall Length

39.6 in (1005 mm)

Flying Weight

34.3 oz (971 g)

Motor

Brushless Outrunner (installed)

Speed Control

30A Brushless ESC (installed)

Servos

(4) (installed)

Radio

Full-range 5+ channel Spektrum™ DSMX®/DSM2® compatible transmitter (sold separately)

Receiver

Spektrum™ AR637TA 6-channel (installed) (BNF Basic version only)

Battery

3S 11.1V 1300–2200mAh or 4S 14.8V 1000–2200mAh LiPo with EC3™ or IC3™ Connector

Experience Level

Skill Level 2 = Some Experience Required

Rec. Environment

Outdoor

Assembly Required

Yes

Approx. Assembly Time

Less than 1 hour
All product manuals are provided by the manufacturer, If you don't find the manual or information you are looking for, contact our experts for help.