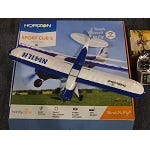 WE FLY THROUGH OCTOBER INDOOR
Although we were down a little on numbers on October 16th, it was none-the-less an enjoyable evening for all who were able to attend, and by half way through our scheduled flying time, all the "leedies" had departed and left us with the entire stadium.
We welcomed Michael O'Reilly home after he and Janine had spent a quite lengthy time in foreign countries. I shan't repeat details as they appeared in my September episode and, apart from that, I am inclined to "go all funny" with envy. Let it suffice, or begin, by saying that my first picture is of a very small quad that he flew that night. Too small for me - I couldn't see it when it sat on the desk...