E-Flite Ultimate 3D Bi-Plane, BNF Basic, EFL16550
The proven biplane design of the E-flite Ultimate 3D has now been updated with faster and stronger metal geared servos, 3S and 4S compatible power system, and, Spektrum Smart Technology to give you a better flying experience whether you're 3D flying or just going for a cruise!
Looking for spare parts or upgrades?
Optimized 3D performance with oversized control surfaces giving you extreme throw capability plus vortex generators
Higher level of sport and scale flying with upgrades giving precise 3D and aerobatics
3S or 4S LiPo compatible specially tuned motor that doesn't require upgrading or modifications
Avian 60-amp Spektrum Smart ESC gives you real-time temperature, battery voltage and other information via compatible transmitters (7+ channel required to perform reversing) and receivers
AR637TA Spektrum receiver equipped with DSMX technology and full range telemetry
Optional use SAFE Select flight envelope protection that makes flying easier
Enhanced flight stability assistance provided by AS3X technology
Four metal-geared factory installed servos for higher speed and torque and equipped with ball-link linkages
Quick release hardware and tool free wing assembly allow for fast and easy transport and storage
Hollow-core, composite reinforced lightweight EPO construction
Superb graphics and updated trim scheme have been factory applied
Ultimate 3D RC Biplane from E-flite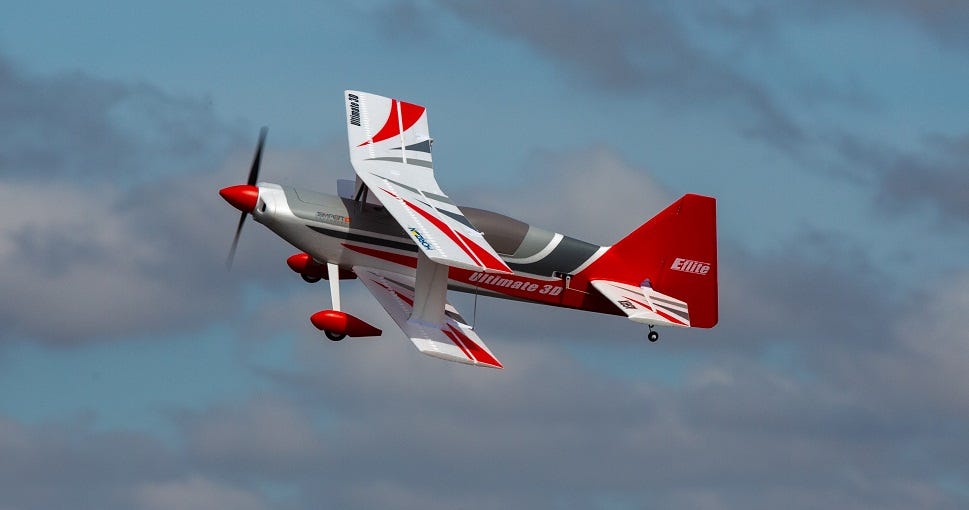 The aerobatic capabilities of the Ultimate biplane came to prominence when Gordon Price built and flew the first 10 Dash Ultimate design back in the mid-1980s. From there he flew another Ultimate to win the 1988 World Aerobatic Championships. Fast forward to 2015 when E-flite unveiled their first Ultimate 2 which was widely praised by RC pilots for its 3D capabilities and aerobatic performance. Five years later the E-flite Ultimate 3D RC biplane hits the air with upgrades that make a good thing even better.
A power system upgrade gives you 3S or 4S LiPo power with unlimited vertical capability. Higher speed and higher torque from the metal-geared servos also enables the pilot high-performance control to go along with increased power. The Spektrum AR637TA receiver and 60-amp Avian Smart ESC give the E-flite Ultimate 3D RC biplane full-range telemetry including real-time current, temperature and battery voltage. With a compatible 7+ channel transmitter, you can also utilise motor reversing when ground handling maneuverability is required.
Outstanding control and extreme 3D capability
You can cruise along doing some casual sport flying with your E-flite Ultimate 3D RC biplane, or, you can throw it around with the oversized control surfaces for high-performance 3D aerobatics. Ball-link equipped linkages on the metal-geared servos deliver precise control and when combined with the bevelled hinge lines it is possible to deflect to high angles to really push your flying to the limit. The upgraded power system combines expertly with the specially tuned prop and motor to take advantage of the extra power at your disposal without the need for modifications.
The Smart technology equipped into the E-flite Ultimate 3D RC biplane will work with a wide range of compatible Spektrum transmitters including the DX6e and 8e, DX6 G2/3 and 8 G2, the DX9, iX12, iX20 and others.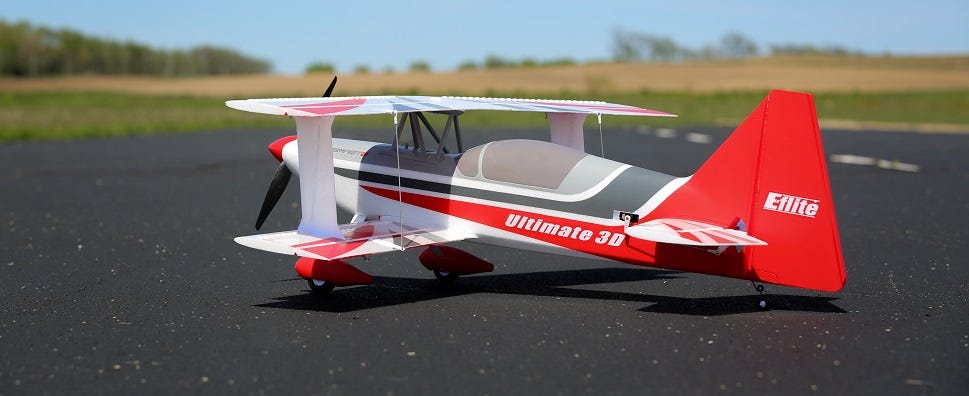 The lightweight yet durability of the E-flite Ultimate 3D RC biplane is underpinned by the hollow-core, composite reinforced EPO construction. The trim scheme has been factory applied so all you need to do to get in the air is install the wings...no tools required! When you're finished the E-flite Ultimate 3D RC biplane is just as easy to dismantle, transport and store.
Stay in control with AS3X and SAFE Select Technologies
Whether you are a beginner or a seasoned pro you can sometimes find yourself getting into tricky mid-air situations. Spektrum have two exclusive technologies that will help you when your E-flite Ultimate 3D RC biplane is airborne. AS3X is a technology that works behind the scenes in order to smooth out the effects of turbulence or wind and gives the pilot a locked-in feel that is generally associated with flying a much larger aircraft.
SAFE Select is an optional use technology that enables you to cater to your own flying experience. Offering bank and pitch angle limits as well as automatic self-levelling if you get into trouble you can alter the level of SAFE Select's application depending on your confidence levels, or, even switch it off entirely.
Bind-N-Fly aircraft
The advantage of BNF aircraft is that if you own a compatible Spektrum transmitter already all you need to do is bind the receiver to it, finish putting the wings on your E-flite Ultimate 3D RC biplane without the use of tools and then hit the airways!
Full-range 5–7+ channel Spektrum™ DSMX®/DSM2® compatible transmitter
3S 11.1V or 4S 14.8V 1800–2700mAh LiPo with EC3™ or IC3™ Connector
Compatible LiPo charger
Wingspan

37.6 in (954.4 mm)

Overall Length

42.6 in (1082.3 mm)

Flying Weight

3.2-3.4 lb (1.46-1.52 kg)

Motor

Brushless Outrunner (installed)

Speed Control

Spektrum™ Avian™ 60A Brushless Smart (installed)

Servos

(4) High-Torque Metal-Geared (installed)

Radio

Full-Range 5-7+ Channel Spektrum™ DSMX®/DSM2® compatible transmitter (sold separately)

Receiver

Spektrum™ AR637T 6-Channel (installed)

Battery

3S 11.1V or 4S 14.8V 1800-2700mAh LiPo with EC3™ or IC3™ Connector

Experience Level

Skill Level 2 = Some Experience Required

Rec. Environment

Outdoor

Assembly Required

Yes

Approx. Assembly Time

Less than 1 hour
All product manuals are provided by the manufacturer, If you don't find the manual or information you are looking for, contact our experts for help.