September was quite an exciting month for RC aircraft enthusiasts with some great new releases from popular brands like E-flite, HobbyZone and RealFlight. In this blog post, we're going to highlight the new additions to our range of RC aircraft, starting with the HobbyZone Mini AeroScout.
HobbyZone Mini AeroScout Beginner RC plane
HobbyZone are known for making great beginner aircraft for first time pilots and the Mini AeroScout is no exception. Inspired by the original AeroScout S, the Mini AeroScout is a smaller, more affordable version that can be flown in smaller parks, sports fields, large indoor spaces and other similar areas. What makes this RC plane great for beginners is the durable EPP foam construction and push power configuration, which helps protect the propeller and motor when you inevitably crash while you're learning to fly. It comes with everything you need to get in the air including a 2.4GHz transmitter, a Spektrum 3.7V 800mAh 1S LiPo Battery and a USB charger for easy and convenient charging. Although this is a trainer RC plane, it is capable of aerobatic manoeuvres like rolls and loops, so even experienced pilots can have fun with this model.
E-flite F-18 Blue Angels 80mm EDF RC Jet
E-flite's NEW F-18 Blue Angels 80mm EDF Jet pays tribute to the iconic U.S. Navy Blue Angels Demonstration Team. Constructed from durable EPO material, E-flite were able to replicate the fine moulding lines and complex detail that make this beautiful aircraft a stand-out. Some of the scale details include removable ordnance and drop tanks, a pilot figure, operational flaps and control surfaces with pocket hinges, full flying stabs, LED navigation lights plus retracts and sequenced gear doors.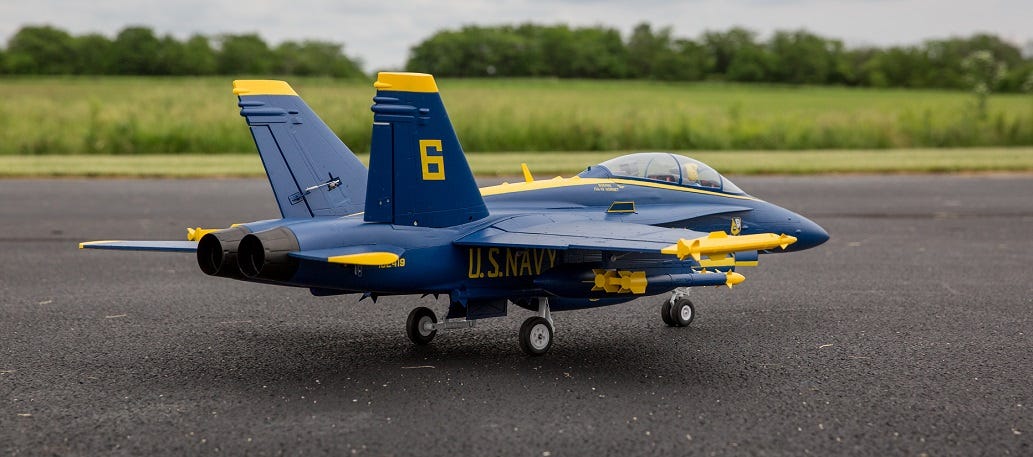 Not only does the F-18 Blue Angels RC jet look good, but it has great flight performance. Getting its power from the factory-installed brushless in-runner motor and 100-amp ESC, with the addition of your 6S 4000-7000mAh LiPo (sold separately) the F-18 Blue Angels has virtually instantaneous throttle response, speed and fantastic vertical performance. The F-18 Blue Angels EDF Jet also features a 12-blade 80mm fan that delivers an incredible turbine-like sound. Assembly of the F-18 is glue-free, easy and can be ready to go before your battery is charged.
Available in a Bind-N-Fly completion level, you will need to add your own 6-7+ channel transmitter, 6S LiPo Battery and compatible charger. The E-flite F-18 Blue Angels RC jet comes with the Spektrum AR636 6-channel receiver that features the exclusive Spektrum technologies, AS3X and SAFE Select.
E-flite V1200 1.2m RC plane
If you have a need for speed, you need to check out E-flite's NEW V1200 RC plane. It is the fastest prop-driven E-flite plane yet with a huge top speed of 225+ km/h on a 6S LiPo and 177+ km/h on 4S LiPo with no modifications! It is based on the popular V900 RC plane with some fantastic improvements. It has a strong, stiff airframe that is composite reinforced and made from high-density EPO foam, giving the V1200 a smoother surface that is resistant to dents and other damage. Electric retracts and operational flaps are included that allow for shorter take-offs and landings and give the V1200 surprisingly stable slow-flight capabilities, while the six factory-installed metal-geared servos offer precise control.

It is available as a Bind-N-Fly version that includes a Spektrum AR637TA receiver with full-range telemetry, SAFE select and AS3X technologies or a Plug-N-Play version for non-Spektrum users. Both versions come with a Spektrum Avian SMART ESC that provides real-time telemetry data including motor RPM, battery voltage, temperatures and more when you use a compatible receiver (like the Spektrum AR637TA) and transmitter.
Prime RC F-38 Hornet Flying Wing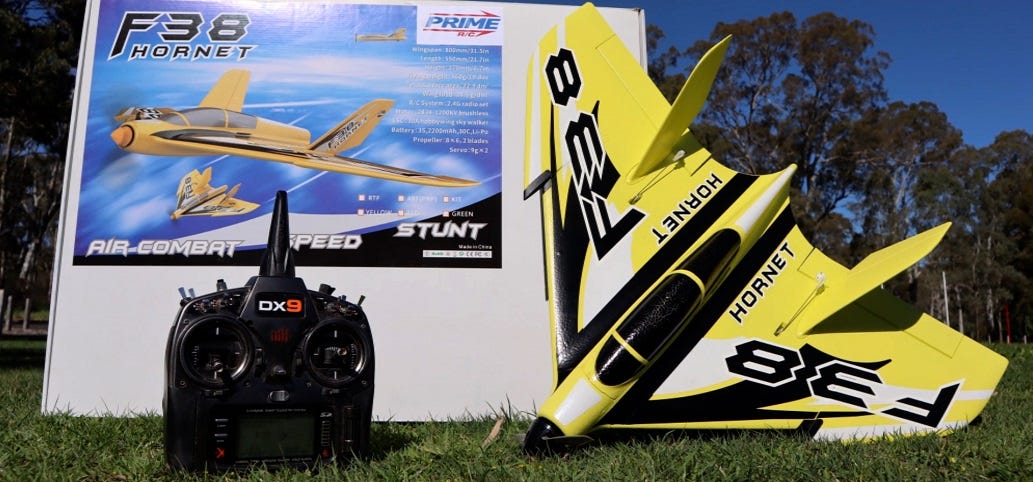 Flying wing fans, this one is for you! We are excited to bring you this new release from Prime RC. The F-38 Hornet flying wing is affordable, fast and loads of fun. The moulded from EPP foam construction makes the F-38 Hornet lightweight, yet durable for those less than perfect landings or crashes. It gets its power from the factory-installed brushless outrunner motor and Hobbywing Skywalker 30A ESC and it also comes with two 9g servos. Available as a Plug-N-Play format, you will need a full range 4+ channel transmitter and receiver, 3S 2200-3200mAh LiPo battery and compatible charger to complete the model. A removable nose leg is included and the tractor configuration makes it safe and easy to hand launch.
RealFlight 9.5 RC Flight Simulator

This next product isn't a new RC plane, but a new RC flight simulator that is a fantastic tool for beginners learning how to fly or experienced pilots wanting to practice manoeuvres and hone their piloting skills. RealFlight are known for their realistic RC flight simulators and the RF9.5 is the newest edition to their line-up. It features more than 170 aircraft to choose from, with over a dozen new additions including:
HobbyZone AeroScout™ S 1.1m with SAFE® Technology

E-flite V1200 1.2m with AS3X and SAFE Select Technologies

E-flite Habu STS 70mm EDF Jet with SAFE Technology

E-flite F-15 Eagle 64mm EDF Jet with AS3X® and SAFE Select Technologies

E-flite F-16 Thunderbirds 70mm EDF Jet with AS3X and SAFE Select Technologies

E-flite A-10 Thunderbolt II Twin 64mm EDF Jet with AS3X and SAFE Select Technologies

E-flite Twin Otter 1.2m with AS3X and SAFE Select Technologies

E-flite Twin Otter 1.2m with Floats, AS3X and SAFE Select Technologies

E-flite Cirrus SR22T 1.5m with AS3X and SAFE Select Technologies

E-flite P-51D Mustang 1.5m with AS3X and SAFE Select Technologies

E-flite UMX Turbo Timber® with AS3X and SAFE Select Technologies

E-flite Turbo Timber 1.5m with AS3X and SAFE Select Technologies

E-flite Turbo Timber 1.5m with Floats, AS3X and SAFE Select Technologies

E-flite Night Timber X 1.2m with AS3X and SAFE Select Technologies

Hangar 9 Pitts S-2B 50-60cc

Synergy RC 696 Helicopter
Not only does it add more of the most popular aircraft to the simulator, it also adds more Virtual Flight Instructor lessons and the AMA Headquarters' International Modelling Centre (IAC) Flying Site 3 to the long list of flying sites to choose from. Like its predecessor, the RealFlight 9.5 simulator is compatible with some VR headsets and gives you the ability to compete and fly with other pilots online. And the best part is, if you already own RealFlight 9 you will receive an update to RF9.5 at no charge!
RealFlight 9.5 is available with a Spektrum InterLink Controller, or as a Software Only version.
We hope this has given you some insight into the newest RC aircraft additions to the Modelflight catalogue. If you have any questions, please contact us and our customer service team will be happy to assist.