This blog post is all about surface products including the brand-new Spektrum DX3 Transmitter along with an RC crawler, monster truck and boat. We're also going to be highlighting some New LiPo batteries from Prime RC.
Spektrum DX3 Smart Surface Transmitter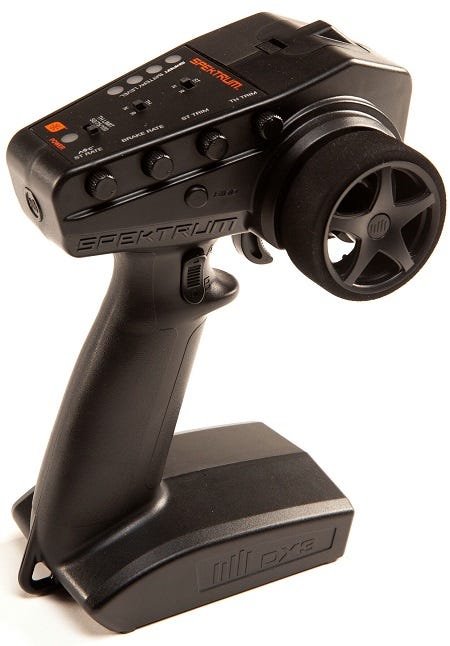 Spektrum have released a new entry-level radio system - the DX3 SMART Transmitter. If you're looking to upgrade your radio system, the DX3 makes the latest technology from Spektrum affordable! The Spektrum DX3 is now the standard transmitter in some newly released products including the Axial RR10 Bomber 2.0, Axial Jeep JLU Wrangler and Arrma Outcast 8S BLX Stunt Truck. It runs DSMR technology with an SR315 receiver, which is compatible with high-end Spektrum radios including the DX5C and DX5R. When paired with a Spektrum Firma ESC and Spektrum Smart LiPo battery, you can see how much charge is left on the convenient voltage level indicator.
The Spektrum DX3 has all the adjustments that someone needs to get started. It takes 4 AA batteries (sold separately) and has dials for trim, steering rate, AVC rate, and also features an assignable third channel. A throttle limiting switch allows you to limit how fast the car can go, which is especially useful if you're letting someone else drive for the first time. If you're wanting to slow the car down, flick the switch to 50%, once the driver is comfortable, you can flick the switch to 75% and then 100%. The last feature on the radio for the button side of things is the reversing of steering and throttle. Sometimes when you install this in a car you might need to reverse the steering direction, which is simple with just a flick of a button.
Axial SCX24 Deadbolt RC Crawler
A popular item that is available at Modelflight is the Axial SCX24 Deadbolt rock crawler. This mini RC crawler makes for a great gift or first RC car and comes in two colourways: red or green. Because of its small size, the SCX24 Deadbolt is perfect for use indoors where you can create obstacles with kids' toys, books and everyday household items. Don't let the small size fool you though, the SCX24 Deadbolt takes a lot of design features from the larger 1/10 scale Axial cars, making it a capable crawler. It is a true Ready-To-Run model that comes factory assembled including everything you need to complete the model, even AA batteries for the transmitter. All you need to do is charge the 2S LiPo battery with the USB charger and go have some fun!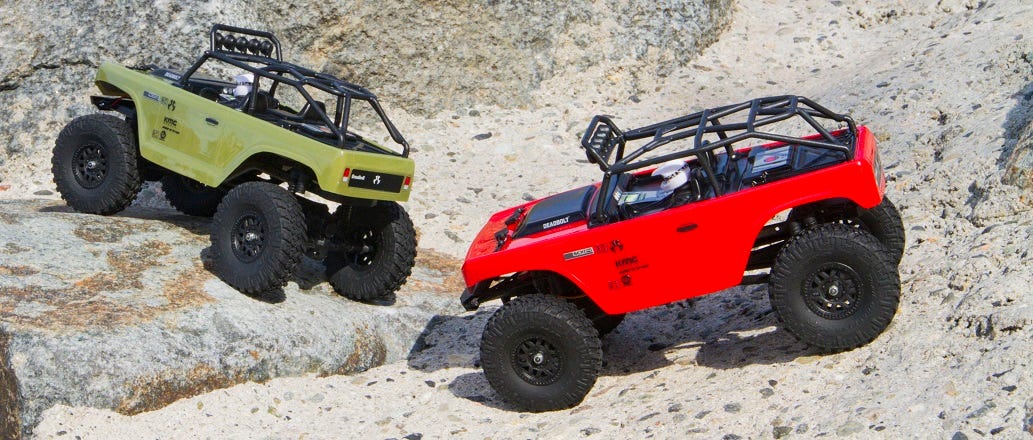 If you're looking for an RC car or for something to do while you're stuck indoors during winter, but still wanting to get your RC fix, the SCX24 Deadbolt would be a great option.
High-performance UL-19 Hydroplane RC Boat
Pro Boat make a wide range of RC boats from small, beginner self-righting boats all the way up to high-performance speed boats. The UL-19 is a 30-inch fiberglass hull boat in a hydrophone style and fits into the high-performance category. It comes basically ready-to-run with the Spektrum SR310 DSMR receiver, Dynamite® 120A Marine Brushless Maring 2-6S ESC, Spektrum 3KG servo and Dynamite Marine Brushless motor all pre-installed, all you will need to add is two 2S – 3S LiPo batteries, a compatible charger, and four AA batteries for the included Spektrum DX2E transmitter.

You can run 2-cell LiPo set-up, all the way up to 6-cell in the UL-19. You'll achieve top-end performance with 6-cell battery set-up (2 x 3S LiPo batteries) where you can reach speeds of up to 80 km/h. So, if you're in the market for a high-performance RC boat, the UL-19 may be the one for you.
Arrma Kraton 6S
The Kraton 6S is one of Arrma's more popular RC cars. It is 1/8 scale size car in a truggy style configuration with long arms, big tyres and has a lower centre of gravity which makes big jumps and berms a breeze for the Kraton 6S. It comes in a ready-to-run format with all your electronics installed and a Spektrum radio system, however, you will need to add your own LiPo batteries, charger and 4 x AA batteries for the transmitter.

With a 6-cell set up and the optional pinion gear, this weapon of a car will reach speeds just shy of 100km/h. If you'd like the car to run slower, you can run a 4-cell set up. The most common set up for the Kraton is a 6-cell set up as the included Spektrum STX2 features a throttle limiting switch where you can slow the car down to 50%, 75% and then full throttle at 100%.
Spare parts for the Kraton 6S are easily accessible as these cars are quite popular. Whilst these cars are quite durable, having spare parts support and product support is important. Arrma is a brand that is supported Australia-wide and most hobby shops will have these available.
New Prime RC LiPo Batteries
If you're in the market for a new electric boat, plane or car, you're probably going to need to buy some new batteries and the Prime RC range of LiPos are a fantastic option. They have two sets of battery styles, soft case and hard case - these refer to the casing around the battery cells. Prime RC's soft case batteries are lighter, but offer less protection and are suitable for aircraft, while the hard case has a thick plastic case around it to protect the cells from impact damage, which is more suitable for cars and boats.

Soft case LiPo Batteries
We're going to highlight the soft case 6-cell Prime RC LiPos. They have 3300mah, 4200mah, 5200mah and 7200mah, from small to very large capacity batteries to choose from. These packs are all 75C rated packs, a high discharge rate which means these batteries will perform well in high performance applications. They all come pre-terminated with an EC5 connector which will fit most of the models that we sell. No need for cutting or the use of an adapter.
Hard case LiPo Batteries
Moving on to the hard case packs, we're going to highlight the 5200mah 3S and 5200mah 4S which are the two most common packs used and are ideal for the Arrma and Pro Boat range.
The 5200mah 3S LiPo is perfect for use in 6-cell RC cars. We use these a 50C packs in all our demo videos for the Arrma vehicles like the Infraction and Kraton, which worked well with great performance. The 5200mah 4S is also a 50C pack and is ideal for 4S line of cars as well as the 8S line, like the Kraton 8S for example. Both the 3S and 4S packs are pre terminated with EC5 connectors that are compatible with IC5 connectors.
The Prime RC LiPos offer a wide variety of capacities and will most likely have a battery to suit your needs. They perform well and are affordable, so if you're in the market for a new pack, take a look at the Prime RC range.
If you're looking for more information on the products we've gone through, or have any questions, please give one of our sales representatives a call, on (08) 8186 4250 and they'll be happy to assist.