Arrma Kraton 8S 1/5 RC Monster Truck, BLX RTR Orange, ARA110002BT2
With size, speed, smarts and strength the Arrma Kraton 8S 1/5th BLX RTR RC Monster Truck is a genuine quadruple threat. Having an 8S capable brushless motor and equipped with Spektrum's SMART technology puts the controls of a super tough, extreme track bashing beast at your fingertips.
Looking for spare parts or upgrades?
Spektrum SMART Firma Brushless motor and ESC
DX2E Active Spektrum transmitter with AVC enabled SR6100AT receiver
Capable of 88+ kmh with 8S LiPo power (2 x 4S) and optimal driving conditions
Centre brace system is triangular structured for increased durability
Front and rear shock towers and chassis side pods made of ultra-strong composite
Hardened steel driveshafts throughout and heavy-duty drivetrain
Huge 20mm bore oil-filled adjustable shocks
Quick motor removal through easily accessible 3-bolt sliding motor mount
Gearbox internals and diff outdrives are of all-metal construction
Module design makes front and rear diff easily accessible
Motor mount and hubs are all-aluminium
Chassis plate is laser-etched aluminium anodized
Electronics module is waterproof and easily accessible
COPPERHEAD 2 SB multi-terrain tyres from dBoots
Dual spring heavy-duty servo saver
Fully decaled super-tough truck body
Increased wheel strength from toughened composite hubs
Spoke wheels with multi-split design
High wing for additional downforce
This is the one that puts the monster into monster truck. To put it bluntly the Arrma Kraton 8S 1/5th BLX RTR is a beast! This fifth scale RC monster truck can literally mow down anything in its path and if the look on the faces of the two guys from the office who took it out to shoot a promotional video with it is anything to go by this Kraton has some serious credibility. Fast and tough were the two key specifications in the design brief for the Arrma Kraton 8S 1/5th BLX RTR and it shows. This 4WD 1/5th scale juggernaut will hit 80+kmh without breaking a sweat. Powered by 2 x 4S LiPo's for 8S capacity and with optimal driving conditions you can also push it a little faster. But its not all about speed. Just looking at the Arrma Kraton 8S 1/5th BLX RTR you know it's built to thrive on rough terrain.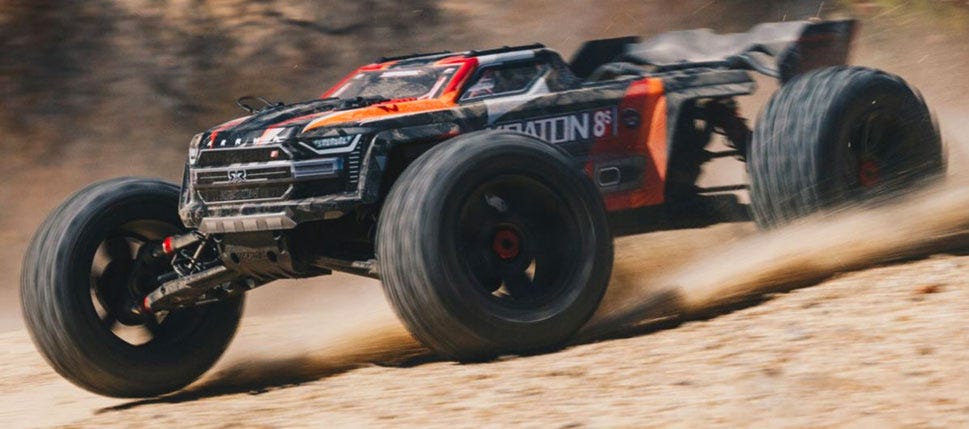 With metal reinforced design throughout this RC monster truck you can be confident that the structural integrity of the body and parts is going to hold under extreme driving pressure. Built with all-metal internal gears and metal turnbuckles, outdrives and shafts translates to a drivetrain and suspension system that make this one of the toughest 1/5th scale RC trucks going around. A triangular centre brace and hardened composite side pods are just some of the features on the strengthened anodized aluminium chassis plate. Knowing the punishment that you guys are going to put this thing through Arrma have fitted it out with massively thick front and rear shock towers to support the enormous 20mm bore oil-filled shocks.
Powering this beast is Spektrum's 1250Kv Firma brushless motor which has been mounted onto a sliding aluminium mount with three bolts to give you quick access. The electronics supporting the motor on the Arrma Kraton 8S 1/5th BLX RTR are contained in an easily accessible waterproof module. Protected inside this module are Spektrum's SMART electronics starting with the 160A ESC and the SR6100AT receiver that has Active Vehicle Control (AVC) functionality enabled. Connectivity and data analysis has never been easier and all it takes is downloading the Spektrum Dashboard App which will display valuable real-time telemetry readouts on ESC temperature, receiver and drive pack voltage levels, motor RPM and more. The Dashboard App will connect wirelessly via Bluetooth from your mobile device to the DX2E Spektrum transmitter without the need for multiple modules, sensors wires and links.
The Arrma Kraton 8S 1/5th BLX RTR is available in two unmistakable colour schemes of green or orange and are fitted with a high-downforce wing to keep you grounded when you have it pinned. For increased body durability Arrma have included a centre protection tower on the chassis and integrated it with the roll cage for added strength. Where the rubber hits the road you'll find COPPERHEAD 2 SB tyres from dBoots that are fitted to multi-split spoke wheels with strengthened aluminium wheel hubs. You will need to supply your own batteries and charger but once that bind happens this dog is going to get off the chain.
What's in the Box?
KRATON 8S BLX SPEED Monster Truck
Spektrum DX2E Active 2.4GHz Radio with SR6100AT AVC Receiver
Spektrum Firma 160A SMART ESC
Spektrum Firma 1250Kv Brushless Motor
Spektrum S905 Metal-Geared Digital Servo [40kg-cm; 556 oz-in @ 7.4V]
(2) 4S LiPo Batteries [SPMX50004S50H5 Spektrum™ SMART 14.8V 5000mAh 4S 50C LiPo Hardcase Recommended]
Compatible Charger [SPMXC1010 Spektrum™ SMART S2100 AC Charger 2X 100W Recommended]
LiPo Charging Bag
(4) AA Batteries
Completion Level

Ready-to-Run

Scale

1/5

Length

760 mm

Height

266 mm

Width

602 mm

Weight

11 kg

Wheelbase

491mm

Chassis

4mm Plate, 6061-T6 Aluminum

Suspension

Independent

Shock Type

Oil-Filled, Coil-Over Springs

Drivetrain

4WD

Differential

3 Gear Diffs

Wheel Type

MT (24mm Hex)

Wheel Diameter

124mm

Wheel Width

90mm

Tire Tread

dBoots COPPERHEAD 2 SB

Tire Diameter

203mm

Motor Type

Non-Sensored Brushless

Motor Size

4985

Pinion

17T

Spur Gear

47T

Gear Pitch

1.0MOD

Internal Gear Ratio

9.06:1

Final Drive Ratio

25.06:1

Speed Control Included

Yes

Radio

Spektrum DX2E Active, 2 Channel

Servos Included

Yes

Body

Painted, decaled and trimmed

Ball Bearings

Complete

Experience Level

Intermediate

Recommended Environment

All-Terrain

Is Assembly Required

No

Approximate Assembly Time

Less than 1 Hour
All product manuals are provided by the manufacturer, If you don't find the manual or information you are looking for, contact our experts for help.