Axial RR10 Bomber 2.0 4wd Rock Racer, RTR, Grey, AXI03016T2
The Axial RR10 Bomber 4WD has dominated 1/10th scale rock racing in recent times. Bad news for the competition – the RR10 Bomber just got an upgrade! Even more precise control with the DX3 Spektrum radio, LED red rear light bar, and, choose between Savvy Off-Road Bomber, or, Randy Slawson Bomber livery.
Looking for spare parts or upgrades?
Improved driveshaft angle and higher ground clearance from AR60 OCP-AXLE with offset pumpkin
Toughened composite plastic full tube chassis
Adjustable forward mounted, easily accessible battery tray
Transmission featuring full ball bearings and internal metal gears
Strengthened 32-pitch spur gear for situations requiring high-torque
Reliable 4WD locked differentials
Precision machined pistons on aluminium Fox/King shocks
Optimized 4-link suspension reduces axle steer and provides true roll and anti-squat characterisitics
Tyres – Falken Wildpeak M/T's
Highly accurate scale details
Robust WB8 HD driveshafts
Electronic components are easily accessible
Raceline and Trail Ready 2.2 beadlock wheels both officially licensed
Additional tuning and dual chock set options from the multiple shock mounting points
Spektrum electronics with SR315 3-channel RX and waterproof receiver box, RX DX3 transmitter, and, 15kg S614 waterproof metal gear servo
35T reliable Axial motor
3S LiPo capable Dynamite AE-5L waterproof ESC
Forward facing light bar features two white LED's and two white LED rock lights
Two red LED's on rear racing-style light bar
Savvy Off-Road Bomber replica
Two-time King of Hammers rock racing champion and owner of Bomber Fabrication, Randy Slawson, teamed up Axial to create the original RR10 Bomber 4WD RTR. Using the dominant 1/10th scale Axial full tube chassis rig the RR10 Bomber 2.0 4WD Rock Racer signifies the evolution of this proven winner as it now comes with some serious upgrades. First is the new Spektrum DX3 transmitter that gives you outstanding interference resistance, range and response with its DSMR technology. The integrated thumb steering option on the handle of the DX3 allows for one-handed steering with precision and safety. You also get a Spektrum 3 channel SR315 receiver which, along with your DX3 radio, is Spektrum Smart technology compatible. Featuring a metal servo horn and metal gears the Spektrum 15kg S614 servo not only gives you reliable steering but is also waterproof enabling you to race rain, hail or shine.

The RR10 Bomber 2.0 4WD Rock Racer comes with a Dynamite AE-5L 3S LiPo compatible ESC that has IC3 connectors, adjustable drag brake, and, a light controller with dual-LED outputs that allow for the new tail and LED headlights. The light feature array now has two forward-facing white LEDs, two white LED rock lights on the front, and, two red LEDs on the new rear LED light bar giving you the added dimension of night racing.
The RR10 Bomber 2.0 4WD Rock Racer comes in two different livery choices - the Randy Slawson Bomber, and, the Savvy Off-Road Bomber livery. Fully licensed wheel and tyre options come with each livery to give them the performance looks of their full-scale counterparts. The Savvy Offroad Bomber features Falken Wildpeak M/T tyres and the Randy Slawson Bomber has BF Goodrich Baja T/S KR3 tyres. There are a host of realistic scale details that include moulded driver figure with three choices of black styrene helmets – motocross, motorsport and open skull-face.
Resilient RC Rock Racer
Both versions of the RR10 Bomber 2.0 4WD Rock Racer feature the same high-performance components build around the scale tube chassis. The full bearing transmission features all-metal internal gears to help you take on the toughest rock racing you can find. The integrated motor mount gives you the option of endless gearing configuration while the single-speed factory gearbox has a high gear installed. In order to provide more holding power and precise tuning, the RR10 Bomber 2.0 4WD Rock Racer features a dual slipper that uses a pad on either side of the spur gear giving additional surface area. Strengthened 32-pitch gearing on the spur gear is ideal for situations requiring high torque and you have the option of putting in a two-speed transmission component (AXIC0999) that is sold separately.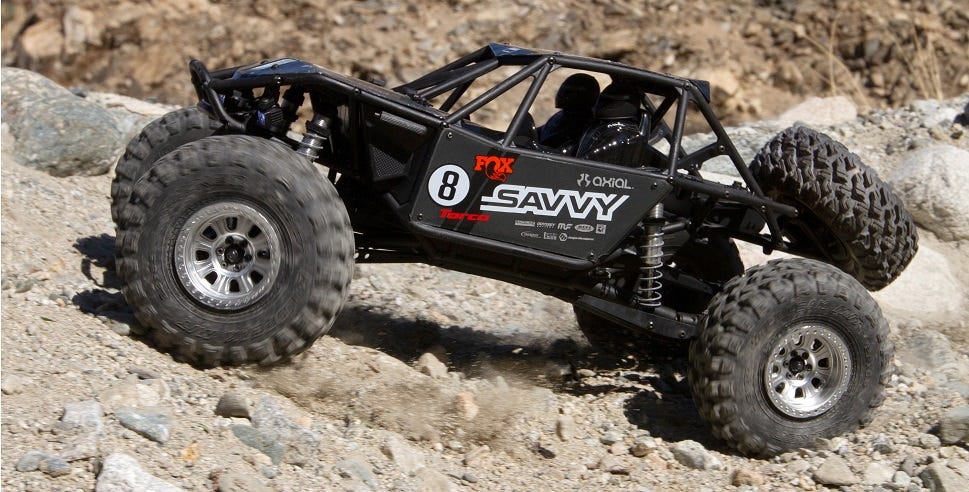 In order to ensure smooth performance through the range of travel on the RR10 Bomber 2.0 4WD Rock Racer aluminium King/Fox shocks have been included that feature precision machined pistons. Featuring clear coated, polished aluminium bodies these shocks are precision made and threaded for pre-load tuning ability and quick ride height adjustability. Mounted on the links rather than at the axle, the rear shocks allow for better high-speed handling and more suspension travel.
To ensure dependable traction on these RC Bombers they have 4WD locked differentials. Better driveshaft angle and increased ground clearance come from the offset pumpkin of the AR60 ACP-Axle. The removal of two body clips will get your easy access to the forward-mounted battery tray that can accommodate 2S or 3S LiPo batteries. Time to rock and race!
Battery
Compatible charger
Completion Level

Ready-to-Run

Scale

1/10

Length

22.4 in (570mm)

Width

11.0 in (280mm)

Height

9.0 in (230mm)

Weight

6.26 lb (2.83kg)

Ground Clearance

2.8 in (72mm)

Wheelbase

14.75 in (375mm)

Track

11.50 in (292mm)

Front Track

11.50 in (292mm)

Rear Track

11.50 in (292mm)

Chassis

Plastic

Suspension

Solid Axle

Shock Type

4.0 in (103mm) Coilover

Drivetrain

4WD

Differential

Spool (Locked)

Wheel Type

Plastic Beadlock

Wheel Diameter

2.2 in (55.88mm)

Wheel Width

1.74 in (44.45mm)

Tyre Compound

SBR30

Tyre Tread

Officially Licensed

Tyre Diameter

5.25 in (133.35mm)

Motor Type

Brushed

Motor Size

35T

Pinion

12T

Spur Gear

64T

Gear Pitch

32-pitch

Speed Control Included

Yes

Radio

Spektrum™ DX3™ (SPM2340)

Servos Included

Yes

Body

Screened

Ball Bearings

All metal

Bushing Material

Metal

Experience Level

Beginner

Recommended Environment

All-Terrain

Is Assembly Required

No
All product manuals are provided by the manufacturer, If you don't find the manual or information you are looking for, contact our experts for help.