This week we have received some amazing new aircrafts and RC cars, including the new Viper RC Jet from E-flite, so let's get into it and see what we've got.
Victorious Viper EDF Jet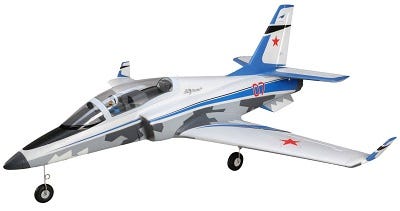 The Viper is a Brand-New 70mm electric ducted fan Jet from E-flite. It is available in two versions, a Bind-N-Fly (BNF) and a Plug-and-Play version (PNP). PNP would be ideal for non-Spektrum transmitter users as it allows you to use your own receiver. This EDF RC Jet comes pre-assembled and you will need to add your own receiver, transmitter, battery and charger. Spektrum Radio users will benefit from the BNF version as it includes a pre-installed Spektrum receiver with exclusive AS3X and SAFE select technologies tuned for the Viper. Typically, an RC jet like this would be reserved for experienced pilots, but with the SAFE Select and AS3X technology onboard it does open it up to not necessarily a beginner but someone who's in the intermediate area, is reasonably confident in the air, and wants to try their hand at jets. AS3X is 3-axis gyro stabilisation that works behind the scenes to counteract the effects of windy conditions, while SAFE select gives you automatic self-levelling and pitch and bank angle limits to assist the pilot while they are getting familiar with flying. If you are an experienced RC jet pilot, you can switch this off and have full control to perform aerobatics.
E-flite's Viper Jet comes almost ready to go with only a small amount of assembly out of the box, putting the wing and the tail section on, and charge up your battery (for this aircraft we recommend a 6-cell LiPo, ideally 3500-3800mAh). Everything else is factory fitted including your servos, flaps and electric retracts. Dis-assembly of the Viper jet for transport is easy with the removal of only a couple of screws for the wings and tail, so you can fly at your favourite park or flying field and be up in the air in a matter of minutes.
U.S. Air Force Thunderbird Jet replica

Much like the Viper, the F-16 is another 70mm EDF Jet released by E-flite. This is an exciting aircraft replicating the U.S. Air Force Thunderbird jets. Again, this jet is available as a Bind-N-Fly or Plug-N-Play option. As mentioned earlier, PNP is great for those who aren't Spektrum users but if you are a Spektrum user we suggest taking advantage of the BNF version with the exclusive AS3X and SAFE Select technologies to assist you while you're becoming familiar with the aircraft. With the BNF and PNP versions you will need to add your own battery, a 6 cell LiPo in the 3000-4000mAh range would be ideal for this jet.
The slow flight performance of this RC jet is fantastic with the assistance of the AS3X system working for you. There are some great videos from Horizon Hobby testing this aircraft flying in the snow, out of a very small car park and almost spot landing with this EDF Jet. The F-16 Thunderbird is a fantastic performing RC Jet and a great looking one at that.
Beginner RC Heli from Blade
The 230 S V2 builds on the successful 230 S line of helicopters that Blade have produced. They are a fantastic option for those who are looking for an indoor and outdoor helicopter. It is a 230 size Heli which is a reasonable size but certainly something that you could fly in a basketball court size area indoors with ease. One of the great features of this RC helicopter is that is available in two versions, Bind-N-Fly and Ready-To-Fly. The RTF version has everything you need in the box including the helicopter, battery, charger and transmitter pre-programmed and ready to go. All you need to do is charge the battery, head to a flying location and get practising. If you get into trouble while flying the 230 S V2, just hit the Panic Recovery button on your transmitter to recover the Heli to a level altitude so you can regain your composure and get straight back into it. This is a great feature that prevents many crashes, especially with beginner pilots.
Another great feature on the 230 S V2 is the progressive flight mode system which includes beginner, intermediate and advanced modes that allow you to grow with the heli and a build your skills. As you become more confident, advanced mode gives you full control to perform 3D aerobatics. This heli is a fantastic option for people learning how to fly and it's going to essentially save you dollars in the long run.
RC Stadium Truck from Losi
The 22S Stadium Truck is a fantastic Ready-To-Run option from Losi that comes in two colour ways, red and blue. This car has a few different configurations on the battery side that can take it from mild to wild. It comes fully assembled with a Spektrum radio, receiver and servo. The Spektrum receiver features Active Vehicle Control (AVC) which assists the driver in keeping control of the Losi 22S on a variety of surfaces and the on-the-go dial on the transmitter means that you can set the AVC system to the needs of the drivers skill level or surface that you're driving on. The car itself is built on the successful TLR 22 race platform, running a powerful Dynamite brushless system that provides the ultimate performance and reliability. You'll need to add your own battery to the Losi 22S with a few options to choose from as it takes NiMH all the way up to a 3 cell LiPo battery. A 2 cell or 3 cell LiPo will probably be the most common power settings. You will reach your top speeds of 80+km/h on the 3 cell LiPo set up and then you can play with pinions as well keeping temperature of the motor in mind.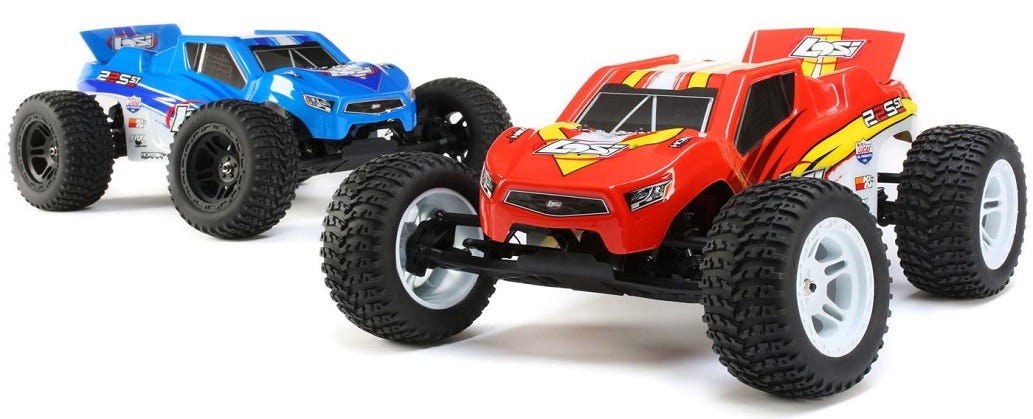 One of the great things about all the Losi vehicles is their simplicity and ease to work on. An RC car's durability is obviously number-one when buying, but also when you do break it, which is inevitable especially with the car that goes this fast, being able to work on it and replace parts is key. The 22S is simple and well thought-out with a layout that which makes it easy to change parts if you need to.
One of the neat features about the 22S is the bottom loaded battery. A lot of RC cars batteries are loaded from the top, which means you need to take the body shell off to change batteries, while the 22S has thumbscrews that you can undo, which makes battery swaps quick and easy so you can get back out on the track even faster than before.
If you have any questions regarding any products mentioned above, feel free to contact us and our staff will be happy to assist you.