Learn how to fly with the Delta Ray One
A brand new and fantastic product from E-Flite is the Delta Ray One. Some of you may be familiar with the Delta Ray, which was a previous model from HobbyZone, with a dual motor unit that they have used for inspiration in the new variant. It was a delta wing style with a cockpit up the front. E-Flite have changed the aircraft a little and offered it in a fantastic "learn how to fly" RC Plane. The Delta Ray One is a bit of an all-new design, with a pusher propeller instead of the dual motor, E-Flite have also reduced the size as well which makes this electric plane perfect for school ovals, even indoor basketball courts; you can fly this around comfortably in most spaces large or small.
The Delta Ray One comes in two versions - Ready-To-Fly (RTF) or Bind-N-Fly (BNF). The RTF model comes with everything you need in the box including a transmitter, battery, charger and obviously the aircraft, while the BNF version is suitable for a pilot who already has a Spektrum transmitter to bind to the aircraft. A 2S LiPo battery and suitable charger will need to be purchased separately as well on the BNF version.
An RC plane for all skill levels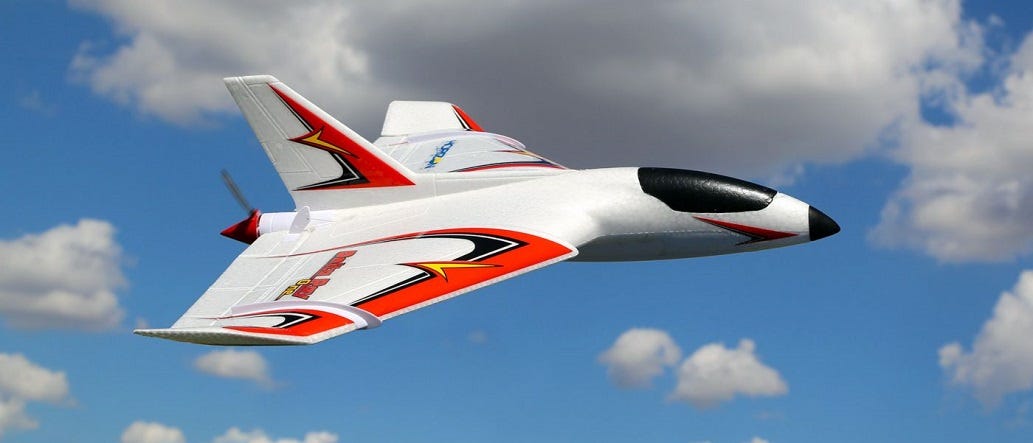 The Delta Ray One is a great aircraft for beginner pilots and features AS3X technology and progressive flight modes to help with training. AS3X is a 3-axis gyro that gives you stabilisation, so essentially, it's stabilising the movement when the aircraft is being buffeted around in the wind, counteracting that behind the scenes which you don't really feel when you're flying. The best way to describe it is the aircraft feels bigger than it is, so it feels less affected by windy conditions.
Beginner, intermediate and advanced flight modes feature in this RC plane. Beginner mode features self-levelling so when you let go of the sticks the aircraft will return to straight and level flight vertically and horizontally, so you can regain your composure and try again. Intermediate mode extends on that allowing you to 'bank' a little bit further and have more control over the airplane. Advanced Mode gives you complete control so you can fly inverted, perform loops and rolls and aerobatics.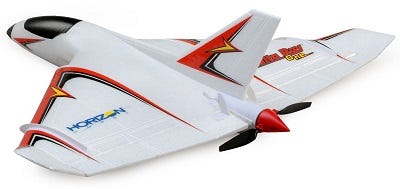 One of the neat things about this RC plane is its flight envelope is quite large, so even though it is a Delta it does have some good characteristics during slow flight. When a lot of pilots are learning they tend to fly quite high, but as you get more comfortable and confident you can bring the plane down to a lower altitude with a slower speed and you will still feel in control of the RC aircraft.
All in all, a great aircraft from E-Flite at a really affordable price point; fantastic for the beginner who's learning how to fly, as well as a good plane for the experienced flyer that wants to fly in the park, burn around the sky, and have some fun.
Do you still have some questions? Don't be afraid to contact us via email, social media or phone on (08) 8186 4250 - our knowledgeable staff are always happy to help.