Here are some of our favourite arrivals this week.
NEW Mini RC Crawler from Axial
The New release Axial SCX24 Deadbolt rock crawler has arrived. This RC crawler is 1/24 scale making it perfect for use indoors and outdoors - create your own obstacles in the house or office or take it outside into the garden bed. Just like the larger 1/10 scale Deadbolt, this mini RC crawler features a lot of scale detail and offers exceptional performance. It is available in two different colours, comes factory assembled and ready-to-run, meaning all you'll need to do is unbox it, charge the battery and you're ready to have some fun.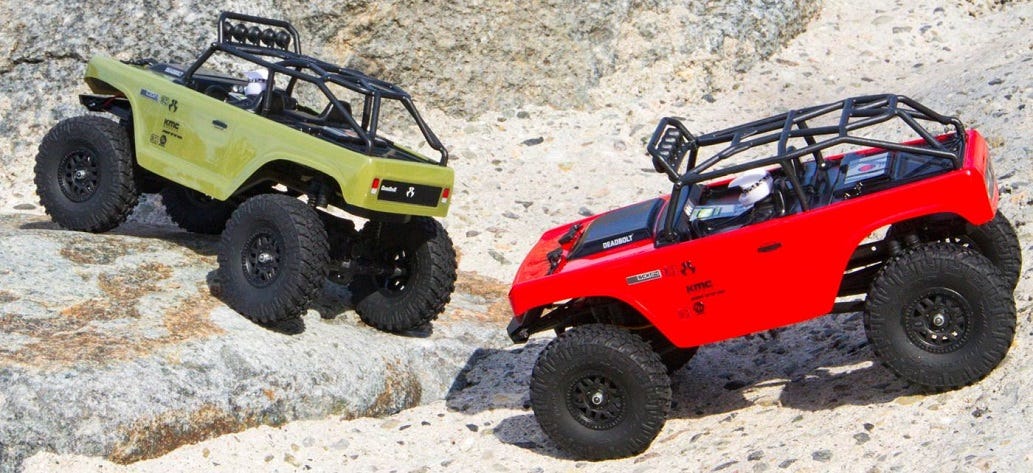 The Viper RC jet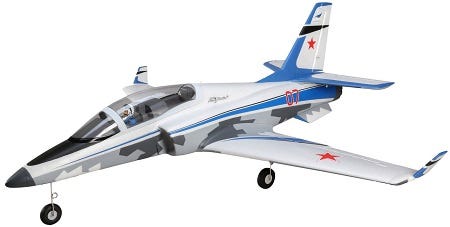 The ever-popular E-Flite Viper 70mm EDF is a fantastic RC jet for your first EDF aircraft or for pure fun. No glue is required for assembly and it can be ready to fly in less time than it takes to charge the battery.
It is available in two options - Plug-N-Play meaning you will need to add your own transmitter, receiver, battery and charger or you can get it in Bind-N-Fly. BNF is perfect for pilots who are Spektrum users as you will get an AS3X receiver which works behind the scenes to smooth out the effects of wind, as well including SAFE select technology. So, if you're looking to get into flying EDFs the E-Flite Viper 70mm is certainly a great choice.
NEW Miss Geico Zelos 36 RC Boat
A couple of boats arrived from Pro Boat. Starting off with the River Jet Boat which is a restock item. This popular RC boat has a self-righting hull and doesn't have an exposed propeller or a rudder hanging out making it a proper jet boat. This means you can use it in shallow water as well as your normal pond, with objects not going to cause damage to your propellers and rudders, giving you the flexibility to use your RC boat in more places with less worry.
A brand-new release is the Miss Geico Zelos 36 Twin Brushless Catamaran. This RC boat is like the pre-existing Zelos 36, however, this Miss Geico version can reach speeds up to 120km/h! This boat not only looks fantastic but has incredible performance and its hull can withstand the epic speeds.
Both boats will require batteries and chargers - the River Jet Boat requires a 3 cell LiPo while the Miss Geico Zelos 36 is a 6 cell LiPo.
Tremendous Turbo Timber RC Plane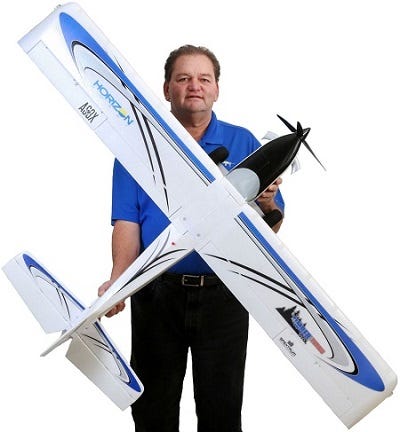 The last item we will be talking about today is another brand-new release, the Turbo Timber 1.5m from E-flite. This takes a lot of similar components from the original Timber 1.5m and adds improvements in performance, and different styling around the nose set up.
This RC plane can take 3-cell and 4-cell LiPo batteries. On a 4-cell battery, the short take-off and landing capability is phenomenal as you can take off virtually from a couple of steps, while the oversized tundra wheels and shock-absorbing landing gear makes it possible to take off from rough runways. It has slow flight performance and comes equipped with features that provide the flyer with sport flying capabilities which is sure to appeal to a wide range of fliers. E-flite's Turbo Timber RC plane is available in Plug-N-Play and Bind-N-Fly versions.
As always, if you have any questions regarding these products our friendly staff are available to help.