E-Flite Timber BNF Basic, No Longer Available
Love action? You're going to love the E-Flite Timber BNF basic RC plane. This 1.5m beauty can lift off and land in less than two feet.
Looking for spare parts or upgrades?
STOL capabilities… built for sporty performance
EDO-looking floats, with dual water rudders
Always see, with LED navigation lights, landing lights, beacons and wing-tip strobes
AS3X receiver, plus SAFE Select technology – great for learners
Made of strong Z-Foam
Brushless motor, with guts
Hollow-core structure, light to fly
Shock-absorbing, Tundra-tire landing gear
Includes float set with rudders
The sport aerobatic plane… it's the E-Flite Timber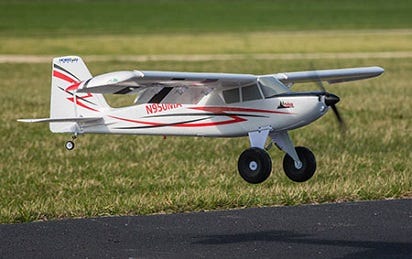 No runway is too small for the E-Flite Timber. It's jam-packed full of features that suits everyone from beginner pilots to seasoned experts.
The Timber is fun to fly, and more flexible than any other sport plane.
Fly it anywhere, from any runway
With the Timber's innovative sporty design and flexible features, it's not hard to get it confused with a bush plane. E-Flite really has outdone themselves with this one. You can really have it all.
Grass, gravel, dirt, ponds are a no-go for a plane of this size… but not for the Timber. The Tundra-style landing gear boasts functional shock absorbers and jumbo tyres – so no bumps have a chance to affect your take off and landing. Steering control is impeccable too, with the dual rudders.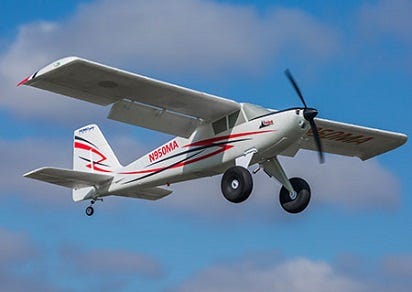 Plus, the Short Take-off and Landing (STOL) features such as wing-tip droops, landing edge slats and functional flaps give it added support. Add the powerful brushless motor into the mix, and you've got yourself a pretty daring, lightweight plane.
SAFE Technology, comes with AS3X receiver
Beginner pilots can turn on the SAFE technology to support them while in the air. All you need to do is change up the binding sequence. These features are built into the receiver. This will enable beginners to make use of the Timber's incredible features – without losing control.
Been flying for a while? That's cool! Just bind the receiver normally and it'll function like a regular AS3X receiver.
The Timber comes with authentic-looking navigation lights, landing lights, and wing-top strobes and beacons. Talk about an amazing LED light system.
If you're looking for an all-round sport park flyer with no fear, choose the E-Flite Timber.
You'll just need to add a Spektrum DSMX/DSM2 transmitter and a 3S LiPo battery with an EC3 connector and charger.
Order yours today.
Radio. We recommend the Spektrum DXE (SPMR1000)
Battery. We recommend Dualsky ECO-S (DSBXP22003ECO) or E-Flite 2000mah LiPo Battery (EFLB22003S30)
Charger. We recommend Ultra Power AC/DC Charger (UP680AC)
Wingspan

61.0 in (1555mm)

Overall Length

40.9 in (1040mm)

Wing Area

559.5 Sq In (36.1 Sq Dm)

Flying Weight

50.3 oz (1400 g)

Motor Size

10 size Brushless Outrunner

Servos

Included

CG (center of gravity)

60mm +/- 5mm back from leading edge of wing at the fuselage

Prop Size

12 x 4

Speed Control

40A Brushless

Recommended Battery

2200mAh 3S Lipo with EC3 connector

Flaps

Installed

Charger

Not Included

Experience Level

Intermediate

Recommended Environment

Outdoor

Assembly Time

Less than 1 Hour

Is Assembly Required

Yes
All product manuals are provided by the manufacturer, If you don't find the manual or information you are looking for, contact our experts for help.