We've restocked some favourite items this week, including Premier Aircraft's Flex Jet and Cap 232, the E-flite V900, as well as the Trail Honcho and Jeep Cherokee SCX10 IIs by Axial. Let's get into it!

Flex Jet Thrust Vector Super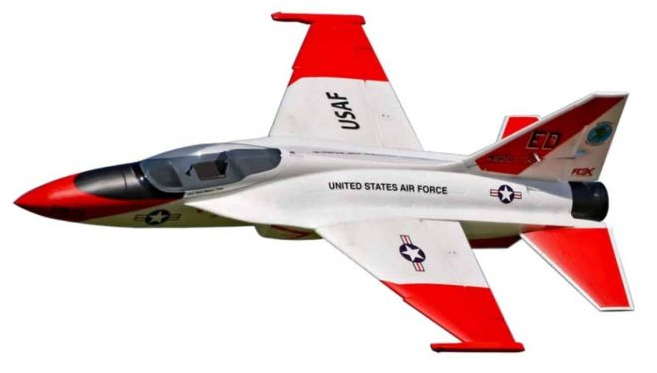 The Flex jet from Premier Aircraft is a super-capable, electric-ducted fan jet. This has been out for a while in the two colours (red and blue), but Premier Aircraft have updated it by adding thrust vectoring, meaning it's opened a wider range of 3D manoeuvres this model can perform, and there's more control authority, so essentially, you're capable of doing a lot more in the air. The jet comes close to almost assembled, coming pre-fitted with the Aura 8 flight controller which is a proprietary unit to all of the Premiere Aircraft models, making this aircraft fly fantastically, all the time. You can tell a lot of time has gone into perfecting the tune and the flight characteristics are flawless - and we would say the same for every Flex aircraft that we've flown. What you will need to add is your choice of transmitter, six channels and up is required, a receiver, a 6 cell flight battery and a charger for that battery. For Spektrum users, an AR8010T or two satellite receivers would be ideal. Essentially, they plug straight into the flight controller so bind them up and you're ready to rock and roll. This is an absolutely fantastic model, we're really excited about the thrust vectoring and awesome manoeuvres we can try out.
Flex Innovation QQ Cap 232 EX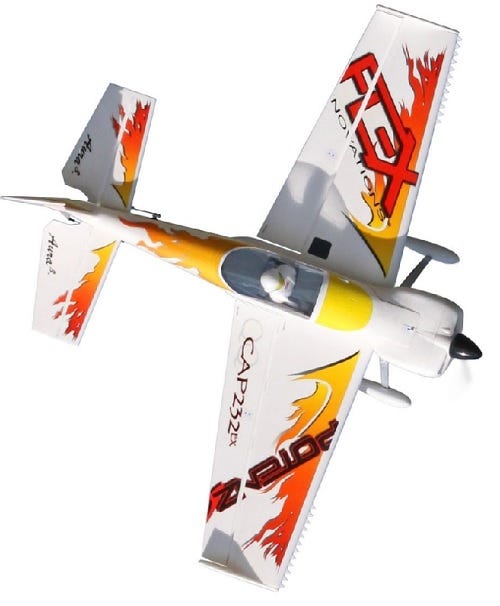 Another excellent model from Premier Aircraft is the Cap 232, designed by Quique Somenzini, who has designed the airframe and then the team at Flex have tuned the Aura 8 flight controller. We've been lucky enough to build and fly one of these and once again, an impeccable flying model. Some neat features on this aircraft are the flight modes that the Aura 8 offers the intermediate/ advanced pilot; it gives the option of high speed precision aerobatics as well as slow speed 3D, meaning for the style of flying that you're doing, you will have the correct flight mode and therefore the correct gyro gain setting to complement that. So, if you're an intermediate to advanced pilot keen on 3D aerobatics or precision flying, this aircraft will be a really nice aircraft that's locked in and well-tuned. To complete this model you will need to add a transmitter, receiver, 6-cell flight battery and a charger for that battery. Again, for Spektrum users we'd recommend something like an AR8010T or two Spektrum remote receiver satellites. These plug straight into the Aura 8 so it's very simple to bind up, but if you have any concerns refer to the instructions in the manual for transmitter set up. So, a little bit of assembly but all in all a fantastic flying aircraft, reasonably large, with a 60 size motor and flies fantastically and well.
E-Flite V900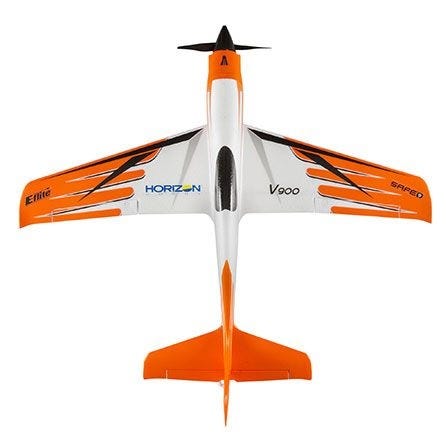 The V900 from E-flite is a speed flier's dream! This popular aircraft has been through before and now we have received more stock. We have this in both bind and fly and plug and play versions, so if you are a Spektrum user we certainly advise taking advantage of the bind and fly version, as it comes with the AR636 receiver which is pre tuned with AS3X and safe select. You're able to have safe select and flight modes essentially on a switch, as well as the AS3X system helping you out buffeting turbulence and making the aircraft feel locked in. For non-Spektrum users we recommend the plug-and-play version, which comes basically ready to go, all you will need to add is a receiver. This aircraft requires a little bit of assembly, as well as a flight battery, transmitter and receiver (plug-and-play only) and a charger for your battery. On the battery front you have a few options; it can be run on 3 cell or 4 cell LiPo, around the 2200 capacity. With the 3 cell you'll get to around 160 Kmh and on the 4 cell you'll reach almost 200 Kmh. A super-fast aircraft regardless of which battery route you choose to take. Get in quick; this will sell out.
Axial Trail Honcho
We've just received a restock of the Trail Honcho from Axial, which uses the proven and popular SCX10 II chassis design. A capable crawler, very durable and has some impressive, innovative styling with a fantastic looking scale shell, nice scale detail on the back and has licensed method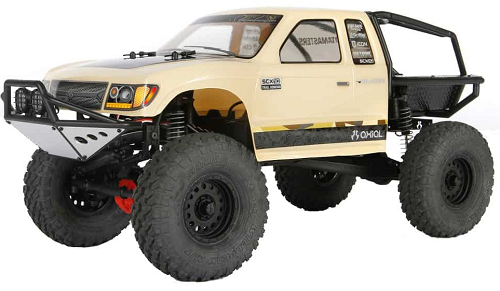 wheels with Falcon tyres. It's almost ready to run. You will need to add a battery and charger, aside from that everything else is included in the box. Take the body shell off and you'll be able to see the running gear underneath; the SCX10 II uses aluminium chassis rails straight up and down, shock absorbers with really nice features. It has a water-resistant electronic setup, a tactic metal gear steering servo, receiver, ESC, as well as the brushed 35-turn motor. The batteries are mounted right up over the front of the car - this is to add some weight and improve crawling ability, given that when you're going up steep hills you have most of the weight over your wheels that are doing the steering so it helps the car get over difficult obstacles. There are some nice little details like front and rear LEDs which are entirely functional, an aluminium front skid plate as well as the AR44 axles, these are a little bit hard to see but they actually improve ground clearance. So not only does this car look the part, but it is very functional, a 10/10 crawler from Axial, anyone wanting to hit the trails should absolutely check out the Trail Honcho.
Axial Jeep Cherokee
The Jeep Cherokee SCX10 II is another fantastic offering from Axial, we have just had some more of these come into stock. This car screams scale details, so there's a lot of little bits and pieces on there that really enhance the scale look. JC Off-Road have come to the party; Axial have done licensed front and rear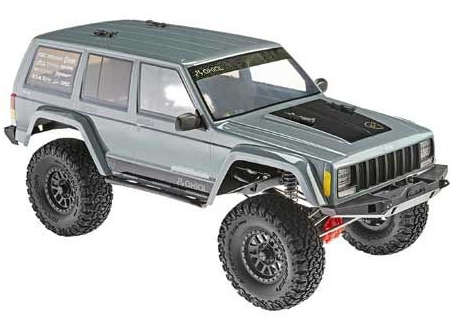 bumpers, as well as rock sliders on the side of the car, BF Goodrich licensed tyres, Method licensed rims and a Jeep licensed shell. Absolutely fantastic scale appearance, again using the durable and capable SCX10 II chassis. This car comes in an almost ready to run configuration; you will need to add your battery and relevant charger, but everything else is included in the box. Much like the Trail Honcho, the batteries are mounted right up in the front, improving the crawling performance when trying to steer through obstacles and go up steep climbs. The portal axles will give you more ground clearance, combine that with the articulation and the performance of the chassis, this car can get over crazy and gnarly trails with ease. Be sure to check it out!