E-Flite Air Tractor RC Plane, BNF Basic, EFL16450
The crop-dusting E-flite Air Tractor 1.5m is an easy to fly low-wing model that is great for those looking for a first scale replica RC plane. Functioning slotted flaps and LED lights plus optional skis and floats that can be fitted, make this a versatile and fun fly.
Looking for spare parts or upgrades?
Scale replica utility aircraft used for agricultural crop dusting with moulded in rivets, panel lines and more
Aerobatic and sport flight capabilities plus short take-off and landing (STOL)
Outrunner motor with 3-blade prop with 3S and 4S compatible 50A ESC
Perfect first scale or low winged model given the easy take offs and landings
The slotted functional flaps Improve slow speed handling and shorter take-offs/landings
Factory installed, metal geared, highly durable servos with linkages on the primary control surfaces that are adjustable
Industry leading DSMX technology (BNF only) plus a Spektrum AR637TA RX with full range telemetry
Optional use SAFE Select and stabilising AS3X technology on BNF only model
Operates from a variety of surfaces with oversized tyres and rugged landing gear
Factory installed and functioning navigation, strobe and LED landing lights
Composite reinforced lightweight EPO construction for extra durability
High visibility factory painted scale trim scheme
Glueless construction with easy and fast bolt together assembly
Remove and install the two-piece wing and stab easily
Optional extras include EDO-style floats with steerable rudders (EFL5261) sold seperately
E-flite's Air Tractor replica
Air Tractor is a leading manufacturer of durable aircraft built for firefighting and agricultural applications that is based in Texas and was founded in 1978. Flown in more than 30 countries around the world the AT-500 series first took to the skies back in 1986. It has become one of the most popular single-turboprop driven aircraft in the world. The E-flite Air Tractor 1.5m pays homage to its full-scale version with a factory finished, high visibility blue and yellow trim scheme with moulded-in rivets, panel lines and more. The attention to scale detail in this RC plane is brilliant and with not only looks but function as well. The E-flite Air Tractor 1.5m is fitted out with LED landing and navigation lights, oversized tyres and slotted flaps and in addition is easy to fly which makes it an accessible choice for those contemplating their first or next scale or low wing RC plane.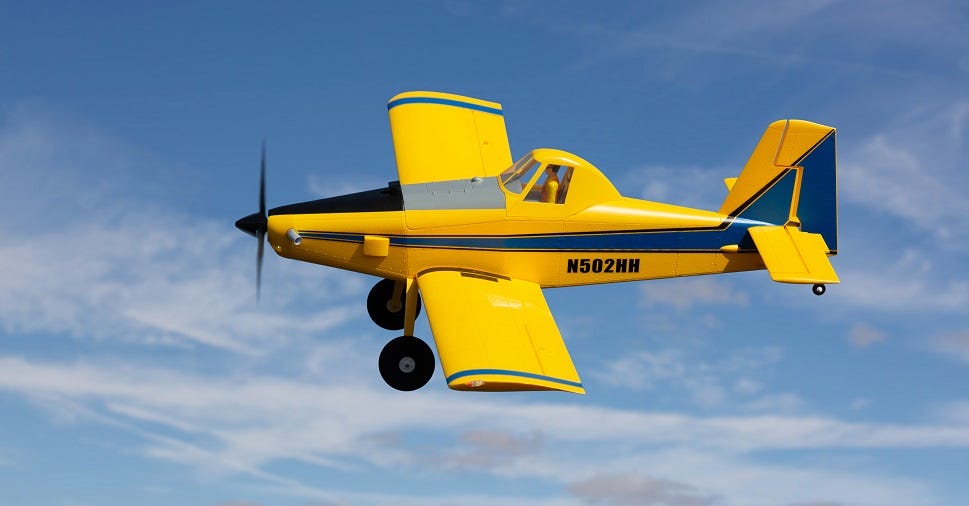 What's in the box?
(1) E-flite® Air Tractor 1.5m with:

(1) 50A Brushless ESC (installed)

(1) Brushless Outrunner Motor (installed)

(4) Micro Metal-Geared Servos (installed)

(2) Micro Servos (installed)

(1) Spektrum™ AR637TA 6-Channel Receiver (installed)

(1) Product Manual
For intermediate to experienced RC pilots
The flying qualities of the full-scale Air Tractor include unmatched versatility and friendly handling both of which are present in the E-flite Air Tractor 1.5m making it a great match for intermediate to experienced RC pilots. Featuring a specially tuned, powerful brushless motor combined with a 50-amp ESC and 3 blade prop the Air Tractor has thrust in abundance. You can fit the E-flite Air Tractor 1.5m with either 3S or 4S 2200-3200mAh LiPo's which will give you powerful vertical performance with no need for upgrades or modifications. Fitted with a rugged landing gear equipped with oversized wheels your E-flite Air Tractor 1.5m has the capability to utilise its Short Take-Off and Landing (STOL) on a number of different surfaces with plenty of prop clearance. Slow speed handling is also made easier with functional slotted flaps. Optional parts for the E-flite Air Tractor 1.5m include a float set with dual water rudders for STOL on lakes/rivers/ponds (EFL5261). You can also fit a scale-like ski set for STOL on wet grass or snow. Both of these are sold separately.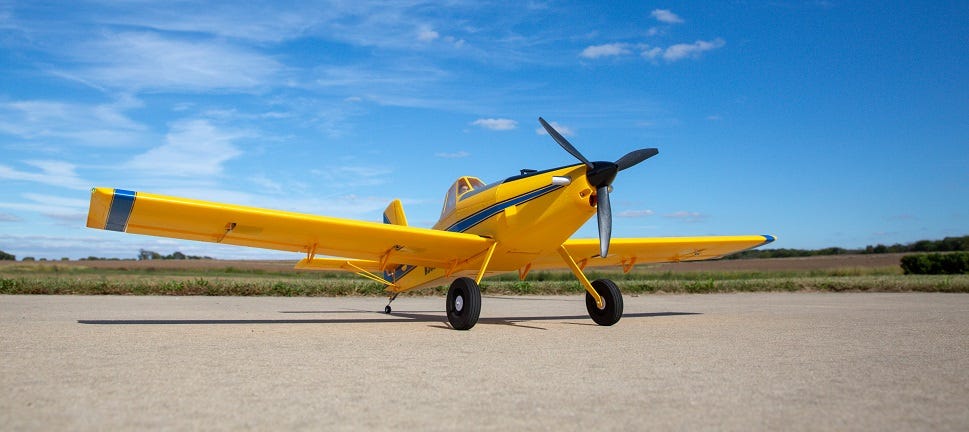 The hollow-core EPO foam construction is composite reinforced to deliver you a durable but lightweight airframe. Metal geared servos are equipped on all the E-flite Air Tractor 1.5m primary control surfaces. Glueless assembly makes things simple and quick with bolt-on or snap mechanisms in place as well as a two-piece wing and stab set making storage and transport easy.
The high visibility factory-applied paint and decal scheme gives the E-flite Air Tractor 1.5m a striking and hard-to-miss scale finish by day. By night the LED strobe, landing and navigation lights allow you to keep this RC plane in the air enjoying the unique flight experience that the Air Tractor offers to a wide range of pilots.
Exclusive AS3X and SAFE select technologies
This Bind-N-Fly basic model is equipped with a factory-fitted and tuned Spektrum 2.4ghz DSMX receiver that features the patented and proved AS3X technology. The AS3X (Artificial Stabilization – 3-axis) system is constantly working behind the scenes to dampen the effects of rough wind and turbulence to give the pilot a sense of accuracy and stability normally associated with a much larger model. Also included in the BNF version is the famous SAFE Select technology, this allows another level of protection for the pilot and ultimately gives you that extra security when trying to perform new manoeuvres.
With SAFE Select enabled, you get:
Pitch and Bank Angle Limits
These will keep the aircraft from excessive rolling and climbing / Descending meaning that the more beginner pilots are able to feel out the characteristics of this aircraft and still have the safety net of the bank limits.
Automatic Self-Levelling
The aircraft instantly returns to a wing's level situation when the sticks are released, this is super helpful during take-off and landings.
Easy switch assignment—no programming required
The simple process for assigning a switch on the transmitter to turn on/off the SAFE functionality. This requires no extra programming and takes only a few seconds to complete.
Full-range 5–6+ channel Spektrum™ DSMX®/DSM2® compatible transmitter
3S 11.1V or 4S 14.8V 2200–3200mAh LiPo with EC3™ or IC3™ Connector
Compatible LiPo charger
Wingspan

59 in (1498 mm)

Length

38.5 in (977.9 mm)

Flying Weight

59-62 oz (1681-1766 g)

Motor

(1) Brushless Outrunner (installed)

Speed Control

(1) 50A Brushless ESC (installed)

Servos

(4) Micro Metal-Geared, (2) Micro (installed)

Radio

Full-Range 5–6+ Channel DSMX®/DSM2® (sold separately)

Receiver

Spektrum™ AR637TA with AS3X® and SAFE® Select Technologies (installed)

Battery

3S 11.1V or 4S 14.8V 2200–3200mAh LiPo with EC3™ or IC3™ Connector (sold separately)

Experience Level

Skill Level 2 = Experience Required

Rec. Environment

Outdoor

Assembly Required

Yes

Approx Assembly Time

Less than 1 hour
All product manuals are provided by the manufacturer, If you don't find the manual or information you are looking for, contact our experts for help.