To start off 2020, we have received some brand-new RC cars and planes from Axial, E-flite, Losi and TLR.
Losi's tough Tenacity TT Pro
The Tenacity name has been around for a while now and comes in different options, whether it be a desert buggy, short course truck or trophy truck. The Pro version has essentially all the upgrade parts along with some Spektrum SMART technology in the box, making it a stronger, more durable car with a simpler layout and higher performance. The Tenacity TT Pro is a Trophy Truck that looks like a Pro 4 and Pro 2 full-size truck and is available as two versions: the Brenthel Racing edition and the Falken Tyres edition. It comes 'ready-to-run' with a DX2e Active radio but will require you to provide your own battery and charger. The DX2e Active radio is used with the Spektrum SMART technology and is compatible with a Bluetooth module that connects to an app on your phone giving you access to telemetry data including motor RPM, top speed and battery voltage to name a few.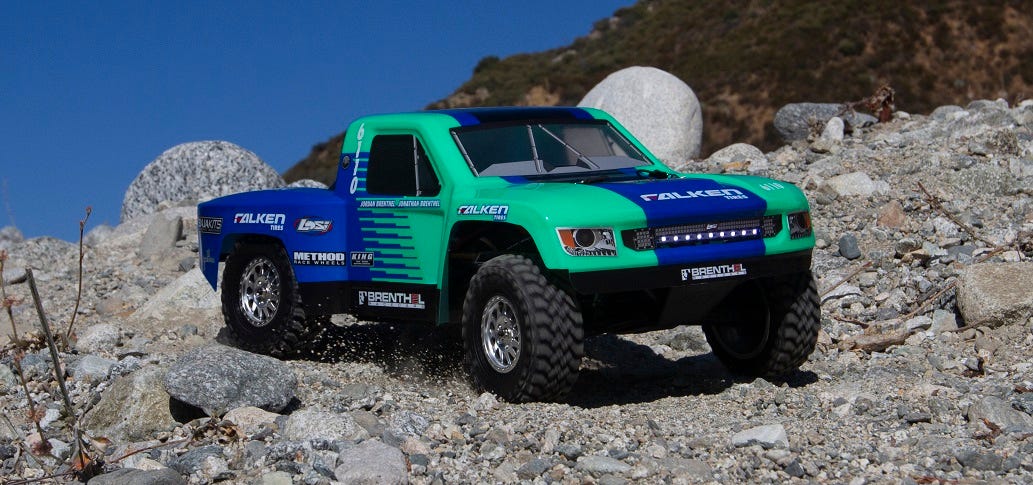 Underneath the body shell, you'll notice there is a full aluminium chassis, aluminium shock towers and aluminium shock bodies. The new Spektrum Firma SMART ESC is included along with the Spektrum Firma 3150Kv motor, servo and AVC (Active Vehicle Control) telemetry receiver. The Spektrum Firma ESC has an IC5 connector that features a sensor pin for receiving data when paired with a Spektrum SMART battery, so you can take advantage of some extra technology. The IC5 connector is conveniently backwards compatible with EC5 connectors giving you more battery options. A 2-cell or 3-cell LiPo battery with around a 5000mAh capacity is suitable for the Tenacity TT Pro.
TLR 8IGHT-X Elite Competition Buggy
TLR have announced their new 1/8 scale nitro buggy kit – the 8IGHT-X Elite. You may be familiar with the 'Elite' name from the 1/10 scale line and what 'elite' means is this RC buggy kit includes all the option parts with some tuning options as well. So, you can add your electronics and engine to this RC buggy and race it knowing that you have a competitive package with all the parts that you're going to need. Some additional parts that are included are two wings, a 10mm wing riser, front universals, carbon and plastic arm stiffening plates, quick-change engine mount and a moulded carb and throttle servo centre diff cover which reduces the heat to the servo and provides a bit of extra rigidity.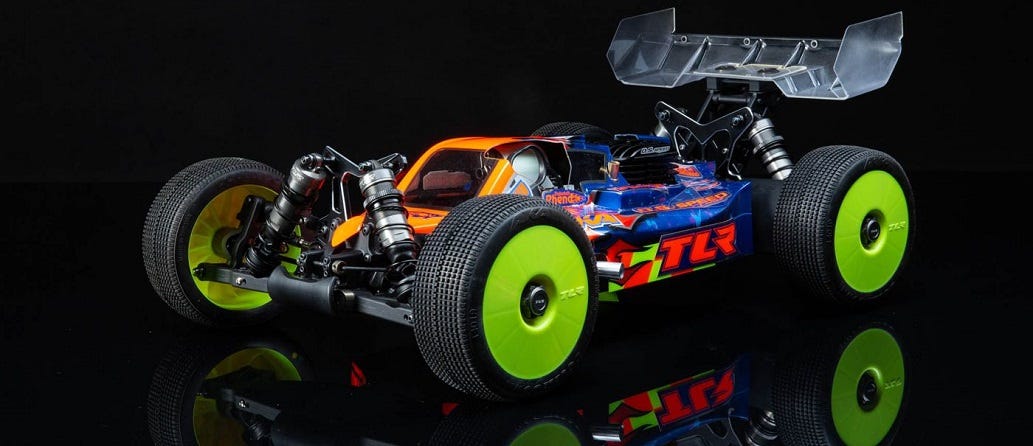 TLR have also made some small refinements and changes to the moulding on the arms and the gearboxes. As you can see, the value added to this product is very high, so all-in-all, a more refined kit that's going to give you a more competitive car out of the box. So, if you're into 1/8th scale buggy racing and you're looking for a new car the TLR 8IGHT-X Elite may be the option for you. It's a fantastic car that builds well and drives even better.
Grave Digger Monster Truck replica and SMT10 Raw Builder's Kit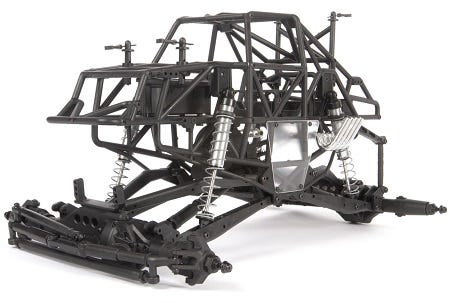 Axial Racing has brought the Grave Digger Monster Truck back from the dead and released a new SMT10 Raw Builder's Kit with it. The Raw Builder's kit is for the experienced modeller who is looking for a monster truck that can you build from the ground up and personalise by adding your own electronics, wheels, tyres and body shell.
The full-size Grave Digger is a famous monster truck known for its massive jumps and stunts. Axial have perfected their 1/10 scale version and re-released it with a Spektrum radio system so you can enjoy Monster Jam thrills wherever you bash. It comes Ready-To-Run, however, you will need to provide your own LiPo battery, a suitable charger and 4 AA batteries for the transmitter.
We put the Axial Grave Digger Monster Truck through its paces - click here to see what it's capable of!
Twin Otter replica
The Twin Otter is a new brushless twin model plane from E-flite that is available in a Bind-N-Fly (BNF) and Plug-N-Play (PNP) option. Both versions require you to add a 3-cell 2200-3200mAh LiPo battery, charger and transmitter, however, the PNP version requires you to add a receiver as well so if you're not a Spektrum user you can run a different radio system. Although this means you don't receive the benefits of the exclusive SAFE and AS3X technologies that the Bind-N-Fly version offers. Learn about SAFE Technology here.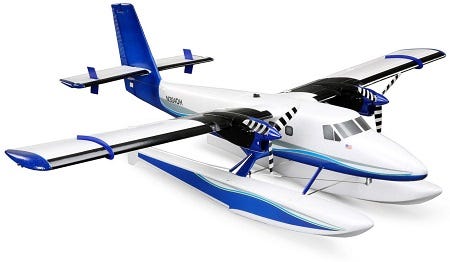 Assembly and disassembly for the E-flite Twin Otter are straightforward with a thumbscrew and snap-in struts to install the wing. You won't necessarily need to disassemble the Twin Otter, though. The model planes convenient size means you can transport it fully assembled for flying at different locations including RC flying fields, large parks and sports fields. Floats are included with this RC plane, so you can add small lakes and large ponds to your flying locations. With functional features like LED lights, operational flaps and black and white striped props, the E-flite Twin Otter RC plane looks as good as it performs and offers a unique flying experience that appeals to a wide range of pilots.
P-51D Mustang warbird
Another exciting release from E-flite is their new version of the P-51D Mustang. This RC warbird is quite a large model with a 1.5m wingspan and includes a whole host of extra scale details including moulded-in panel lines and hatches, removable drop tanks, guns, LED navigation lights, operational flaps and control surfaces with pocket hinges, sequenced main gear and tailwheel doors, plus more!

E-flite's P-51D Mustang 1.5m RC plane is available in Bind-N-Fly and Plug-N-Play options. As mentioned previously, the PNP version is best for pilots who are not Spektrum users, while the BNF version will benefit those with a Spektrum transmitter. A Spektrum DX8e transmitter would be ideal to use with this model plane, as it gives you the option to use your flaps, full electric main retracts and tailwheel as well as Spektrum SMART and SAFE Select technology. For both versions, you'll need to add your own transmitter, LiPo battery, charger and with the PNP version, you'll need to also add your own receiver. A 6-cell LiPo battery with a capacity between 3200 – 7000mAh will suit this aircraft; you can go with a large LiPo to get some long flight times or you can go with the lighter option to have a little bit more performance with a bit less weight in the model.
If you're looking for a larger model that has brilliant presence and performance, assembles in less time than it takes to charge your battery and includes exclusive technologies like Spektrum SMART and SAFE Select, the 1.5m P-51D Mustang might be the option for you.
We've gone through some fantastic new RC products that are available now on our website. If you're looking for more information or have any questions, feel free to give one of our sales representatives a call on (08) 8186 4250 and they'll be happy to assist.