E-Flite P-51D Mustang 1.5m, BNF Basic, EFL01250
For a realistic warbird experience unlike any other, you can't go past the Extra Scale P-51D Mustang 1.5m. This is E-flite's best performing, most highly detailed and largest model of the world-renowned Mustang yet. To get the best out of your P-51D it also comes equipped with SAFE Select and AS3X technology.
Looking for spare parts or upgrades?
Iconic large scale replica of WWII era plane flown by US and allied forces
High performance, superb handling and outstanding detail in large scale
Moulded in panel lines, removable drop tanks, mounted guns just some of the extra scale detail
Extra scale features that function include sequenced main gear and tailwheel doors, LED navigation lights, flaps amongst others
6S compatible high powered brushless motor that is factory installed and includes large diameter 4-blade propeller
Achieve level flight top speeds of up to 128 km/h on any 6S battery in the 3200-7000+mAh range and enjoy unlimited vertical performance
Spektrum Avian 100-amp Smart ESC gives real time data regarding battery capacity used, voltage, other data from the compatible transmitter and receivers
AR637T Spektrum receiver with DSMX technology and full range telemetry
Ball-linked equipped linkages on the nine factory installed precision servos
Optional-use SAFE Select makes flying easier with innovative flight envelope protection
Equipped with AS3X technology for improved stability and locked in feel
Main gear includes retractable tailwheel, shock absorbing scale struts that allows for take off and landing from a number of different surfaces
Centre section of 3 piece wing includes the main gear while the outer panels fit securely into place without the need for fasteners
Scale detailed 'Lou IV' trim scheme has been factory applied for excellent visibility
Reinforced with wood and carbon fibre is the durable EPO airframe
Quick-release battery tray is held securely by moulded in stop in the large top entry hatch
Quick and easy glue free assembly
P-51D Mustang replica from E-flite
As far as US manufactured WWII warbirds go the P-51 Mustang was considered to be the highest performing and most effective fighter plane to take to the skies in this theatre of war. Equipped with the Merlin engine the 'D' variant of the P-51 Mustang was able to escort heavy bomber formations all the way to Berlin and back again. Along with the Spitfire, the P-51 Mustang is revered as one of the Allied fighter plane greats.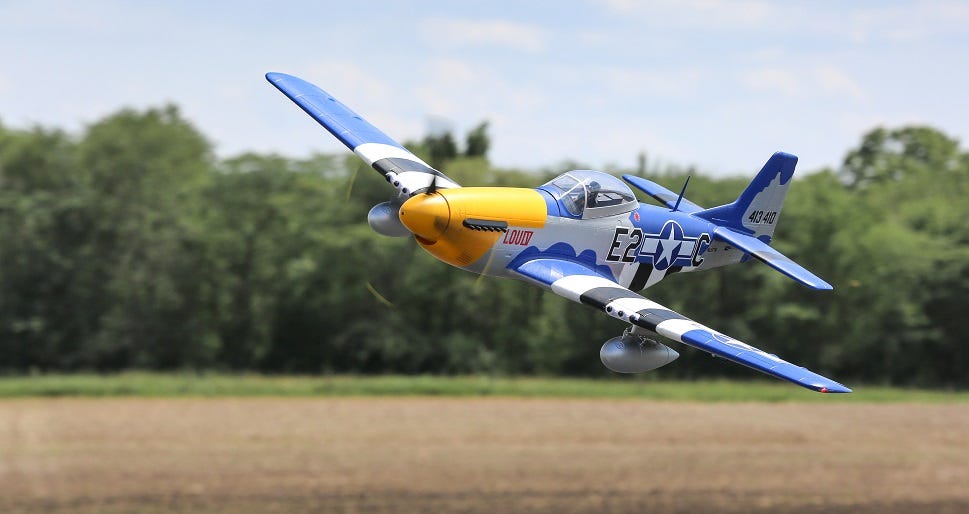 This large scale version from E-flite had to live up to its full-scale namesake which is why the E-flite® P-51D Mustang 1.5m features the highest level of handling, performance, detail and overall presence. The list of extra scale details is long and headlined by sequenced main and tailwheel gear doors, LED lights, flaps to name a few. The E-flite® P-51D Mustang 1.5m certainly looks the part and it also flies the part as well thanks largely to the Spektrum Avian Smart ESC that ensures this RC warbird gives you the flying experience you're looking for.
An RC warbird flying experience unlike any other
When E-flite bill this new version of the P-51D Mustang 1.5m as the best performing and most detailed replica of this warbird icon yet, you know it must be good. Fully moulded EPO construction material enables E-flite to bring the complex shapes and detail of the full-scale P-51D to you in tough, lightweight form. With factory-installed servos that include ball-link equipped linkages, your E-flite® P-51D Mustang 1.5m will respond with precise and exhilarating control regardless of your speed. Adding to the long list of scale features are the removable drop tanks, LED navigation lights, moulded in hatches and panel lines, wing gun portals, and, the 'Lou IV' livery that has been factory applied to accurately replicate those warbirds that served with the 375th Fighter Squadron in Britain. Reliable electric retracts are used to operate the main gear and tailwheel while the shock-absorbing struts are equipped with ball-bearing enabled wheels and scale replica diamond tread tyres making the flight possible on a number of surfaces. To give the E-flite® P-51D Mustang 1.5m the speed and power it was known for is a 6S high powered brushless motor that will take LiPo's in the 3200-7000mAh range and get you up to 128km/h when flying level not to mention give you awesome vertical performance levels as well.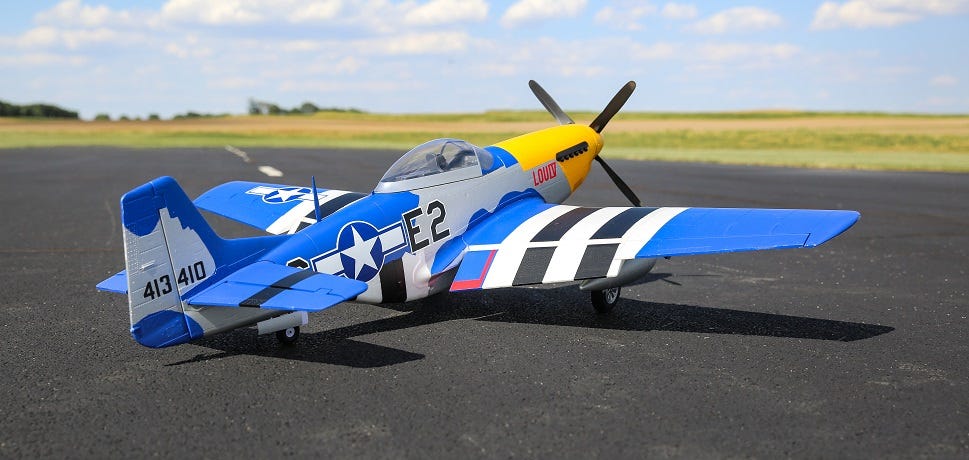 The Spektrum Avian 100-amp Smart ESC comes as standard in the E-flite® P-51D Mustang 1.5m and this BNF version is also equipped with Spektrum's AR637T receiver that gives you vital data in real-time with compatible transmitters. Optional use SAFE Select plus AS3X technology bring a new level of stability and control to your flying working in the background to smooth out any hiccups you may have in the air. The 3-piece wing design on the large scale E-flite® P-51D Mustang 1.5m makes it easy to store and transport and the EPO airframe bolts together so no glue! For a large-scale RC warbird experience like no other take the E-flite® P-51D Mustang 1.5m up for a spin.
This RC plane is also available in a Plug-N-Play version. Click here to check it out.
Full-range 6-7+ channel Spektrum™ DSMX®/DSM2® compatible transmitter
6S 22.2V 3200–7000+mAh LiPo with EC5™ or IC5™ connector (PMQB52006S)
Compatible LiPo charger
Wingspan

59 in (1500 mm)

Length

52 in (1320 mm)

Flying Weight

6 lb (2.7 kg)

Motor

Brushless (installed)

Speed Control

(1) 100A Spektrum™ Avian™ Smart ESC

Servos

(9) installed

Radio

Full-Range 6–7+ Channel DSMX®/DSM2® Compatible (sold separately)

Receiver

Spektrum™ AR637T 6-Channel with AS3X® and SAFE® Select Technologies (installed)

Battery

6S 22.2V 3200-7000+mAh LiPo with EC5™ or IC5™ Connector (sold separately)

Retracts

Yes

Experience Level

Skill Level 2 = Some Experience Required

Rec. Environment

Outdoor

Assembly Required

Yes

Approximate Assembly Time

Less than 1 hour
All product manuals are provided by the manufacturer, If you don't find the manual or information you are looking for, contact our experts for help.