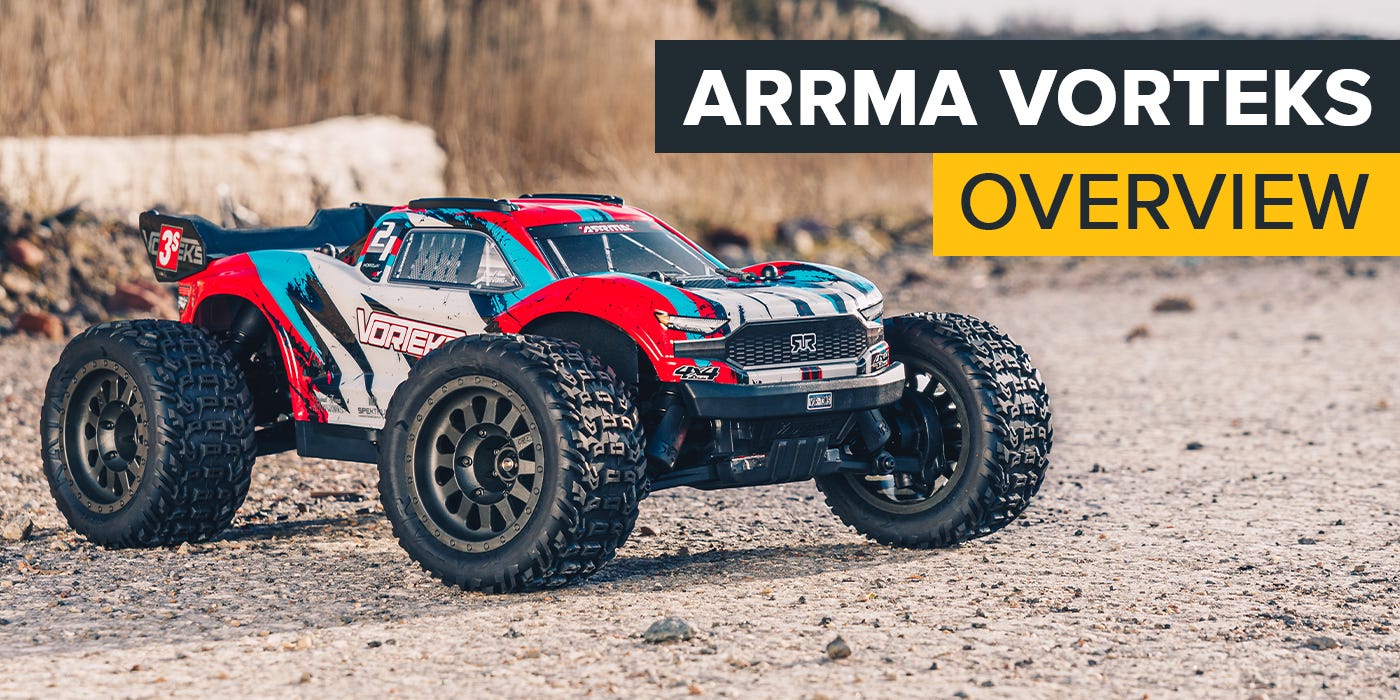 ARRMA's fastest and most advanced 1/10 scale RC car yet!
A special kind of new-release blog today, with the brand new Vorteks 4x4 3S BLX Stadium Truck from Arrma! We have been privileged enough to receive stock prior to its release date – so if at the conclusion of this blog you are keen to get your hands on one, you can jump online right now and purchase for delivery. No pre-orders required! Don't forget that free delivery option when you spend $200 or more ;)

Straight out the box you'll notice Arrma have gone for some different colourways this time which is nice to see – red/blue, blue/green and pink/purple - all preassembled. Also included is the optional pinion gear, and much like the existing 3S BLX range, you can choose to add a 2-cell or 3-cell (around 5000mAh) battery to this model. Adding a 3 cell with the pinion gear will see you reaching the car's top speed of 97 kilometres per hour!
Battery and charger-wise, the Spektrum SMART technology would be awesome on this car, teaming up with the already included SMART-ESC, but if that isn't in your price range we would opt for the Ultra-Power : Prime RC combination. If you're ever unsure of the best power pack for the model you have in mind, get in touch with our friendly and knowledgeable sales team (phone, webchat, email all available).
Spektrum is of course the radio of choice, too. The included DX3 has many great features for such a compact price and unit with a throttle limiter switch on top (allows you to change the cars throttle level between 100, 75 and 50) and a knob on the side that allows you to adjust AVC sensitivity.

'Under the hood' you'll see a full Spektrum electronics set up with some well thought out maintenance features to make your life a lot easier!
Running the Spektrum Firma Smart ESC, 3200 kv brushless motor, Spektrum servo and Spektrum AVC compatible receiver. When using a Spektrum smart battery you are able to take advantage of many telemetry features like the live battery voltage displayed on the DX3 transmitter.
You can tell a lot of thought about the consumer (you!) has gone into the making of this model at Arrma, with two combination mods (servo/ ESC/receiver and motor/slipper clutch, with a one screw removal), plus the front and rear diffs are modular and easy to access should you need to maintain, change oils, lubricate gears and so forth.
No surprises with another 5-star rating for this model! What are you waiting for?