Arrma Vorteks 4x4 3S BLX Stadium Truck, RTR, Red, ARA4305V3BT1
ARRMA have just released their fastest and most advanced 4X4 3S BLX platform yet with the Vorteks 4X4 3S BLX RTR Stadium Truck, set to blow minds and exceed expectations. Underneath the bonnet/body shell you'll find Spektrum Smart electronics and AVC to truly take your high-speed bashing to the next level.
Looking for spare parts or upgrades?
Injection moulded protective roof skids and wing on toughened stadium truck body
Body mounts are adjustable
Vented dBoots Katar high track multi-terrain tyres mounted on gun metal grey ultra tough wheels
ARRMA cooling fan/heatsink/SafeD pinion with Spektrum 3200Kv 3660 brushless motor
100A Spektrum Firma Smart ESC
2.4GHz Spektrum DX3 transmitter with SR6200A receiver equipped with Active Vehicle Control (AVC) on the Smart radio system
Metal geared SPMS651 Spektrum servo
Extended height dirt defenders on strengthened composite chassis
Front and rear equipped with double-wishbone suspension
Silicone O-rings on oil filled shocks
ARRMA's signature easy-access modular design
Turnbuckles are adjustable
Stone clearance on the steering system
Ride height is adjustable
Equipped with wheelie bar
Rubber shielded ball bearings throughout
37T 1.35 module durable metal differential gears with silicone o-rings
Sliding gear mesh and castellated slipper pad
Slipper has a plastic locknut
2-Year limited warranty
The fastest ARRMA 1/10 scale RC car yet!
When you first pin the throttle down the ARRMA Vorteks 4X4 3S BLX RTR Stadium Truck, you'll quickly realise that this is the fastest and most technically advanced RC stadium truck that ARRMA have released to date. The ARRMA engineers have focused on durability, control, and blistering speed as well as making it affordable.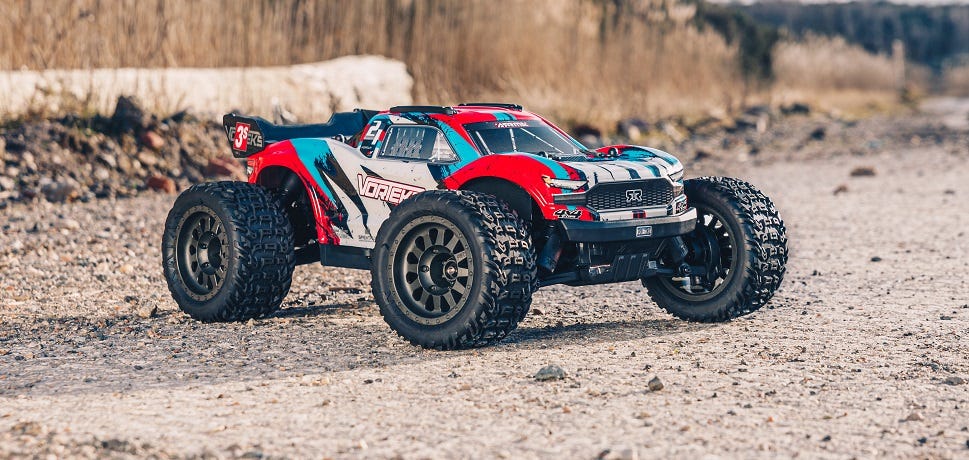 Right out of the box the speed of the ARRMA Vorteks 4X4 3S BLX Stadium Truck is breathtaking. You can load up with either 2S or 3S LiPo's as the 3200Kv Spektrum Firma brushless motor is compatible with either. Install the included optional pinion gear with 3S LiPo power and you'll soon be hitting speeds of 96+ km/h.
The list of features that allow the ARRMA Vorteks to travel at speed over a host of different surfaces include retained hinge pin plates and a stronger composite chassis, sliding gear mesh and a castellated slipper plate, rubber-shielded ball bearings, and, steering with more clearance for stones. Dirt and debris getting into the chassis tub are limited with the extended height dirt defenders and front and rear strengthened bumpers limit the effect of impacts.
Speed bashing at it's best with the Vorteks
Katar tyres by dBoots give the ARRMA Vorteks 4X4 3S BLX RTR Stadium Truck high traction and are mounted on to gunmetal toughened wheels and made of durable high-quality rubber that translates to easy handling and superb grip in a wide range of driving conditions. To ensure the Vorteks also looks good it comes with a schmick new stadium truck body that has toughened injection moulded protective roof skids and wing.
The Vorteks is also fitted out with advanced Spektrum electronics so you just don't go fast and look good, you also have the SMART's on board as well. Included with the DX3 2.4GHz DSMR transmitter is a 100A Firma ESC and an SR6200A receiver that gives you the driving advantages of Active Vehicle Control (AVC). The on-demand traction control of AVC will allow your ARRMA Vorteks 4X4 3S BLX RTR Stadium Truck to nail jumps or aggressively take the racing line into corners without having to back off the power. AVC will work behind the scenes making hundreds of slight throttle and steering adjustments to give you additional stability whether it's on loose dirt, rough terrain, or flat tarmac. If you think you can handle the Vorteks without AVC, you can simply dial back the stability assist and away you go!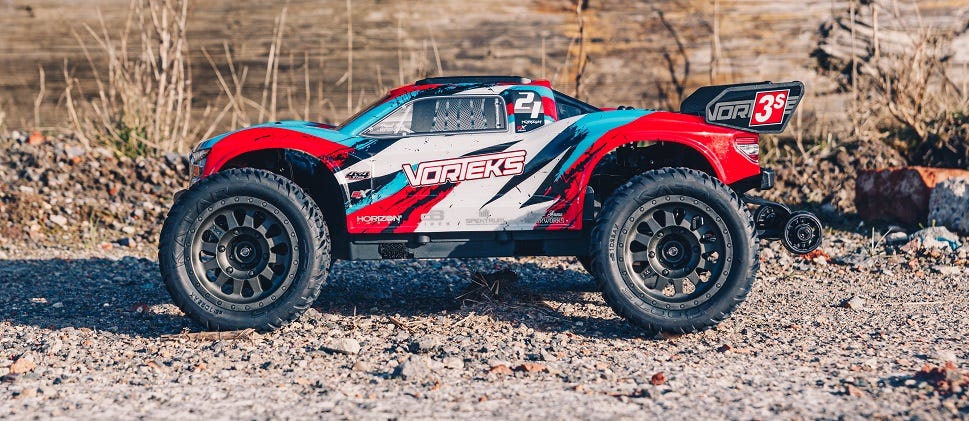 To take advantage of all the SMART technology's telemetry capabilities on your ARRMA Vorteks 4X4 3S BLX RTR Stadium Truck, just download the Spektrum Dashboard app free from Google Play or the iPhone App Store. Connect your DX3 to your mobile device via Bluetooth and all the SMART technology telemetry data is at your fingertips including remaining battery voltage, top speed, and other data. You will need the BT2000 Bluetooth Module (SPMBT2000) that is sold separately.
With the highest level of technology and speed yet in the proven ARRMA 4X4 platform, you can smash and bash without crashing (hopefully!) in the affordable ARRMA Vorteks 4X4 3S BLX RTR Stadium Truck.
The ARRMA Vorteks is also available in Green and Purple colour schemes.
2S or 3S Hardcase LiPo Battery*
Compatible Charger
(4) AA Batteries
LiPo Safe Charging Bag
*Maximum battery dimensions 6.14x2.01x1.89 in (156x51x48mm). Miniumum battery specs 5000mAh 50C.
Internal Gear Ratio

2.85

Pinion

18T

Suspension

Independent

Motor Type

Brushless - Sensorless

Vehicle Type

Stadium Truck

Product Length

18.5" (470 mm)

Product Width

13.31" (338 mm)

Shock Type

Oil-Filled, Coil-Over Springs

Ball Bearings

Full set, rubber shielded

Receiver

Included

Chassis

Molded Composite

Speed Control

Included

Completion Level

Ready-To-Run

Servos

Included

Power Type

Electric

Product Weight

6.49 lbs (2.95kg)

Scale

1/10

Body

Painted, decalled and trimmed

Spur Gear

57T

Differential

2 Gear Diffs

Product Height

6.42" (163 mm)

Battery

Sold Separately

Final Drive Ratio

9.03

Radio

Included

Drivetrain

4WD

Gear Pitch

0.8m

Wheelbase

11.3" (287 mm)

Approximate Assembly Time

No assembly required

Brakes

Integral with ESC
All product manuals are provided by the manufacturer, If you don't find the manual or information you are looking for, contact our experts for help.