We have had some brand New RC Products arrive through the doors this week so let's get into it and show you some of the nice items that we've got.
RC Drone and Flying Wing all-in-one

The Blade Inductrix Switch AIR is a brand new product from Blade. It's super innovative and a really cool idea for a drone crossed with an indoor flying wing. The inductrix Switch AIR has multiple forms. You may already be familiar with the Blade Switch 'Hovercraft' version that is already available in the market, that version has the drone clip into a skirt base for the hovercraft. Giving you to two forms to use it in; one on the ground, the other in the air. The Switch Air is a similar concept with the drone morphing with a flying wing. It also gives you multiple flight modes whether being flown as a wing or a multirotor drone. The flight modes are in essence a beginner, intermediate and advanced logic. In all modes, the Switch AIR is very easy to fly and super easy to maneuver. Much like an RC Helicopter or Drone, you can stop the wing in a hover state.
The Inductrix Switch AIR comes in two versions BNF and RTF. If you already own the Inductrix 'Hovercraft' version you can purchase the wing on its own and with a simple firmware update, you will have the AIR capabilities. A super cool and innovative product.
Indoor 3D RC Heli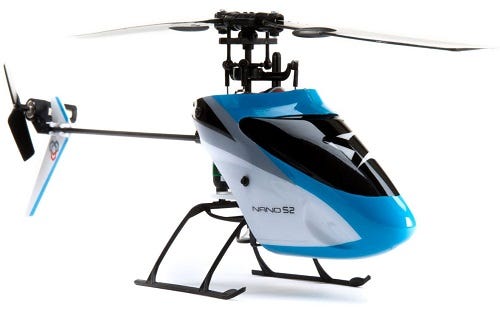 The Blade Nano S2 Helicopter is a fantastic new product from Blade and the next generation of the indoor 3D helicopter. It is a fantastic unit for the beginner, through to an advanced 3D pilot that may want to practice intricate maneuvers before attempting on a larger model. It comes in a Bind-N-Fly (BNF) version which includes the helicopter, standard 150mah 1S battery, and USB charger with a charge time of around 40-45minutes from flat.
The Nano S2 also includes SAFE technology and AS3X that includes the panic recovery in-flight support. Also included is a new technology called, SAFE Z. SAFE Z which is essentially an altitude hold function using the onboard accelerometer to maintain a constant height and throttle. This is a fantastic feature for those learning to fly giving you one less thing to worry about help enjoy your learning experience as a stable hover can be one of the most daunting aspects to learn.
Micro FPV Drone

Spedix have also just released the New REX 80 Micro FPV Drone. It is an 80mm Whoop style FPV quadcopter with amazing specifications and performance for the price. The REX 80 is 3-4S battery compatible, we recommend the Dualsky 550mah 3S as ideal.
It is sold as a BNF coming in two versions with Spektrum DSM-X protocol or and FrSky version. It uses 1103 – 11,000Kv brushless motors providing a lot of punch, an F4 flight controller, and a CAD-X camera pre-installed. High-quality gear making for a fantastic and enjoyable FPV quadcopter.
Range Rover Replica Rock Crawler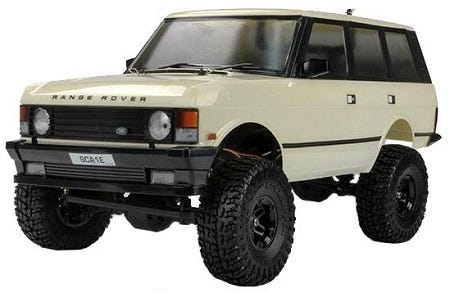 Continuing the superb Carisma SCA-1E Range is the new limited edition Range Rover. This is more than just a body revision, including a new battery and servo mounting (chassis mounted), improved weight distribution, ESC now LiPo battery compatible, and all other electronics are located in a waterproof sealed compartment.
The product is a complete Ready-to-Run including Transmitter 2.4G, Battery, Charger, and the car is entirely assembled. Carisma continues to push the boundaries of quality and performance in this new release.
We hope you enjoy these new and exciting products as much as we do. If you have any questions or queries, please don't hesitate to contact us.