Axial Yeti Jr. Can-Am Replica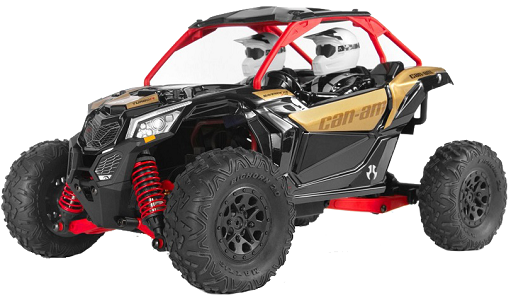 Axial has teamed up with Can-Am to produce a realistic Maverick X3 rock racer in a 1/18th scale with a detailed Can-Am finish. This RC car comes with some great features and is ready to run out of the box. One of the big differences between this and previous Axial models is now that they're owned by Horizon Hobby some changes have been made to the electronic package. A Spektrum STX2 transmitter, receiver and a Spektrum servo are included as standard – it also uses a Dynamite 380 size brushed motor as well as a Dynamite speed pack NiMH battery. A convenient USB charger is also included - whether it's a power pack for your phone, computer or any other USB port, you can charge your battery on the go!
The Yeti Jr. Can-Am Maverick body shell is hinged at the rear, with two body clips at the front so you can simply remove your body clips and tilt the body back. The battery tray system also has a hinge lock, so you can lift it and open the battery tray to remove and reinstall the battery easily. The Axial Yeti Jr. is quite a simple car from a construction point of view, so if you're needing to do some maintenance or replace parts it is easy to do so.
The included Spektrum STX2 transmitter features a throttle limit function. For beginners and drivers with little experience, you can limit the speed to 50%. As the driver develops their skills and becomes more confident, you can increase the speed to 75% and 100%.
Spektrum DX9 Black Edition Aircraft Radio

If you're in the market looking for a high-end radio with something more than the standard 6 channels, the Spektrum DX9 is an ideal option. This radio comes as a transmitter only, making it perfect to combine with a Bind-N-Fly aircraft from Horizon that has the receiver installed in the aircraft. You can plug in the settings for the aircraft into your radio, which are downloadable from Spektrum's website.
The DX9 is a tried and true unit with a 250-model memory, and its ease of use makes this radio popular among RC pilots. It uses Spektrum's model match systems and includes all the menus that you're going to need for helicopters, gliders and aircrafts.
Blade mCP S Beginner Helicopter

Beginner to intermediate RC pilots are sure to enjoy the Blade mCP S Helicopter. A beginner pilot is best to purchase the Ready-to-fly version as it includes an MLP6DSM 6 channel transmitter, two 210mAh batteries, a convenient USB charger, a spare set of main rotor blades, tail rotor blades as well as some tie rods for the linkage. It is also available in a Bind-N-Fly configuration, so you can choose your own transmitter to fly with. Spektrum's DX9, DX6, DX6e and any other Spektrum 6+ Channel transmitter would be ideal for this helicopter.
Exclusive AS3X and SAFE technology feature in this RC helicopter, which makes it appealing to pilots of all skill levels. This technology includes Panic Recovery mode as well as three different progressive flight modes – Stability Mode, Agility Mode and 3D Mode. Stability mode provides self-levelling and bank angle limits. Agility Mode does not provide self-levelling and allows the pilot to perform mild 3D manoeuvres, while 3D Mode gives full control to the pilot and the rotor head speed is increased to a higher RPM.
Hitec Flash 7 Transmitter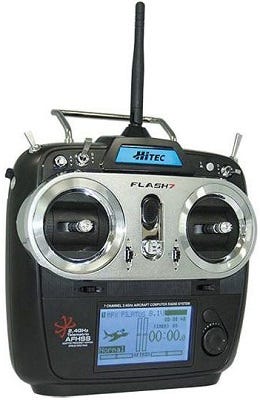 The Flash 7 transmitter from Hitec is a fantastic and affordable 2.4GHz radio for pilots who might be in the market for a 7-channel digital transmitter. Included in the box are the transmitter, a switch and two Optima 7 receivers. Hitec's Flash 7 system is a seven-millisecond latency which means good connection with the aircraft, so you feel really connected.
It has 20 model memory, model mixing and model types with everything you're going to need to set your models up and have a great flight experience.
If you have questions about the products above or any other product on our website, please contact us and our staff will be happy to assist.