Carisma SCA-1E 1981 Range Rover Classic Crawler, RTR, CRS78568
The latest RC crawler from Carisma Scale Adventure is the fully licensed 1981 Range Rover Classic on the superb SCA-1E RTR platform.
4-door fully licensed 1981 Range Rover body
Metal geared high torque steering servo
Wheelbase is a 285mm standard SCA-1E
Multi-positional Gen 2 shock towers with increased stiffening
Crawler mode enabled ARC-1 ESC
Brushed high torque 35T motor
Coil-over oil filled shocks
Forward battery mount and CMS are combined
2.4GHz CTX-8000 Transmitter
2.4GHz FHSS MRX-2800 Receiver
1981 Range Rover replica
First released in 1970 the Range Rover Classic quickly became an icon of the British motoring world. As the first permanent 4WD vehicle in the world, the Range Rover Classic possessed the performance as well as the looks to be a true cross-over vehicle between city and country. With a split tailgate, continuous waistline, and, a clamshell bonnet the Range Rover Classic was a comfortable vehicle to drive and be seen in and became a much sought after vehicle.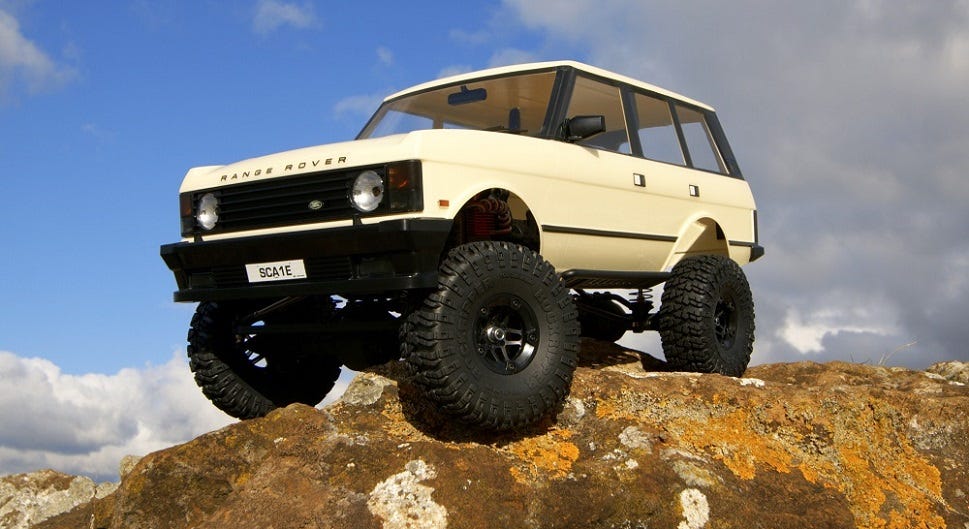 Whilst the style of the Range Rover Classic was evident it was its substance that made it a real 'classic'. Capable of tackling off-road challenges like fields, deep river fords or high mountain passes the Range Rover Classic proved its worth in most environments.
Carisma have worked diligently to bring the 4-door version of the Range Rover Classic to life and combined with the SCA-1E RTR platform you will get an RC truck or RC crawler that gives you both the look and the performance that such a classic warrants.
Captivating RC Crawler
The Carisma SCA-1E 1981 Range Rover Classic Crawler has been built around the 285mm C-section chassis of the SCA-1E. There are a vast array of features which include a high torque 35T motor, all new ARC-1 ESC that is set to Crawler mode, combined CMS mount and forward battery tray, refined throttle profile, voltage and thermal protection, all new stiffer shock towers that are multi-positional, waterproofing, and, LiPo compatibility.
As you would expect with the SCA-1E chassis the list of high quality standard issue components also includes: Waterproof high torque steering servo, locked heavy-duty axles, UJ Prop shafts, CVD steel driveshafts, injection moulded grille with LED-ready light buckets, front and rear chassis mounted bumpers with optional winch mounting points, coil-over oil filled shocks, 1.9 Beadlock tyres and wheels. A few little scale details that add to the authenticity are the wing mirrors, windscreen wipers and scale bumpers.  Also included are some AA cell batteries for your transmitter as well as a NiMh pack and a USB charger.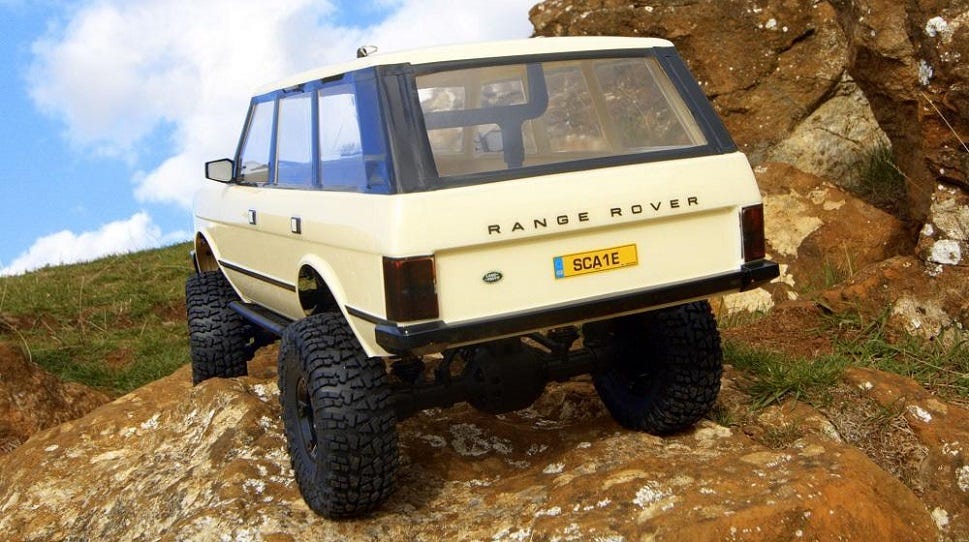 The transmitter on the Carisma SCA-1E 1981 Range Rover Classic Crawler is a 2.4GHz CTX 8000 FHSS which gives the driver interference and glitch free control, channel reversing, adjustable steering rate and endpoint as well as a balanced and ergonomic transmitter controls.
Being a fully licensed product Carisma have been able to bring you an RC crawler version of the 1981 Range Rover Classic with a level of scale detail that does the 1:1 version true justice. That is not to say that you can't add additional features to customise to your tastes such as a roof rack, winch, alloy wheels, different tyres, LED lights or a fully fabricated interior. Carisma gives you the option of adding to a classic to make it your own. 
Weight:

Approx. 2200g (Fully RTR)

Skid Clearance:

75mm (adjustable)

Length:

480mm

Width:

230mm

Wheelbase:

285mm (adjustable)

Height:

220mm (adjustable)
All product manuals are provided by the manufacturer, If you don't find the manual or information you are looking for, contact our experts for help.
Looking for spare parts or upgrades?