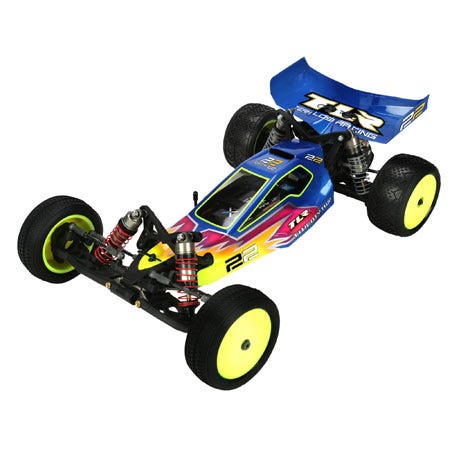 Modeflight
 was fortunate enough to be there to capture all the action. We are pleased to say that TLR/Modelflight Australia driver, Andrew Gillott took out the Modified 2WD EP Australian National Title with his 
TLR 22
 Race Buggy.  Using a mid-mount configuration, Andrew claimed both the top qualifier and finals win on the high-grip track. Modelflight was able to speak with Andrew to get a blow-by-blow account of his performance on Friday's race day:
Qualifier 1:
 "
After the track was watered I knew this would probably be the toughest to qualify well as the track was slippery, something not ideal for mid config. Had made a few changes for the slick track, had a clean but careful run, qualified 2nd only .2 second behind."
Qualifier 2:
 "
Back to high grip setup but it was still quite cool however track was dry, qualified 2nd 1 second behind, another close call after a bobble close to the end."
Qualifier 3:
 "
Made a few small changes to gain steering and corner speed, qualified 3rd after 1 mistake."
Qualifier 4: "
Added rear weight and change front roll centre. 3 different people had TQ'd a round by now and I needed to TQ this round and beat the best time to seal TQ, and did! The changes I made worked, and starting No.1 in the mains was important so was very happy and confident in my car at this stage."
The A-Finals for this style of racing are held as a best-of-three structure.
Final Leg 1: "
With Josh Pain off 2 and considering the battles we have had in the past I knew I was in for a tough race. I was off the line well with Pain close behind, it was like this for a number of laps until I pulled out a little lead and could control the race. Finished slow to reduce risk of crashing and won Leg 1 start to finish in front of a strong finishing Pain."
Final Leg 2: "
Was nervous leading into this one however knew all I had to do was keep it on all fours. After a close call with Pain on the first lap which resulting in him falling back I had a small buffer which I maintained throughout the race leading again start to finish! Taking Leg 2 and the title! Having the confidence in the car helped me control both finals leading both start to finish."
Final Leg 3: "
Sat back and watched by the side lines as Josh Pain won."
Andrew Gillott and the TLR Team also used the new 
Dualsky Track & Field XC870 ESC
launched at the event, "I love the XC870TF, it is such a versatile ESC that lets you dial in any setting to suit different and changing tracking conditions. Having used and tested a number of other leading brands I am most happy with the Dualsky power package to give you the edge over the competition. It is such a powerful package as it gives you the ability to control all parts of the power band to suit personal drivers requirements. With the use of the Dualsky USB link software at the Australian Nationals I dialled in more top speed and a smoother bottom end profile to suit the nature of the large flowing layout. This greatly assisted in control and top end that definitely helped my become the 2WD Modified Champion for 2013!" Big thanks to Andrew Gillott for providing us with this account and from everyone here at Modelflight, congratulations on a victorious weekend.  We managed to capture some video footage from the event, which you can see below: Also, if you would like to read over Andrew's TLR 22 set up sheet, we have included a copy below: