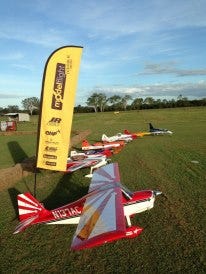 The Gratton Field in Calvert, Queensland came alive last weekend.  The Spektrum Gratton Airshow was held from February 14 to 17 and Modelflight was really pleased to be involved in this fantastic event.  108 modellers from across Australia participated in the competitions at Gratton, and they were watched by an estimated 2,200 spectators who attended the event over the course of 4 days.  We had several of our team members at Gratton, including our Managing Director, Mike O'Reilly (pictured above).  There were a wide range of modelling activities at the Airshow, including scale competitions, racing, discus launch and aero tow demonstrations.  If that wasn't enough, Gratton was pleased to host two Very Important Pilots from Team Horizon - Ali Machinksy (below left) and Mike McConville (below right).
Both Machinsky and McConville showcased their flying skills at the event, which our own Mike described as "absolutely amazing".  These pilots flew a variety of different planes, including models provided by Modelflight and other Brisbane-based modellers.  A real head-turner (quite literally) was Machinsky's own OPUS Hotliner (pictured below).  Powered by a JetCat P-20 turbine, this plane clocked speeds of 296.7km/h!
Mike O'Reilly was pleased to help Mike McConville and Ali Machinsky put on their demo flights. He also had a chance to fly his Baudis Antares 6.6m glider behind our Hangar 9 Piper Pawnee tow plane (you can see this plane in the picture below).
Mike said that the competitions were a thrill to watch.  The scale contest was very close and the pylon racing in the Reno, Texan and Golden Era inline classes featured a quality field.  The only downside was a little bit of rain that arrived on Saturday and Sunday which, sadly, came just as the lunchtime shows were about to start.  Although, for the spectators who were willing to stay, they witnessed a fantastic display of demo flights later in the afternoon when the weather cleared.
Modelflight is really excited to be a part of the event next year.  While the timing of this event is still being finalised, it is likely to be held in August/September 2014.  Of course, as soon as the dates are confirmed, we will let you all know.  We would highly encourage you to consider attending the event next year.  It is a spectacular show featuring the best modelling from some of the best modellers in Australia. If you would like to see more photos from this year's event, there is an album on Modelflight's Facebook page.  We were proud to be a sponsor of the Spektrum Gratton Airshow and we will continue to report on other modelling events in the future.
[caption id="attachment_1691" align="aligncenter" width="480"]
Team Modelflight with Ali Machinsky and Mike McConville.[/caption]