We've had a lot of stock arrive, with a lot of exciting, brand new product.
Today we're going to focus on the car side of things, since the last blog was mostly aircraft.  
Arrma Granite BLX 4x4 Monster Truck
The Arrma Granite 4x4 BLX is an all new arrival for Modelfight. The Granite chassis is very durable and made for bashing, jumping and doing anything you want. 
There's a big wheelie bar on the back, and this car does have a lot of power with the brushless setup so it will certainly need that wheelie bar. 
The Granite is a truck that's preassembled and almost ready to run. You will need to purchase a battery separately, choosing from two or three cell lipo compatibility, and we suggest around the 5,000 milliamp range.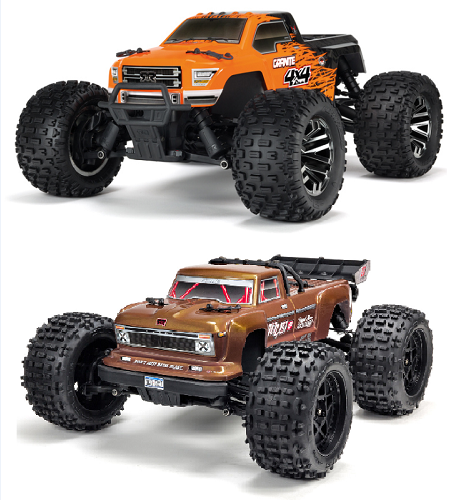 Two cell is going to be a more controllable, with the three cell offering speeds above 70 kilometers an hours. The three cell combination would be for more experienced users but a lot of fun. 
You will also need a charger for your battery and ideally a lipo-safe charging bag, but aside from that the truck is ready to go - so get it out of the box, install your batteries and get to bashing with the great Granite 4x4 BLX! 
Arrma Outcast BLX Stunt Truck
Another brand-new release from Arrma is the Outcast 4S... simply wow! A lot of customers may be familiar with the 6S version from the Outcast line - this is the 4S version - so a lower voltage battery, which translates into the batteries being a little bit more economical to purchase. The car itself is a great price, slightly smaller then its 6S counterpart, with a narrower track width and wheelbase. The car is just as capable as its big brother.  
This car will take 3S or 4S LiPo batteries, so whether you want to set that up with two 2S packs, one 3S pack or one 4S pack, is completely up to you, all of these packs are very common as a lot of ready to run cars use them. This car is aimed at someone who's getting into RC, who might have one or two cars and might already have the packs at home. There is super impressive performance on whichever route you choose to take regarding batteries, but we highly recommend you go with the 4S as the performance is incredible. It's a stunt truck, made for doing back flips, front flips and heading to the skate park or the BMX track. If you pull full throttle with a 4s setup, the car will do standing backflips, but on a 3s setup it is still quite captivating. Taking the body shell off, you can see everything on the Outcast 4s has been engineered for durability. They have also kept in easy maintenance, so not only is everything on this car super chunky and super strong, but it has massive shock absorbers, turnbuckles, drive shafts and the ability to work on the car is easy. The quick access center diff is one screw from the bottom and then you've got a lift lock tab that slides out. The center drive shaft is spring loaded, so you can get the whole motor plate as well as the motor out to work on. If you need to change pinions, change the gearing and do any other maintenance, it's super accessible – and the same goes for the front and rear differentials. You will notice the front to back chassis brace is providing a bit of protection on the chassis for when it has big impacts, if it's trying to flex inwards or outwards the chassis brace helps to keep that stiff. The front and rear shocks have plastic shock absorbers, but have adjustable ride height and preload, and the wing has received a revision as well.  
Compared to the Outcast 6S, the car is a smaller overall but with the setup and design, just as capable. You're going to a get EXTREME performance as we have come to expect with Arrma. So, if you're looking for a stunt truck that's going to do standing backflips, go to the skate park, go to the BMX track or bash around the park - the Outcast 4S may be just the car for you -  it is just super fun! 
Panda Hobby Tetra X1 Scale Crawler  
A brand-new release from a new company to Modelflight (Panda Hobby), is the Tetra X1.  
We've had the chance to use a sample one of these and have recorded a video on it, so keep an eye out for that. We're super impressed with the quality versus affordability of this car. It's a 1:18 scale crawler that comes packed with loads of features as well as value in the box. The Tetra X1 is ready to run, with everything you need to get going. You also get two batteries (500 milliamp lithium ion) in the box with a simple USB charger, so you can charge up anywhere at home, from a phone outlet, or from a USB outlet in the car, giving you a lot of autonomy to be charging while you are driving. The car itself is a great unit, high quality and easy to work on. With aluminium chassis rails and oil-filled shocks it's quite efficient for a crawler of this size. Normally when you scale the crawlers down, they're not very capable but what the Tetra X1 could get through was pleasantly surprising. Another neat feature is the LED brake lights, headlights and light bar up the top, which are all controlled by the transmitter so you can switch them on and off. Take the body shell off and you can see there's several wires for all of these LEDs that are mounted in the body shell. You also get a two in one ESC and receiver unit, which is powering the servo, the LEDs and the 180 size, 51 turn brush motor - quite a big motor for a car of this size. At the back is the battery mounting position and a standard JST battery plug. You have the steering servo mounted all the way at the front, to try and help with weight bias, so when you are going over steep obstacles it will keep the front end of the car down, helps with the crawling capability and the level of difficulty of objects you can get over - the more weight you can get up the front, the better. The steering servo is really fast, so it's nice to have rapid response and quick turns. Sometimes you tend to see servos that are a little bit slow on smaller crawlers, but this has torque and speed for days.  So, all in all a GREAT product from Panda Hobby, the test driving we have done with it has been excellent. Keep an eye out for that video which will give you an idea of what this thing is truly capable of.  
Spektrum DX5 Rugged Surface Transmitter w/ SR515 Receiver
The DX-5 Rugged is a new release from Spektrum, it's a transmitter that was aimed at the basher, the crawler, and the marine enthusiast - anyone that is using their transmitter in less than perfect conditions, where there might be water or mud - this transmitter is for you.  
We all know that cars have been made to withstand water, bashing and dropping - but transmitters typically are not - the Rugged is designed to withstand these obstacles. A lot of durability has gone into the design; the radio features a rubber casing all around it so should you drop it, damage, if any, will be minimal. Spektrum have internalised the antenna, so there isn't anything sticking out that will likely get broken. The transmitter is water resistant, so if it does get wet, you're going to be safe. It also has an innovative thumb steering setup so you can steer and drive a car with one hand, which will be great for those of you that are wanting to film whilst operating the car with good control authority. With the waterproof setup, Spektrum have had to move away from the scroll wheel at the back and instead opt for a touch pad system that still allows you to scroll up and down, as well as select. The transmitter has a huge 20-model memory which will be plenty for most RC enthusiasts. It comes with an SR515 receiver in the box, which is a five-channel transmitter and receiver set up. The receiver has the capability of running at 5.5 millisecond latency, all you need to add to this is a double-A, but other than that it's a perfect transmitter to pair with any ready-to-run or bind-and-drive car. 
So, if you want to upgrade your radio this would be a great option - it's super durable, can stand a bit of abuse and even a bit of water. 
Axial SCX10 II 1.9 UMG Crawler Kit
An all new release from Axial RC is the UMG 10 - a KIT roller, which you assemble from the ground up - all the piece parts are included, but you will need to add the running gear (i.e. transmitter, servos, receiver, motor and ESC, batteries and charger). It's fantastic for those hardcore enthusiasts that want to build up a kit. It would also be a great purchase if you wanted to get started in building, as this is a pretty straightforward assembly option from Axial. The UMG 10 uses the SCX10 II platform, which is a proven platform, one that's very capable and widely used across the Axial range. They put it into a kit form with the unique UMG 10 body styling, a really appealing front cab and back – all-in-all, a high quality kit and a great option for those looking to build their own crawler from the ground up.  








Axial Wraith 1.9 Crawler
The Axial Wraith 1.9 has just come back into stock! We have this car in two colorways, the one featured in our recent update video is orange, but it comes in black as well, both coated in a nice matte coloring for something different and finished off with a biomaterial top cover which goes with the scale look of the car.  
Axial have a lot of detail in this car and the most obvious part of that is the battery tray, which is located under the bonnet, along with a fantastic scale-looking engine. This car comes almost ready to run, you will need to add a battery of your choice and the charger for that battery.  On the battery-front there are a few options, as the speed controller in this car can handle both nickel metal and LiPO 2S and 3S, where 3S LiPO is of course going to give you the highest performance. If you are switching between NiMH and LiPO, Axial have given you the option of moving a jumper on the speed controller, for the LiPO low voltage cutoff. The car comes preset to run LiPO, but if you want to run nickel metal hydride you can just move that jumper over and if you want to run LiPO's again, you can move it back - so super easy and a great job by the guys at Axial to make this available to run different types of battery, not leaving you stuck with one or the other. The electronics on this car comes installed with a Spektrum STX 2 transmitter and receiver, tactic metal gear servos to keep the wheels pointing in the right direction and a Dynamite motor system. Overall an exceptional product, great scale detail and something that's sure to turn heads and excite the crawling enthusiasts.