Axial Wraith 1.9 Crawler, RTR, Black, AXI90074T2
The latest RC crawler from Axial is the Wraith 1.9 4x4 RTR. With a combination of outstanding scale detail and enough onboard rock crawling technology to handle just about any terrain, the Axial Wraith should be on your radar if you are an RC truck or crawling enthusiast.
Looking for spare parts or upgrades?
Servo mounted on chassis for a realistic look
Forward battery mount position on rigid tube chassis
Adjustable battery tray and easily accessible electronics
All new body design includes a grill, fender, LED lights, radiator and V8 engine features
SRX200 Receiver and STX2 Transmitter both from Spektrum
TSX45 metal geared waterproof servo by Tactic
XD229 Machete crawl wheels fitted with fully licensed 1.9 Nitto Trail Grappler M/T tyres
Equipped drive shafts are WB8 HD Wildboar's.
Improved rough terrain handling and extra clearance provided by skid plate/boatsides that assist you to slip over/past/through obstacles
32-pitch gearing on the dual slipper clutch
3S LiPo compatible Dynamite ESC with drag brake that can be easily switched with a jumper over to NiMh
Better driveshaft angles and added ground clearance achieved with hi-pinion AR44 axles
Equipped with an integrated cooling fan the 35T electric brushed motor is ideal for extended use
Torque twist and axle steer is reduced through the 4-link design used on the rear suspension geometry
Transmission is a compact AX10 unit
Includes two separate scale detailed turbochargers that can be installed under the hood for that little bit extra scale realism (installation hardware will need to be purchased separately)
Axial's Wraith 1.9 Rock Crawler
With the first full tube frame chassis in RC, the Axial Wraith is built for those willing to aggressively tackle rough ground and see if this RC crawlers durability can be compromised. By reducing the size of the lower rails and skid plates Axial have refined the 2.2 Wraith chassis design in order to give you, even more, ground clearance. Being able to slip through and over/past most obstacles through improved handling is the big advantage of the boatsides on the Wraith's skidplate.
To allow for more aggressive climbing Axial moved the battery mounts to the front of the chassis in order to capitalise on better weight distribution. To achieve the scale realism of a full-size truck Axial shifted the servo from the top of the axle to the chassis.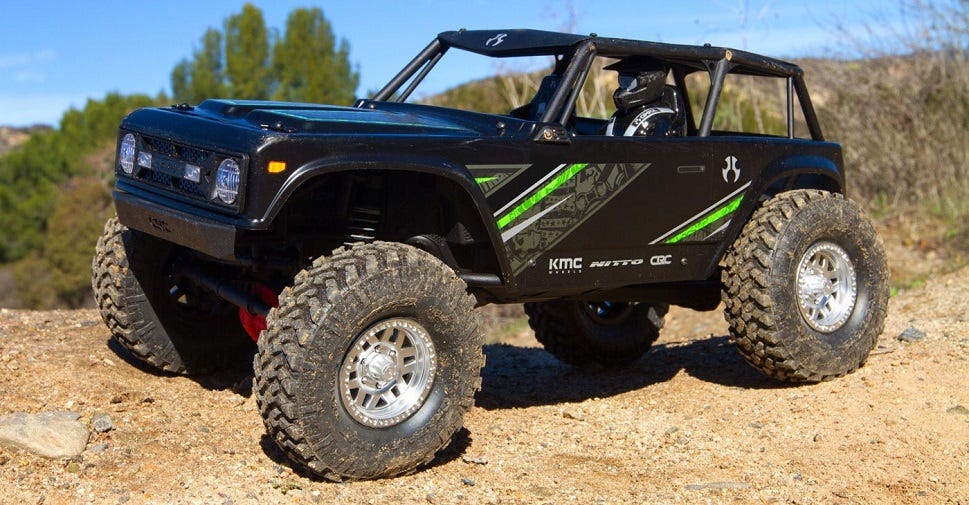 Using a brushed 540 turn motor the Wraith 1.9 has a powerful drive train to turn the front and rear, single piece, battle-tested AR44 axles. The ground clearance and driveshaft angles have been improved with the pinion gear being positioned 6mm above centre. The Wraith has been engineered for additional strength with improved gear surface contact, optimized gear ration to cut down on torque twist, sizeable flex-reducing load bearings, and, metal gear construction.
Modify your handling to suit conditions with tune dampening allowed by the adjustable oil-filled, coil over shocks. Keeping your Wraith gripped tightly to a number of different surfaces are the officially licensed Nitto Grappler tyres moulded from hard wearing S30 compound featuring a large block tread.
Incredible scale details
The attention paid to the scale detail on the Wraith 1.9 RC crawler is second to none. The polycarbonate body on the Wraith is packed with scale accurate features including the radiator, moulded plastic grill and two LED-equipped headlights large enough for night crawling. Under the bonnet, you'll find tucked in front of the chassis battery mount, a replica V8 engine that serves as a tough outer layer for the Spektrum SRX200 receiver that serves to resist dust, debris and water.
Built for experienced drivers and novices alike, the Axial Wraith 1.9 RTR is a factory assembled RC crawling beast that requires a few additional extras to get you on the track – four AA's for the 2.4GHz Spektrum transmitter, battery pack and an IC3 connector lead along with a battery charger.
2-3 Cell LiPo or 5-9 Cell NiMH/NiCd battery with IC3/EC3 connector
Compatible battery charger
(4) AA Alkaline batteries
Type

Crawler

Scale

1/10

Length

17.8" (451.6mm)

Width

8.8" (223.3mm)

Height

8.8" (223.3mm)

Ground Clearance

2.73" (69.4mm)

Wheelbase

12.13" (308mm)

Weight

4.65lb (2.1kg)

Chassis

Full tube frame constructed of high-strength impact resistant composite plastic, new chassis design moves battery tray to front for easier access and better weight distribution, new lower rails and skid plates are narrower for added clearance

Suspension

Multi link solid axle 4-link optimized to reduce axle steer and torque twist

Drivetrain

4WD Shaft Drive

Tire Type

Licensed Nitto Grappler, aggressive large block tread design, foam inserts, Mounting Bead Diameter 1.9" (48.2mm), Outer Diameter 4.7" (119.4mm)

Motor or Engine

540 size motor, 35T brush equipped, integrated cooling fan

Speed Control

Dynamite AE-5L 3S capable Forward/Reverse with drag brake, switchable between LiPo & NiMH batteries with a jumper, LED light controller with headlight/ taillight outputs

Radio

Spektrum FHSS 2.4GHz STX2 2-ch with 3-position throttle limiter, steering & throttle rate and trim adjustments, high torque (151 oz-in) water resistant, dual ball bearing steering servo

Servos

Tactic TSX45 high-torque metal gear dual ball bearing steering servo

Batteries

One 2-3S LiPo battery w/IC3 connector, or one 5-9 cell NiMH battery w/IC3 connector required

Charger

Compatible with selected battery

Gear Pitch

32-Pitch

Wheel Size

2.12" (53.9mm) Diameter, 1.2" (26mm) Width, 12mm Hex

Kit/RTR

RTR

Shock Type

Clear coated polished aluminum body oil-filled King shocks with precision machined pistons, pre-load tuning and ride height adjustable

Body

Molded polycarbonate with plastic grille and molded plastic inner fender wells

Ball Bearings

Full set included

Assembly Time

Less than 1 Hour
All product manuals are provided by the manufacturer, If you don't find the manual or information you are looking for, contact our experts for help.