Spektrum DX5 Rugged Surface Transmitter w/ SR515 Receiver, SPM5200
Are you looking for the ultimate radio for innovation and durability? If so the Spektrum DX5 Rugged 5 Channel surface system is the perfect Radio for you! Whether you're a boater or basher the DX5 Rugged provides precision, control, convenience and rugged versatility!
DSM2 receiver compatible
Spektrum DSMR 2.4GHz technology
Innovative thumb-steering lever makes one-hand operation safer and more precise
Large LCD screen
Five-channel, full-proportional versatility
Dual lanyard mounts provide radio safety and accessibility
Active Vehicle Control technology
Built-in telemetry capability (telemetry compatible devices sold separately
Based on the ergonomically-recognised DX5 Pro and DXC Transmitters
Bold styling that's aggressive with a focus on class-leading durability
Water-resistant design
Surrounded rubber-bumper chassis protection
Tool storage compartment built-in to the transmitter
Built-in front chassis guard offers user-inspired accessory mounting options
Simple capacitive-touch control panel responds to the touch of your finger
Intuitive software based on user-tested functionality that's clean and simple
Non-slip removable rubber hand grip and off-road treaded steering wheel
Steering mix, 4-wheel steering mixes, Motor-On-Axle (MOA), plus one assignable mix
Bind-progress screen displays status and frame rate
Includes Spektrum SR515 5-channel DSMR sport receiver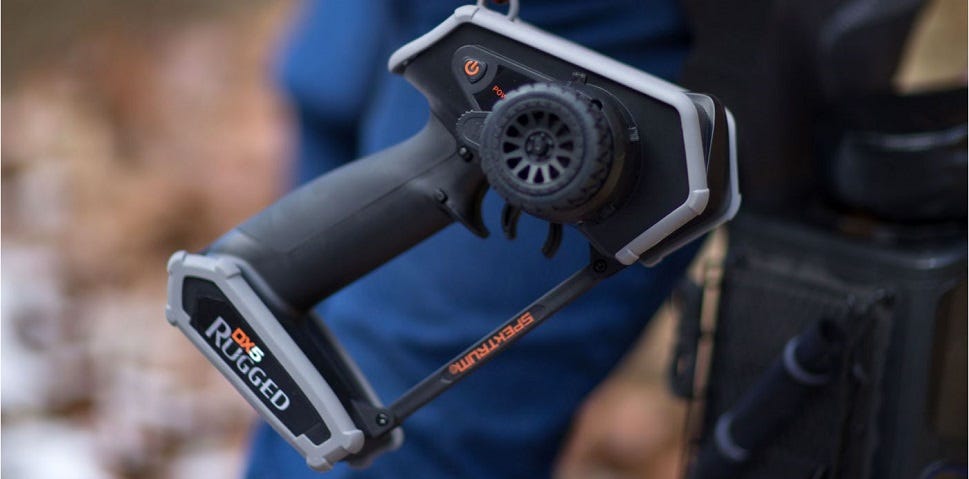 A strong, durable transmitter
The vehicles you bash are super durable, so why not have a durable transmitter also? The Spektrum DX5 Rugged 5 channel surface transmitter redefines durability in the R/C radio game, the harsh tough conditions that you operate your R/C in, will not bother the DX5 Rugged! Basing the chassis on the proven and comfortable design of the DX5C and DX5 Pro, Spektrum's team of engineers then ideas taken from cordless power tools simply due to the abuse that those tools can handle and incorporated it into the DX5 Rugged's design. The net result is a super durable radio system with the precision and control that is synonymous with the Spektrum name.
Moulded Thermoplastic Polyurethane (TPU) bumpers surround the radio's chassis to stop any damage occurring during bumps and even dropping the system on the ground. Externally there is no antenna to get caught or damaged and a low profile ridge on the Chassis protects the lightning-fast output from damage. An ultra-versatile front chassis guard increases durability even further and doubles as a mounting position for extra accessories like a camera or torch.
Water resistant
The DX5 Rugged also boasts multiple lanyard mounting positions to give the driver ultimate flexibility when setting up the feel of the radio and making sure it's hanging in the right position. Another neat accessory is the factory fitted accessory compartment that will hold some small tools and snaps onto the mounting position provided. Spektrum have amazingly added water resistance to the DX5 Rugged, giving operators the piece of mind to know that a splash of water or some rain will not damage your radio system. Finally the aggressively designed steering wheel further' s the rugged nature of this beast, whilst also providing an innovative thumb lever to make one-handed driving a possibility!
No matter what R/C you're operating the AVC technology that the DX5C Rugged utilizes can be set to suit your driving style, the control AVC offers you will make you feel like a pro at any skill level.
# of Channels

5

Modulation

DSMR®/DMS2®

Band

2.4GHz

Receiver

SR515 w/DSMR technology (included)

Model Memory

20
All product manuals are provided by the manufacturer, If you don't find the manual or information you are looking for, contact our experts for help.