If you're into RC cars and boats with incredible scale detail, power and performance, you've come to the right place. This week we cover the new RC Ford Raptor replica, Pro Boat airboat replica, Losi Night Crawler SE (Scale Edition) and the new TLR 22 5.0 Astro/Carpet Buggy Kit.
Ford Raptor replica
The Losi Ford Raptor Baja Rey Desert Truck is one of the hottest releases in the surface market for some time. It comes in two versions, the King Shocks (blue), and the Black Rhino (grey) version. This RC car is very similar to the existing 1/10 scale Baja Rey including all the scale detail for the licensed Ford shell. The scale details and appearance on the Losi Ford Raptor is second to none, it's one of the toughest looking short course trucks that we have and has the performance to match.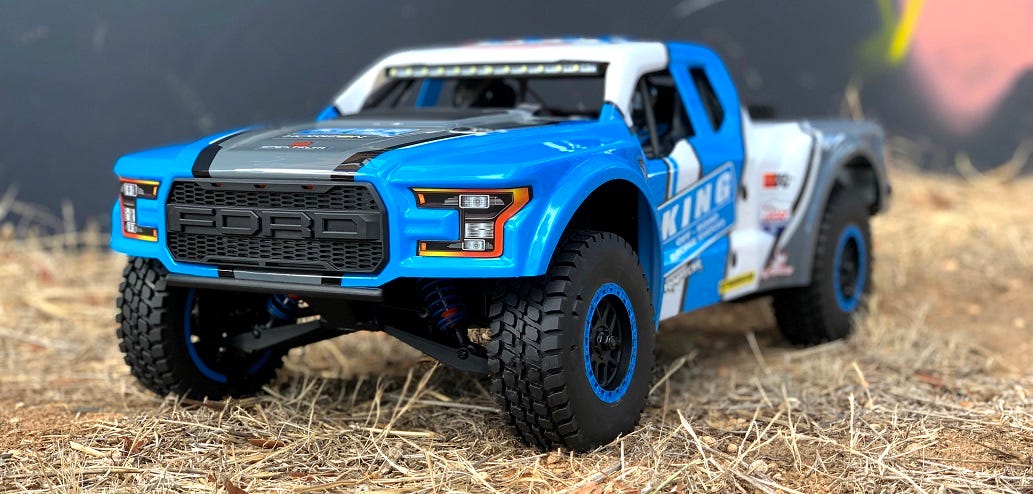 This RC car comes ready-to-run with the only additional items needed to purchase is the battery and charger. A 2 cell LiPo battery would be a fitting option for a less experienced driver, while a 3 cell would be suitable for a more advanced driver as it will provide more speed and power. The Losi Ford Raptor Baja Rey comes with a Spektrum DX2E radio, Spektrum steering servo and a Dynamite brushless system to power the car. The Spektrum radio system features Active Vehicle Control (AVC) that is essentially like a steering gyro, you can turn this up and down from the radio. You can turn it off if you're more experienced and don't want to use it, while a less experienced driver or if you're driving it on a very loose surface including gravel or loose dirt, you can turn the jar up to assist you in keeping control of the car. It can also be helpful on the bitumen when the car is at full throttle it can become a little bit unstable so the AVC does help keep the car in line, keep it tracking straight and keep you in control of the car.
Adventure anytime, anywhere with the Losi Night Crawler SE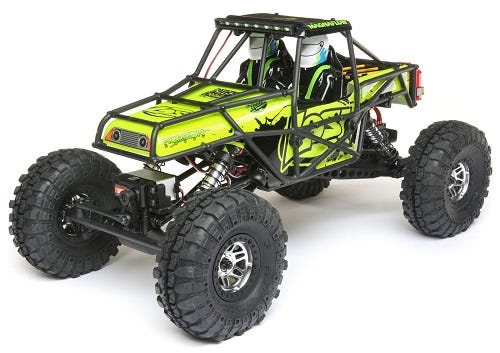 A brand new release from Losi is the Night Crawler SE (Scale Edition). This RC crawler comes in a Ready-To-Run setup in two colour options, the blue, and the fluorescent yellow/green colourway. You will need to add a battery and a charger to get this going, but otherwise, the car is ready to rock and roll. You have two options to choose from for your battery setup, a NiMH (Nickel Metal Hydride) or the 2s LiPo (Lithium Polymer) and then a suitable charger will need to be purchased. The RC car performs well on NiMH battery, while a LiPo obviously brings it to life a bit more and adds some more power.
The main attraction with the Night Crawler SE is the phenomenal scale detail. It features front and rear bucket lights as well as an LED light bar at the top, so it lights up the course quite well if you are using this at night or a poorly lit environment. Adding to the scale detail is a jerrycan on the back, which is completely functional and clips in. It even has tools in the tray of the truck which are usable, so the scale detail is impressive on this rock crawler. Not only does it have great scale detail, but it is also well constructed and has some good performance options that you come to expect from a market leader like Losi. It features aluminium shocks with adjustable ride height on the shock collars and an aluminium frame. The car has a lot of articulation, so the performance of the rock crawling is fantastic to get over tough obstacles and situations.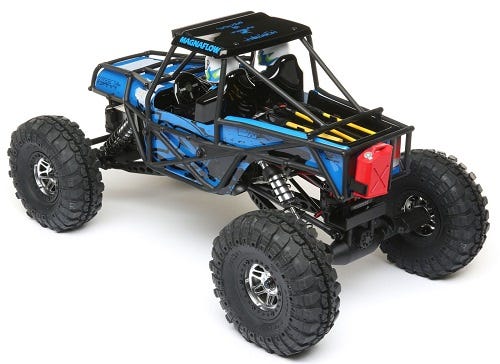 Now to get into the electronics. A Spektrum transmitter and Spektrum metal gear steering servo are included, and it's powered by a Dynamite brushed motor and ESC. The ESC has some jumpers so if you are running LiPo or NiMH batteries, you simply move the jumper across to the battery type you're using. For LiPo obviously that's important for your low voltage cut-off but just move the jumper across and you've got a low voltage cut-off set. Move it back for NiMH and you can run it all the way flat.
A fantastic release from Losi, a good-looking car with some fantastic scale detail and a well thought out design. We're excited to have these come through our doors in both colour options.
Pro Boat airboat replica
The Aerotrooper 25-inch airboat is New for ProBoat. Unlike a traditional boat, there is no flex shaft, prop or rudder in the water, it's all done via a motor mounted on top in an inducted fan unit with a pusher propeller. The rudders are at the back of the fan unit to give you control and steering. This allows the boat to be used on a variety of surfaces including shallow water and even land!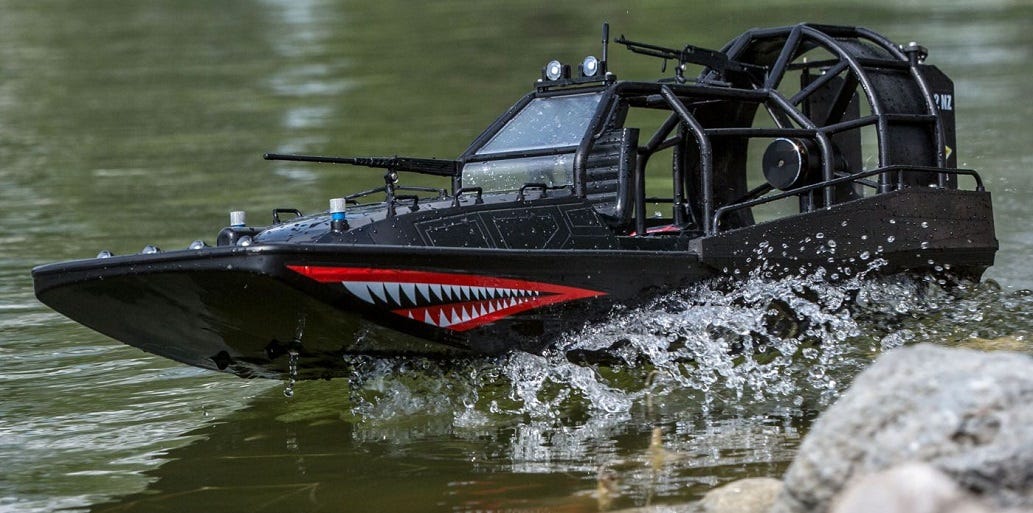 Pro Boat's Aerotrooper comes factory assembled with stickers included in the box giving you the freedom to personalise your RC boat. You can choose to paint or decorate the boat as you see fit. The Aerotrooper includes working LED lights so you can run this RC boat in low light and at night. It comes Ready-To-Run, with the only additional purchases being a battery and charger. The Aerotrooper will take a 3 cell LiPo battery with an EC3 connector, a battery around 4000-5000mah would be ideal. It has an easy access battery tray with a couple of thumb screws with rings on them to keep the water out.
The radio system is Spektrum including a steering servo and the STX2 transmitter. The STX2 transmitter has a throttle limiting feature, so if you are handing this boat to a beginner you can set the throttle to 50% - it also has 75% and 100% setting.
New TLR racing car for Astro carpet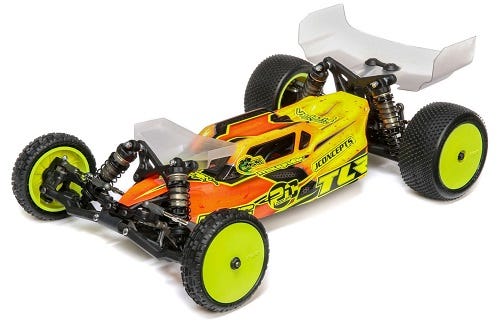 Previously we had received Team Losi Racing's brand new 22 5.0 DC (Dirt Clay) and SR (Spec Racer) racing kits and now finally, we have received the 22 5.0 AC (Astro Carpet Edition). As the name of the car suggests, it purpose-built for Astro based carpet racing which is becoming more and more popular. A lot of countries in Europe that see a lot of rain race on a strong carpet year-round as it is a great alternative. The popularity of indoor tracks that use carpet is ever increasing, and there are more races around the world that are being held on carpet. It comes purpose-built out of the box with all the parts that are essentially optimized for performance in that kind of traction, on that kind of surface which is a bit different to the dirt clay cars. Features include narrow front wheels, a gear diff as well as front and rear sway bars so there is purpose-built setup, and parts in this kit to perform its best, so the TLR 22 5.0 AC is a fantastic option if you do have a local track that runs on Astro or carpet.
We hope you're as excited as we are about these new and innovative products. If you have any questions please do not hesitate to contact us via our website, social media or by calling us on (08) 8186 4250.