Losi King Shocks Ford Raptor Baja Rey, RTR
The attention to scale detail in Losi's Ford Raptor Baja Rey is unsurpassed. With 4-link suspension and a high level of engineering this RC truck is a true-to-scale desert racing beast!
Brushless 3800Kv power system from Dynamite
4-link long travel live rear axle
Ford Trim schemes and body panels are officially licensed
Custom body, 4-link suspension plus more in the high-level scale detail
Fast and easy battery changes made possible through an innovative rear-loading mechanism
Front and rear LED light bars
Independent long travel A-Arm suspension on the front
Detailed interior and bolt-on body panels
Oil filled coil over shocks
Metal geared transmission and diffs are both sealed
Electronics are waterproof
Easily accessible motor
DX2E Active radio system by Spektrum
AVC installed for superior traction control
Chassis constructed from aluminium
Equipped with full-size spare tyre
A desert truck that dominates
Officially licensed and built for performance and durability the Ford Raptor Baja Rey by Losi is one RC truck that you won't forget in a hurry. Packed with scale detail this is one of the most authentic looking desert race trucks on the market. Powered by a brushless 3800Kv Dynamite system the Raptor Baja Rey also features independent front suspension, a roll cage with upright shocks, and, a solid rear axle that will eat up the rough stuff for breakfast. The Losi Ford Raptor Baja Rey is also equipped with AVC technology to give you more traction at high speed. How much speed? 80km/h is how much. Even going that fast the AVC will, like the full-scale Ford Raptor, ensure you keep traction as you are flying across the dirt and rocks. Adding to the scale detail are front and rear light bars, injection moulding and two different licensed trim schemes to give this desert truck a brilliant combination of looks and performance.
Incredible scale detail
The officially licensed Ford Raptor Baja Rey tries to convey the look of its full-scale counterpart in a number of ways. Having King Shocks and Black Rhino Wheels trim schemes to choose from, and, the scale Ford Raptor body panels is just the start of the scale detail that comes with this 4WD RC truck. The hood scoop and the iconic injection moulded grill are features that the 1:1 Ford Raptor is known for but have also been faithfully replicated on this scale version. Black Rhino Wheels are also a mainstay of the full-scale Ford Raptor racer and these are designed to give you the same grip and performance on rugged terrain. Throw in the custom designed front bumper and you have a front end that stays as close as possible to the detail that this instant Ford classic is known for.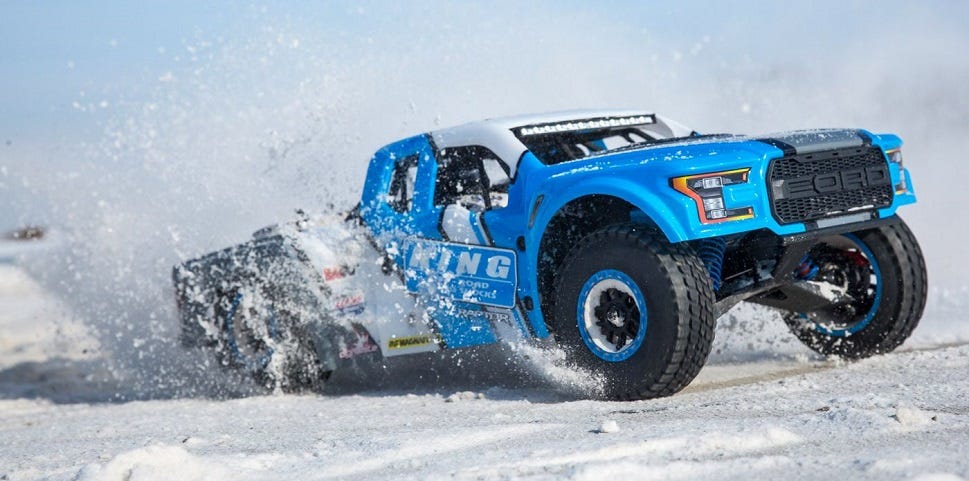 Adding to the factory look at the bolt-on, four piece, polycarbonate body panels that are not only extremely durable but eliminate the need for body posts that could spoil the overall scale look of the Ford Raptor Baja Rey. Inside the cabin, you have a moulded interior that features a driver/co-driver combination that are fully kitted out with racing harness and helmets.
The spare tyre strapped to the tray of your Ford Raptor Baja Rey is not just there for looks. Get a flat or have a blowout and you can do a quick changeover and return to racing - just like the full-scale version.
Front and rear LED lights
Bad light will not stop play in the Ford Raptor Baja Rey. With front and rear integrated light bars along with body mounted LED's you will illuminate and be illuminated with bright white at the front and red lights at the rear so you always know which way is which.
Brushless power system
You can reach speeds of up to 80 km/h with the Ford Raptor Baja Rey's potent Dynamite Fuze combination. With a brushless 3800Kv motor and a 130A waterproof ESC, you have a power system that is capable of handling 2S or 3S LiPo batteries depending on the set up you want. Along with the ESC, the servo and receiver are also sealed and waterproof just in case you wanted to tackle a few puddles or take a spin in the rain.
Motor servicing and gear changes have been made simple on the Ford Raptor Baja Rey. Just flip this RC truck over and remove three screws from the bottom of the chassis and you will get easy access to the brushless Dynamite motor.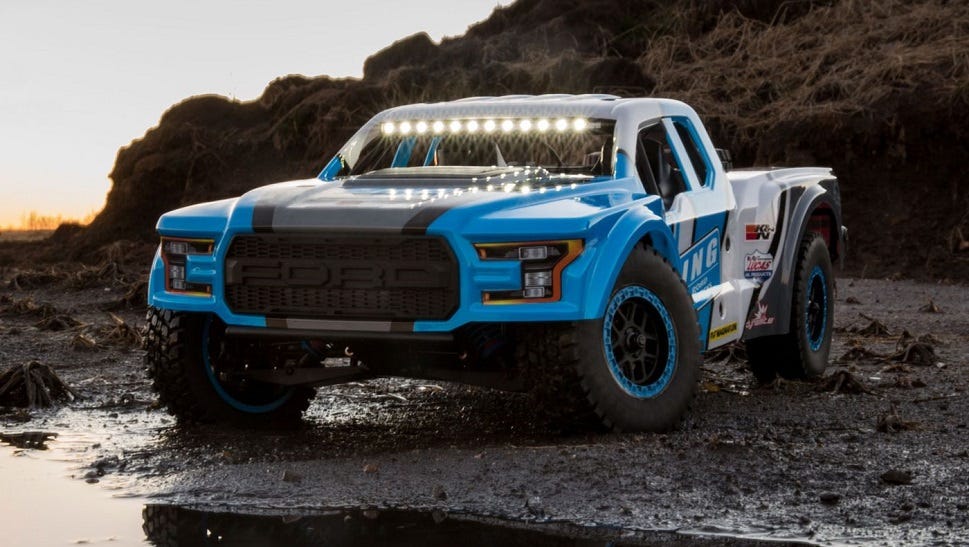 Rough terrain? No problem!
A 3.5mm hard anodized aluminium chassis plate and upper deck are the cornerstones of the Ford Raptor Baja Rey's ability to take punishment. Built to enhance high performance and provide increased durability, the chassis also has a realistic hard composite roll cage integrated into the design in order to cope with the rigours of 80 km/h speeds, massive air, or, boulder-strewn tracks. 
The suspension system on the Ford Raptor Baja Rey conveys the same movement and handling performance of the full-scale version. The rear suspension operates as part of the 4-link system and can absorb plenty of bumps and dips. The independent A-Arm front suspension allows for obstacle reaction on either side giving this desert truck superior traction and more precise handling and steering.
Having an adjustable diff with three different settings allows you to customise the Ford Raptor Baja Rey to suit the track that you're confronted with. The front/centre diffs and the single speed transmission have a waterproof seal and have been designed to handle the combination of brushless motor speed on rough terrain. This RC truck also comes equipped with MOD 1 gears for handling tough desert conditions day in day out.
Stay in control with Spektrum's AVC
The DX2E Active radio system from Spektrum has travel adjust, AVC control and a 3 position-limiting switch for the throttle. There is also an expansion port on this transmitter that gives you the option of adding a Bluetooth module along with a phone mount to utilise Spektrum's dashboard app, or, add on a Spektrum Speedometer.
The receiver in the Ford Raptor Rock Rey has Active Vehicle Control (AVC) built into it. AVC is a system that works in conjunction with your own driving to make hundreds of positive adjustments per second to your steering and throttle in order to maximise the ability of the Ford Raptor Rock Rey to achieve traction. This means that you spend less time spinning your wheels and more time keeping grip as you race across various surfaces. The AVC system has a patent pending and is exclusive to Horizon Hobby vehicles. If you're feeling confident enough in your own abilities you can simply disable AVC until such time that you think you will need it.   
2S or 3S Hardcase LiPo battery with EC3 or IC3 connector
Apprioriate LiPo charger
Type

Desert Truck

Scale

1/10

Length

21.6" (540mm)

Width

12.6" (320mm)

Height

7.6" (190mm)

Ground Clearance

2.2" (55mm)

Wheelbase

14.6" (370mmm)

Weight

6.1 lbs (2.8kg)

Chassis

0.12" (3mm) thick aluminum

Suspension

Front, independent, Rear 4-link

Drivetrain

4WD Shaft Drive

Tire Type

Desert Claws, 4.45" (113mm) diameter

Motor or Engine

550 size motor

Speed Control

Dynamite Fuze 130A

Radio

Spektrum DX2E transmitter with 6-ch DSMR AVC surface receiver

Servos

Waterproof metal gear steering servo

Batteries

One 2 or 3S at least 5000mAh hardcase LiPo required

Charger

LiPo compatible required

Gear Pitch

1.0 Module

Wheel Size

2.3" (58.4mm) wide, 2.2" (56mm) Outer Diameter, 3.0" (76mm) Inner Diameter

Kit/RTR

RTR

Shock Type

Oil-filled, front 3.9" (100mm), 4.8" (122mm) rear

Body

Four piece screen printed 2018 Ford Raptor licensed body

Ball Bearings

Full set

Assembly Time

Less than 1 Hour
All product manuals are provided by the manufacturer, If you don't find the manual or information you are looking for, contact our experts for help.
Looking for spare parts or upgrades?