Pro Boat Aero Trooper Air Boat, RTR
The ultimate in fun and flexibility! You can drive the Proboat Aerotrooper 25inch brushless Air Boat pretty much anywhere, even on land and have a blast doing it. Powered by a strong brushless motor and a 3 blade aeroplane style prop mounted to the hull this gives the user the ultimate flexibility to explore water, swamps and land.
Reach high speeds on water or land
Excellent scale details
Injection moulded composite canopies
2.4ghz Transmitter and waterproof receiver
Powerful 2080kv 480 brushless outrunner motor
1/10 scale metal gear waterproof High torque 9KG servo
Removable cage
Rugged Dynamite 90 amp brushless ESC with Reverse
Factory fitted LED Lights
Injection moulded, two-piece composite hull
Composite 3-Blade, moulded, pusher propeller
Explore the water or land with the AeroTrooper Air Boat
Keeping with the theme of scale detail, this Ready-To-Run Airboat dons a tactical/Military style hull scheme with removable guns, moulded handrails, and driver cockpit to add even more scale realism. An injection moulded two-piece composite hull and hatch add durability and a strong frame. Even if the sun goes down the fun with the Proboat Aerotrooper doesn't stop! This boat with its included LED lights keeps on going long into the night. Explore all types of terrain with ease, this is a truly unique boating experience and one that will bring a smile to your face.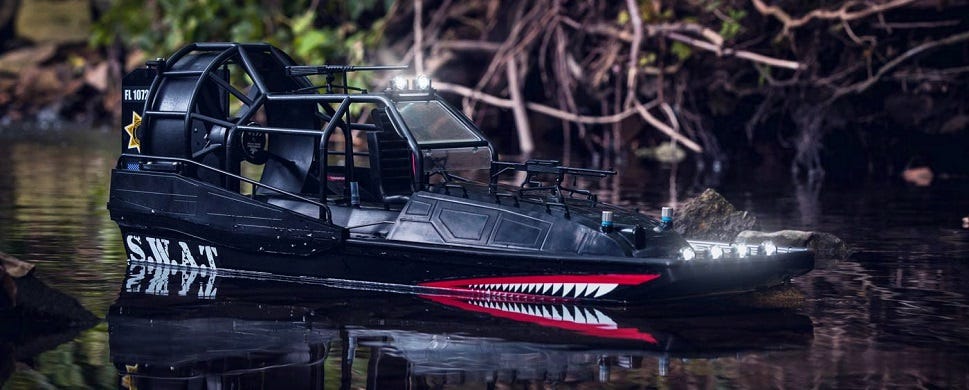 3S or 4S 5000 mAh 50C Battery with EC3 Connector
Appropriate LiPo Battery Charger
Needle nose pliers (recommended)
Paper towel (recommended)
Rubbing alcohol (recommended)
Phillips screwdriver: #1, #2 (recommended)
Hex drivers: 1.5mm and 2mm (recommended)
Clear tape (recommended)
Marine grease and application gun (recommended)
Length

25 inches (635mm)

Beam

10.5 inches (266.7mm)

Motor Size

480 Outrunner

Weight

3.9 lbs (1.8 kg)

Speed

20 mph on water, 30 mph on land

Radio

Spektrum STX2 2CH Radio

Speed Control

90A BL Marine ESC 2-4

Hull Material

Nylon composite

Trim Scheme Colors

Black

Prop Size

3 in. x 4 in., 3 blade pusher prop

Battery

11.1V 5000mAh 3S 50C or 14.8V 5000mAh 4S 50C, EC3 Connector (not included)

Kit/RTR

RTR

Scale

25 inch

Drive System

Pusher Prop

Assembly Time

Less than 1 Hour

Is Assembly Required

No
All product manuals are provided by the manufacturer, If you don't find the manual or information you are looking for, contact our experts for help.
Looking for spare parts or upgrades?