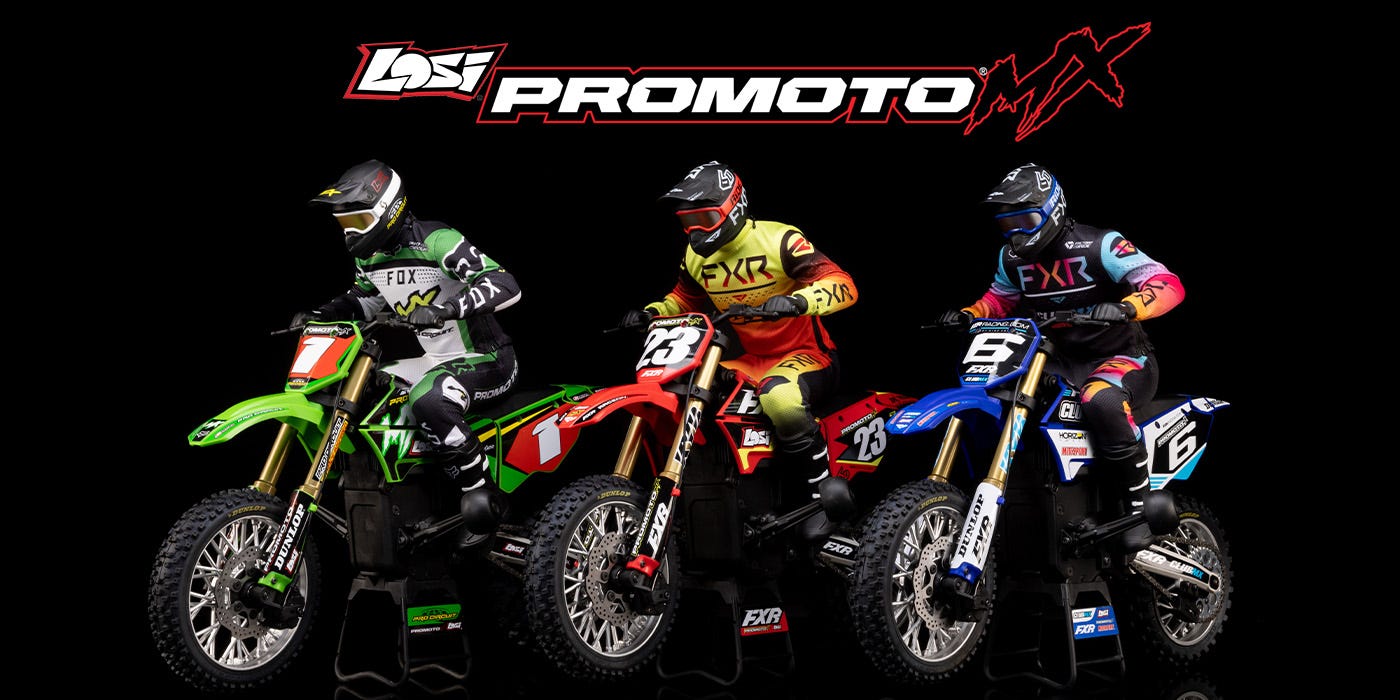 Introducing the Losi Promoto-MX RTR RC Motorcycle
It's not the first RC Motorcycle to hit the market, but the Losi Promoto-MX is the first one that accurately replicates the full experience of riding a real motorcycle. You might be thinking, how does it stay balanced? How fast does it go? Are there any spare parts and accessories? We're here to answer those questions. Let's dive in...
SKUs: LOS06000T1 - FXR Scheme | LOS06000T2 - ClubMX Scheme
LOS06002 - Pro Circuit Scheme, Combo
Experience unmatched realism with the Losi Promoto-MX
The NEW Losi Promoto-MX is a ground-breaking scale replica that doesn't just imitate the look of a real dirt bike – it captures the true essence of riding like never before! From its authentic design and licensed graphics to its innovative technology, this RC dirt bike is a game-changer that brings unparalleled realism and pure fun to the world of RC. Beyond its meticulously crafted design, including the narrow frame, authentic rider gear, and officially licensed graphics, the Promoto-MX has redefined the game by seamlessly integrating cutting-edge mechanical and electronic technologies, creating a hybrid masterpiece that sets new standards.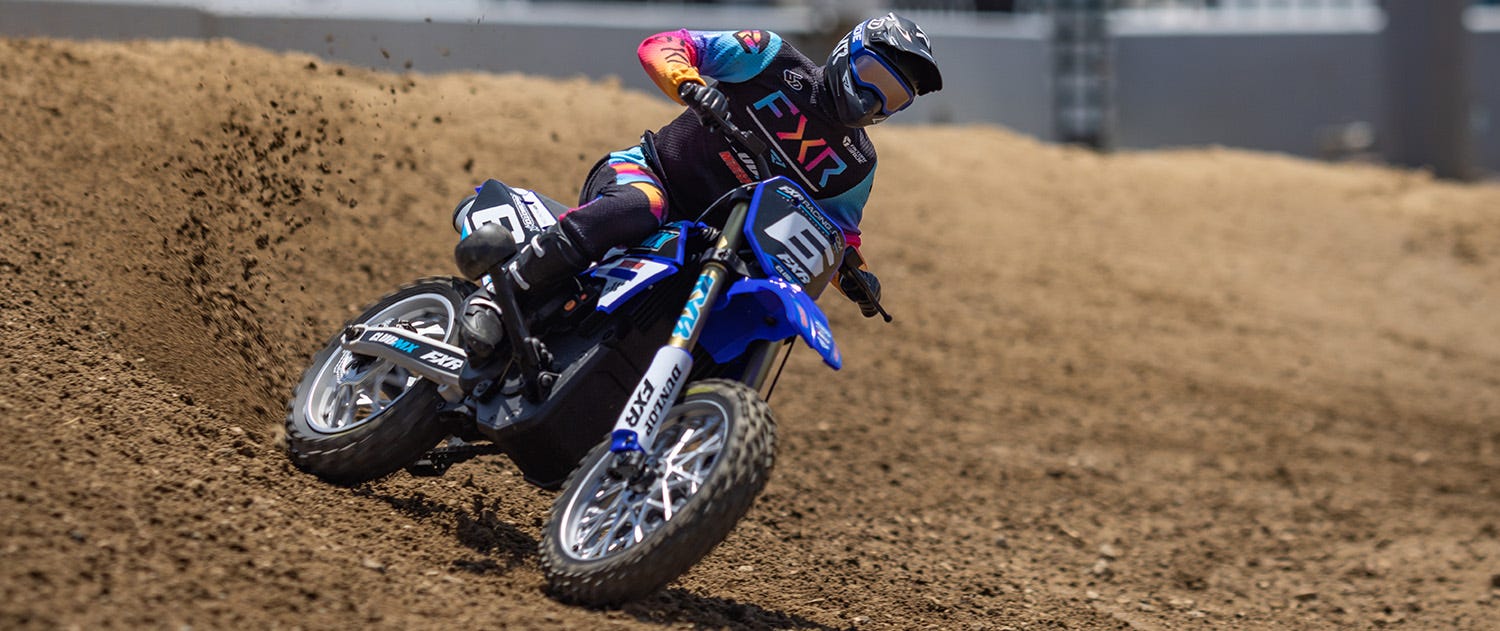 A 2700Kv motor and a steel flywheel mounted at the centre of the frame deliver stability like no other. With over 22,000 rpm spinning the flywheel, the gyroscopic force ensures unmatched balance and control. Positioned at its lowest and farthest forward point within the frame, the flywheel unit empowers the Promoto-MX to pivot precisely around its centre. This enhancement improves jumping capability, facilitates quick direction shifts, and elevates the overall performance accuracy of the bike.
Patent-pending MS6X technology from Spektrum
Thanks to the patent-pending Spektrum MS6X technology, your commands from the new DX3PM transmitter are translated into precise leans, turns, and even wheelies. And if the front tyre washes out on loose dirt, there is no need to worry — the lean bars stop the RC dirt bike from going over and help push it back upright. When the rear tyre has traction, they can also assist with crash recovery – just hit the throttle to stand it upright and continue tearing up the terrain.
Three pre-programmed drive modes are featured on the DX3PM transmitter:
Dirt Mode — assists with pitch control to allow the Promoto-MX to pitch up enough for going up jump faces and obstacles, but also intuitively helps prevent any "wheelie-overs" if the bike pitches up too far.

Street Mode — works to get the front tyre back on the ground to accelerate as much as possible when it senses the ProMoto-MX start to pitch up and corrects the throttle quickly.

Wheelie Control — Hold wheelies on smooth surfaces at top speed.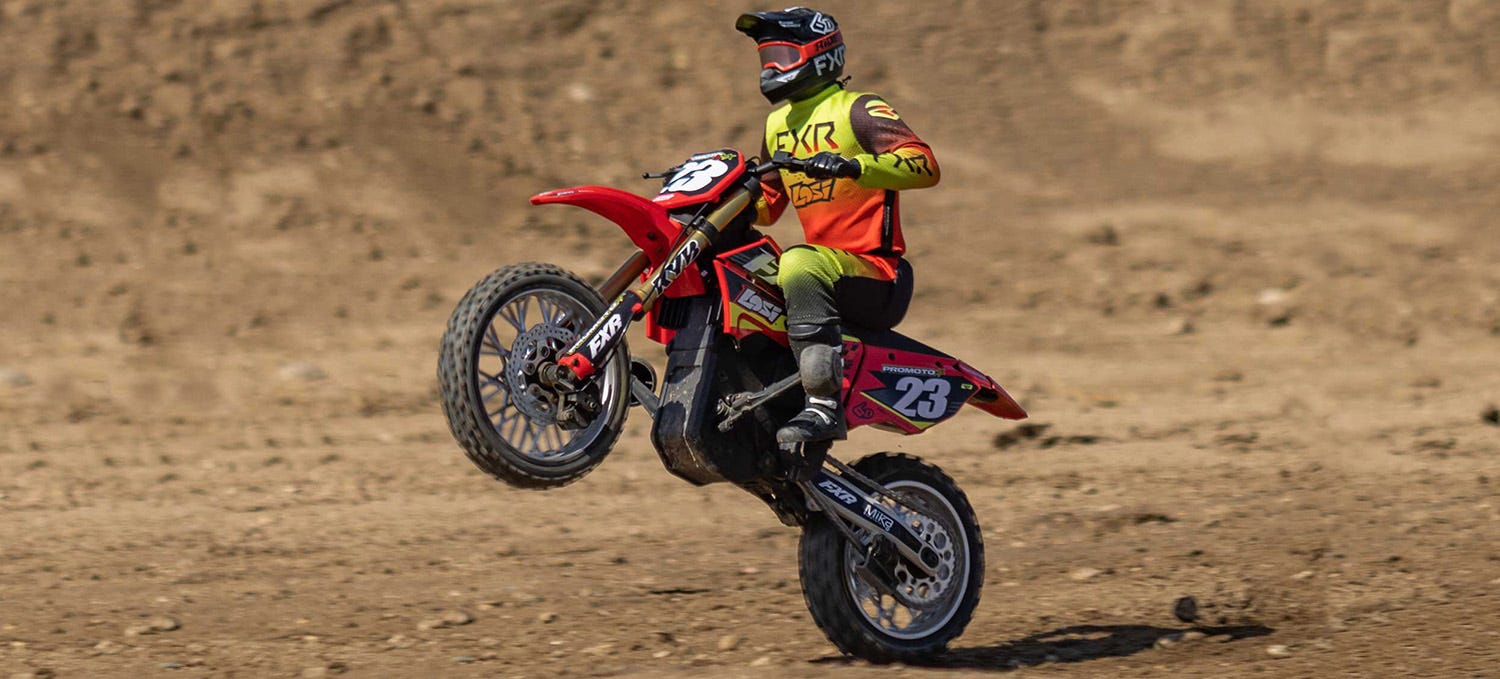 The DX3PM transmitter also features Spektrum SMART technology, which takes out the guessing of how much battery life you have left as well as stores and shares performance data. If you want to receive additional real-time telemetry information like speed, amp draw, ESC temperature, RPM and more, simply upgrade to the Spektrum DX5 Pro or DX5C transmitters.
But it doesn't stop there—the mechanical capability of the Promoto-MX is equally impressive. Meticulously crafted to mimic full-size motorcycle suspension geometry, it conquers any terrain with ease at speeds of up to 60km/h! The rising rate rear suspension provides exceptional grip while preventing bottoming out on landings. The newly designed front fork with an internal spring and dampener allows for personalised tuning and ride height adjustments. Plus, the innovative front and rear wheel braking system delivers incredible stopping power, cutting the stopping distance in half.
The perfect harmony of electronic and mechanical technologies sets the Promoto-MX apart, allowing it to outperform any previous RC motorcycle. Dirt bike enthusiasts will feel right at home, while RC car fans will discover an entirely new driving experience that immerses them in the heart of the action. Carve berms, master wheelies, and unleash a roost—the Promoto-MX lets you do it all.
Looks just like a real dirt bike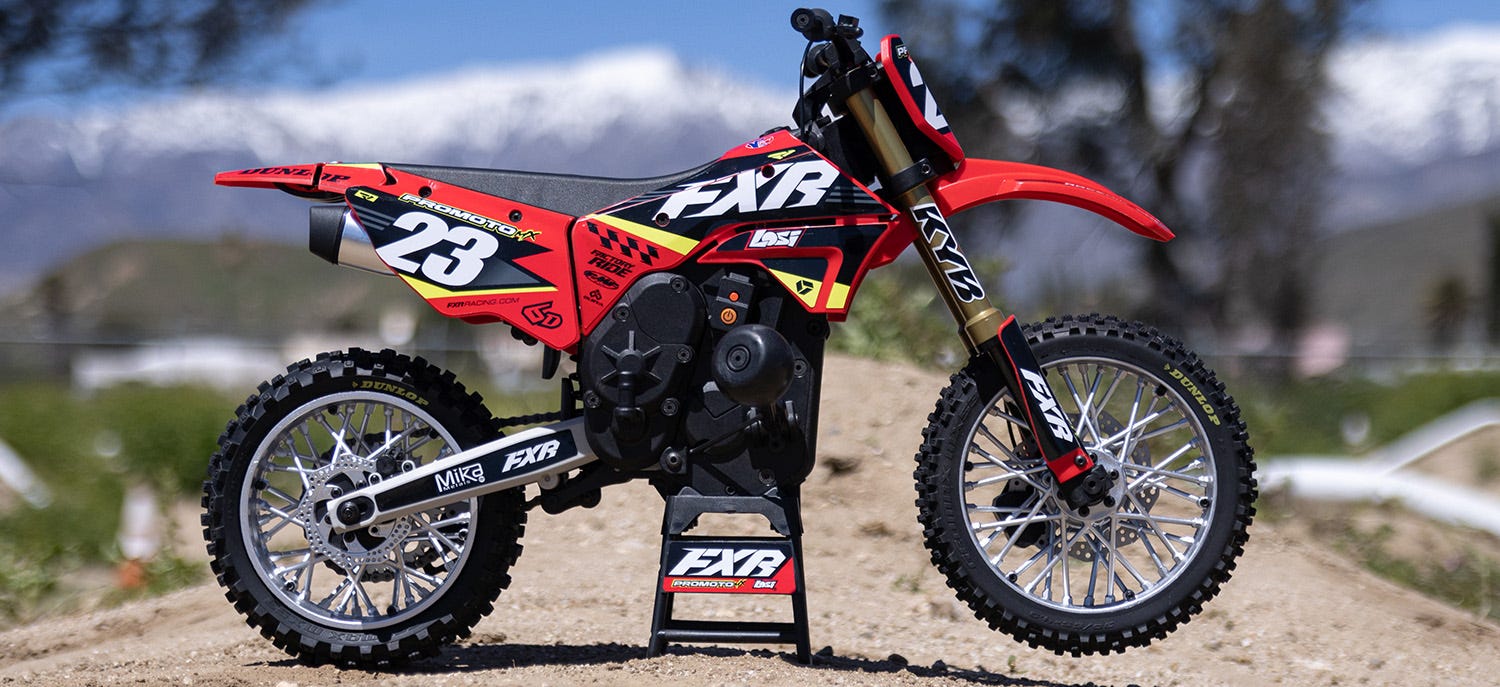 You'll be impressed with the amount of scale detail that has gone into creating this Losi RC dirt bike. When we first saw the images of it jumping through the air, it was hard to tell that it was an RC model! Some features that make it look like the real deal are:
A realistic rider figure: complete with boots, helmet and riding gear with a rubberised plastic exterior that has a foam insert to prevent the rider from bobbling around on the bike.

Small realistic details: Brake and clutch levers, brake line, foot pegs, exhaust, brake rotors and more

Officially licensed FXR racing graphics: Number plate, front fender, fork guards, front side panel, rear side panel, and rear fender — all looking fresh wrapped in officially licensed vinyl graphics

Officially licensed Dunlop Geomax MX53 tyres on true-spoke wheels

Realistic chain drive: Steel links and 70 roller pins wrap around a 10-tooth steel drive sprocket and a 36-tooth aluminium hub sprocket
Officially licensed Dunlop Geomax MX53 tyres on true-spoke wheels

Conquer the terrain with the same confidence and control as the pros, as the Promoto-MX boasts the iconic Dunlop Geomax MX53 tyres. These treads, officially licensed by Dunlop for ultimate scale performance and accuracy, are every dirt bike enthusiast's dream. Embodying the renowned MX53 design that dominates full-scale moto tracks worldwide, these RC tyres ensure extraordinary grip and extended durability for the Promoto-MX. The scale realism doesn't stop there, the Geomax MX53 tyres are mounted on true-spoke wheels that are the first of its kind for the RC world – no other RC manufacturers have been able to create the authentic-looking spoked wheels with the durability needed for dirt bikes.
Spare parts and accessories
There is a whole range of spare parts and upgrades so you can customise your Promoto-MX how you like! Not only do these parts add your own personal touch, but they also add strength and durability.
Losi has a detailed playlist on their YouTube channel dedicated to the Losi Promoto-MX. It includes videos that show an in-depth look at the RC motorcycle, as well as maintenance, repairs and installation instructions. Click here to watch these incredibly helpful videos.
Finally, a true RC dirt bike that lives up to its promise! Wherever and whenever the urge strikes, grab your Losi Promoto-MX, find your flow, commit to your line, and become one with the bike.