No matter what area of the hobby you're into, you are no doubt going to come across times where you will require a charger, so it's important you understand the process and how best to pick one. What we're going to do today is take you through a range of our Ultra Power chargers, show you how they work and why you would choose one over another.
Ultra Power UP616 Charger & Discharger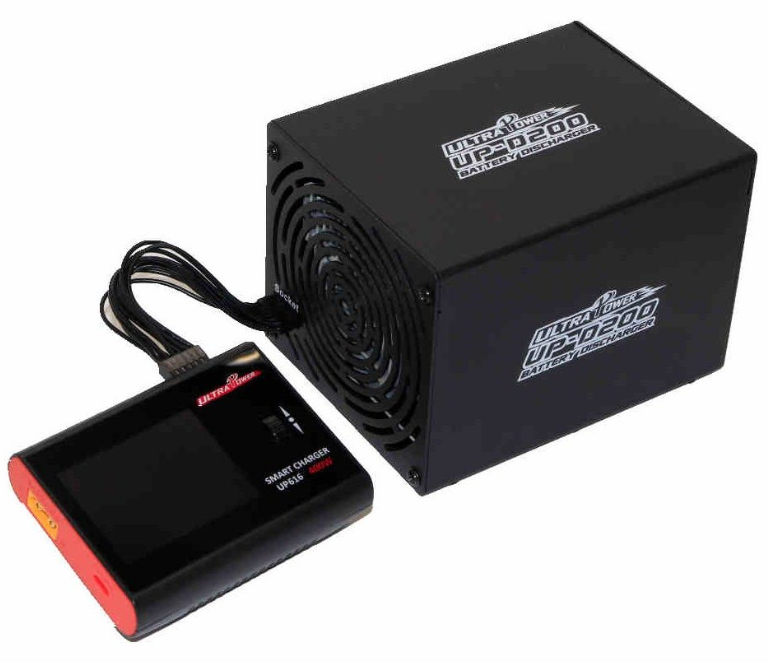 Let's start out with the most basic and simple charger that we offer – the UP616 from Ultra Power, which is not only super handy but also compact and lightweight. This is a charger that runs off a battery, not a wall type outlet, with an input side which is 9-32 volts. This means you can use a huge range of LiPo batteries to provide the power to charge, strangely, your flat battery. The UP616 uses a standard XT60 style connector, which most batteries also have. Alternatively, you can get an adapter, or you can change your battery plug to suit, whichever path you choose to take, you power this charger with a LiPo and then you can charge the battery in question on the other side. There is a balance port on one side and an XT60 out plug on the other side, which would normally have a multi-charge lead on, to charge your packs. The UP616 is fantastic if you're out on the go and you want to be able to charge whilst you're out flying, or driving – for example, if you have a drone with 4S 1300 batteries – you can pop a big input battery into the UP616 and be able to charge whilst you're out flying - you don't need to have it plugged in to an AC wall power point. There is also a great accessory for this charger - the UPD 200 discharger that is designed to work with the UP616, allowing you to discharge from .1 - 15 amps. We highly recommend pairing the two items, but overall the UP616 is a fantastic product, that you can take with you pretty much anywhere, making on-the-go charging a breeze.
Ultra Power UP100AC
The UP100AC is possibly the popular charger here at Modelflight, with very good reason.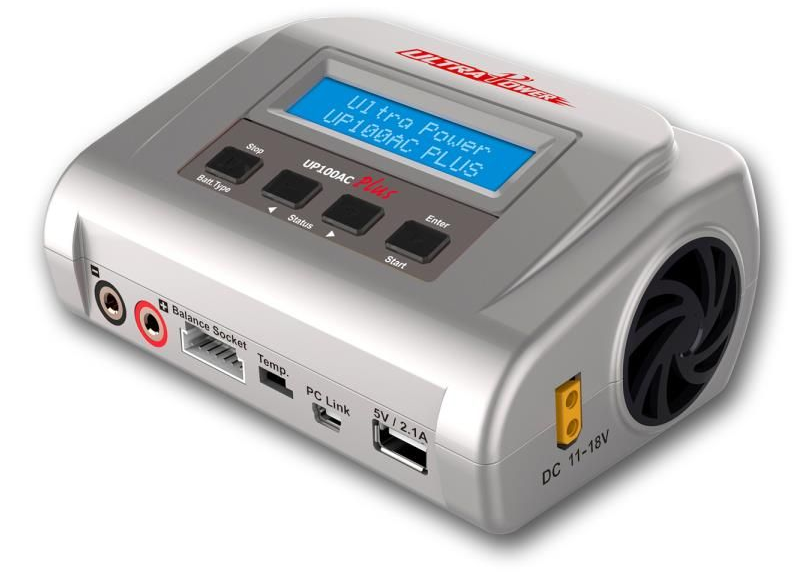 This is a single port charger and it will charge a variety of battery types, so essentially anything that's in the RC game whether it be nickel metal hyrdide (NiMH), Lithium Polymer (LiPo), or everything in between, this charger will charge, discharge and do a great job of both. It doesn't have overly high wattage, so if you are wanting to charge 6S or other high capacity at a very high amperage, this is probably not the charger but for 99% of RC enthusiasts this is a great, reliable option. This charger is both an AC and DC charger, with a built-in power supply as well. In the box you get an AC power lead so you can run it straight off the wall, or you can run it DC with the XT60 in the side. We sell an adapter which is an XT60 to alligator clip and you could plug that into the battery of your real car you could also plug it into a power supply. Mostly we see this charger being used while connected to your vehicles battery – giving you the option to charge out on the field, or at home via AC. You also get a charge lead with the deans plug and a balance board included, so you can do all your balance charging for your LiPo batteries. This charger will do most chemistries as it has several profiles within it, so it will do charging, discharging and storage-charging e.g. if you have a battery that you want to put into storage for a long time and you've just finished using it, you can put the charger on a storage charge cycle which will get it up to around about 3.6 - 3.7 volts per cell, which is the ideal voltage for long-term storage of a LiPo battery. When purchasing a charger you need to figure out how many batteries you're going to be charging and how many ports you want your charger to have - this is a single port charger, however you can move on to two, three, or even four port chargers if you have a lot of batteries to charge. We advise to look at the charger as an investment into your batteries – good quality, high performing batteries don't come cheap, so you need to take care of them when you're charging by monitoring heat, keeping an eye on the physical condition of the battery (whether it's getting puffy from use) and generally keeping an eye on the battery's health whilst charging and using. A good quality charger is going to ensure your investment in your batteries – if you have three, four or five (or more!) batteries, that's hundreds of dollars' worth, so a decent charger like the UP100AC is a great way to maintain the health of those batteries and keep them lasting and performing as they should be.
Ultra Power 300W AC Touch Screen Charger
The Ultra Power 300 AC touch is the next step up in single port charging, if you need more wattage or more charge power than the UP100AC touch offers. Like the name suggests, it hosts the same programming facilities as all the other Ultra Power charges but in a nice little touchscreen. It has an inbuilt power supply as well so again is both AC and DC meaning you can charge it via your car if you're out on the field, or at home via the AC. Whilst its only a single port charger, it can charge at up to 20 amps, meaning it's a great choice for those of you that have high performance batteries and want to still be able to charge them very quickly. So if you want to be able to charge at a high amperage and you have three, four, five or even six cell batteries that are high in capacity, you would pick this over the UP100 purely because you're going to be able to charge those batteries at a faster rate with the 300 AC touch.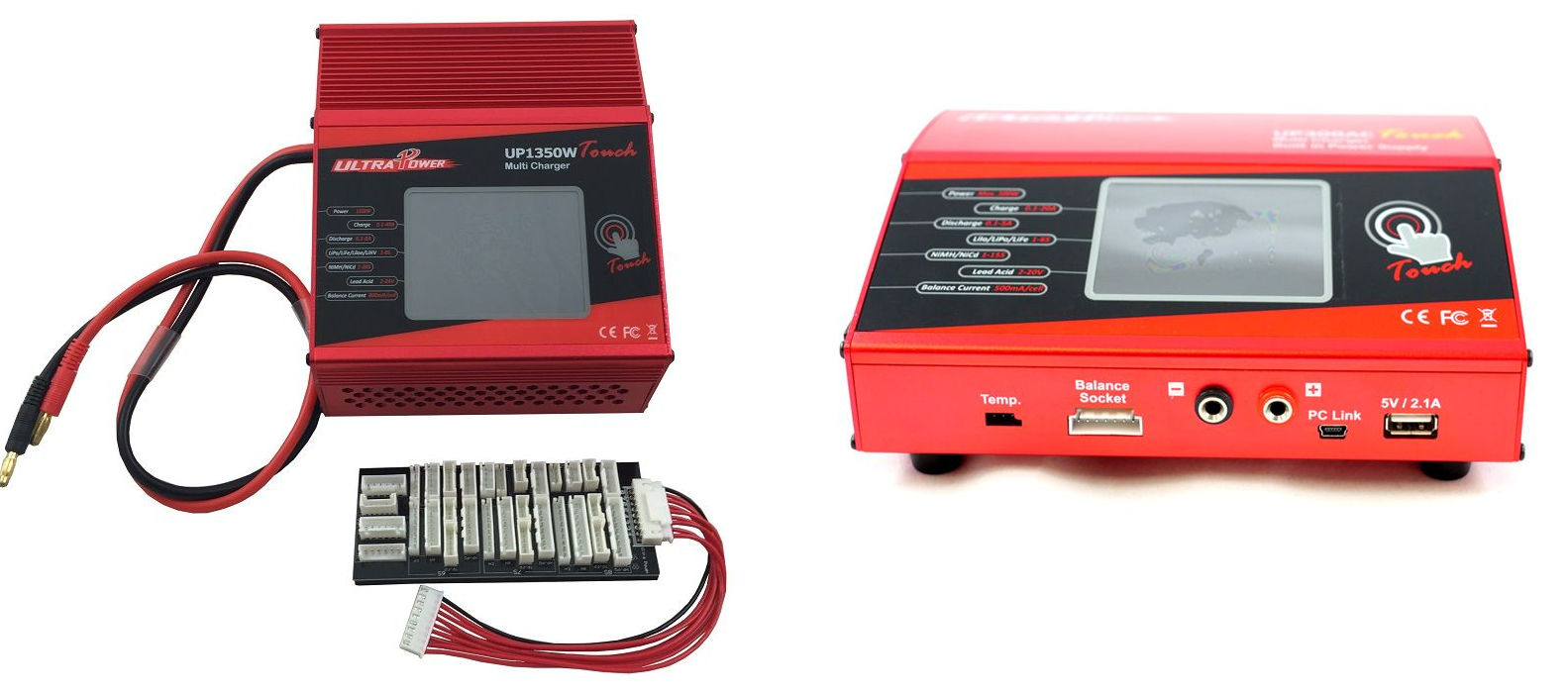 Ultra Power 1350W Touch Screen Charger
The Ultra Power 1350 touch is at the upper echelon of charge power. This charger would be ideal for those of you that have upwards of six cell batteries - it can still do 1 to 6 cell - but looking at six, seven, eight cell batteries in very high capacity this charger has the wattage to be able to charge them very quickly. The 1350 has the ability to charge up to 8S, at up to 40 amps so a very high powered charger (1350 watts) with a touchscreen, with a menu very similar to the ones mentioned above. It can manage all basic battery chemistries but is more designed to have huge power and the ability to charge large batteries with high voltage, very quickly. The main difference between this charger and some of the other ones that we've mentioned previously is it doesn't have an inbuilt power supply, as an in built power supply is not going to be able to give it the juice it needs to run. This charger will need to be run from a power supply, so not really a great option if you wanted to have a charger that comes out with you (unless you have power supply at your club), but a fantastic option that is going to be at home, in the workshop or in the garage for charging your packs quickly. Included in the box is a charge lead, a balance board that has a few more connections on it which will suit any balance lead on the market. Balance boards that come with most other chargers are the typically 'common' plugs, but, this plug extends out to almost every version of balance plug that exists on any battery, so you will be pretty safe knowing that you're going to be covered with this charger for all your high performance battery charging needs.
To summarise, a charger is a great investment in your batteries which you no doubt spend a lot of money on and want to last. We highly recommend every modeler at minimum has the UP616 for easy charging on the go, and it's worth considering the 300 AC touch or UP1350 for your higher powered battery charging requirements. We also have lots of dual port, triple port and quad port chargers on offer if you require more than the one port chargers we have mentioned today. As always, feel free to get in touch with our friendly Australian based Customer Service Team should you need any further assistance.