In this blog post, we'll be taking you through the new RBX10 Ryft from Axial, as well as a refresh on some highly sought-after models that have just been re-stocked - Losi Mini T 2.0's; Arrma Limitless; Axial SCX10 III - we know you've been waiting for these to come back!
Pro Boat Jet Jam and Sprint Jet beginner RC Boats

First up, we've got the Jet Jam (available in white or orange) and Sprint Jet (available in blue or silver), by Pro Boat. Both of these RC boats come ready to run right out the box with a transmitter, battery and USB charger all included, plus some sticker sheets so little Billy and Bobby can tell their models apart. Our favourite feature on these models is the jet-style propulsion, making it a dream to run in any shallow water since the prop isn't hanging low and potentially hitting any debris at the bottom. Using these models in saltwater is OK, although not recommended – if you do decide to head out into the ocean (or a saltwater pool), make sure you follow the maintenance for saltwater use as outlined in the manual.
Losi Mini-T 2.0 Brushed Stadium Truck

If you missed out at Christmas, now's your chance to nab the Mini-T 2.0 by Losi!
Another great model at a great price point, making for a quality present, first model or addition to any RC enthusiasts' collection for bashing at home. Once again you will see everything included in the box to get started – model, battery, USB charger and transmitter with 2.4ghz technology, so you could have multiple of these cars running at once with zero interference. The brushed motor in Mini-T 2.0s will see you reach speeds of 20-25km/h, so don't let the 1/18 scale fool you. Not fast enough? You can also upgrade this model to run on a brushless system!
Axial RBX10 Ryft Rock Bouncer
All-new, all-awesome, Axial. Enter: RBX10 Ryft - where crawling meets bashing - Axial is giving us something a little different to start off 2021, in the form of this new rock bouncer available in orange and black colourways.

Running with the option of 3 or 4 cell LiPo, where the battery is mounted at the front (keeping the weight on top of the vehicle), this rock-bouncer will have you bashing and bouncing faster than any crawler on the market today could handle. Also included is the Spektrum AVC technology, meaning you'll keep in the direction you want to, whilst maintaining more control than a standard crawler, on those tough terrains.
Can't get around it? Go THROUGH it with the RBX10 Ryft by Axial (quickly though... we don't have many of these left!)
Axial SCX10 III Jeep JLU Wrangler and Jeep Gladiator JT Rock Crawlers

Along with the new release Ryft, we have also received a restock on the Axial SCX10 III Jeep Wrangler and Gladiator JT Crawlers. As usual Axial have not spared any attention to detail, with a larger 355mm wheelbase to accommodate a more realistic body plus a DIG function, allowing you to lock the rear axle from your radio, enabling a tighter turning circle from front-wheel drive. Run DIG and two-speed transmission simultaneously with the addition of a micro servo and 4-channel receiver (sold separately).
Arrma Limitless Speed Bash Roller
A re-stock we know you've been waiting for: Arrma. Limitless. Speed Bash.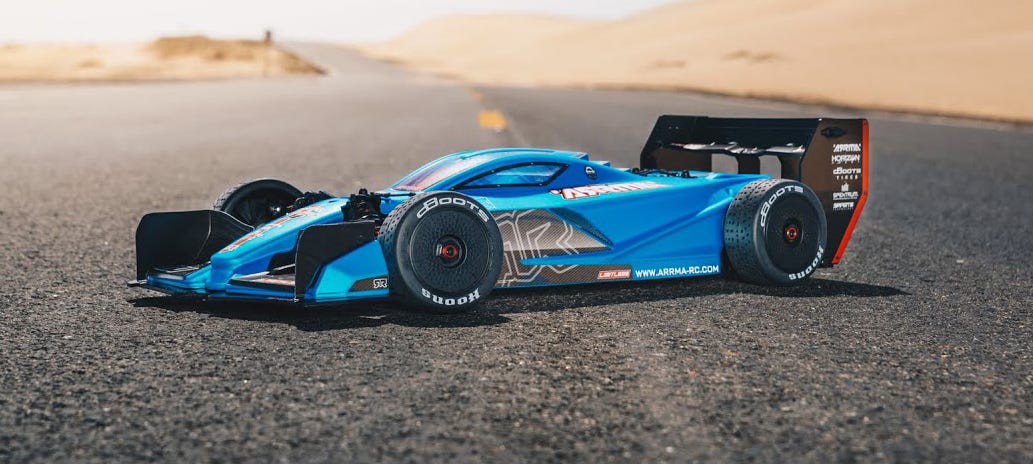 Covid added some spice to us receiving a supply of the long-awaited Limitless Speed Bash chassis after the initial release last year, but we are seeing good re-stocks on all lines now and over the coming months. The Limitless comes as a kit where you as the customer get to pick your personal style of electronic set-up. Will you play it safe on the RTR gear from Arrma's other successful models, or will you go full Toretto on 8-cell? This one is not for the fainthearted.
Arrma Typhon 6S 2020 Spec RC Buggy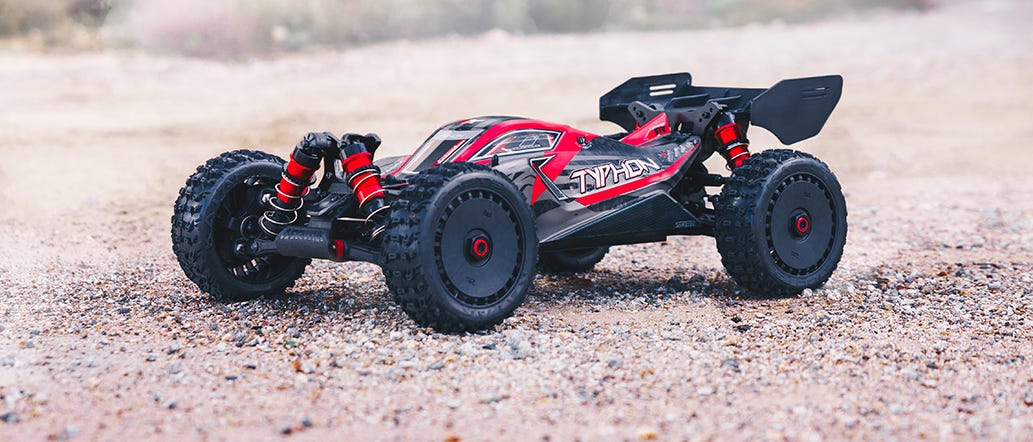 The engineers at Arrma have updated the Typhon with a stronger chassis design, stronger steering servo and brushless power system featuring the Spektrum Firma 150A Smart ESC and Firma 205Kv brushless motor. Also included is the new Spektrum SLT3 transmitter (with throttle limiter to 50%, 75% and 100%, and third channel to control optional features) and SR315 dual-protocol receiver. This versatile vehicle comes with a high-speed pinion gear for optimum performance, teamed with a 6s battery will see you reaching those maximum speeds of 110kmph. So, whether you're wanting an RC car for bashing on a BMX track, in an open field, racing on a track or for speed runs on-road, the ARRMA Typhon really does it all.