If you like RC bashers and stunt trucks, you'll love what we have just received – the new 2019 Spec Arrma RC cars as well as a restock of the Losi Super Rock Rey. We're going to go through a few of these models and show some highlights.
Arrma's 2019 Talion Truggy
There have been many upgrades to the Arrma Talion 2019 RC Truggy, but first, we will cover the new radio system. The Talion has moved to a Spektrum based radio system using the STX2 controller which contains some great features, including a throttle limiting switch that you can adjust to 50%, 75% and 100% throttle. This feature is ideal for less experienced drivers limiting them to speeds where the RC car is easier to control. Once the driver is confident and has improved their skills, they can adjust the throttle limit to 75% and 100%.
Arrma's Talion 2019 Spec Truggy can be powered by 4S or 6S LiPo batteries. This RC Car is not only great for off-road bashing but is great for speed runs. A 6S set-up will provide you with speeds of 110+ km/h out of the box - just add your charged batteries and you're ready to hit the dirt at incredible speeds. We are currently offering 2 x 3S Prime RC batteries at only $150 with the purchase of any Arrma RC Car, so make sure to take advantage of this great offer!
Brace yourself for the upgrades under the hood
Now to get into the upgrades under the body shell which are mostly for maintenance and durability purposes. The most obvious upgrade is the tower to tower chassis brace - not only is there the conventional chassis braces from the gearbox down to the chassis plate, but there is also a tower-to-tower brace running from the front to the rear shock tower. This provides rigidity and more protection for the chassis and equipment in the centre of the car.
Another upgrade for the 2019 spec is the sliding motor mount. There are two screws facing upwards that you simply remove, and you can slide the motor mount out making it much easier for maintenance and removing electronics. While the trusted 15kg steering servo remains the same, the connectors in the car have been upgraded to IC5 connectors from Spektrum. These connectors plug-in perfectly with our Prime RC LiPo batteries so there is no need to cut and solder any plugs. A jumper cable is included for 4S LiPo set-up, otherwise, you can un-plug the jumper cable to use both connectors with a 6S set-up.
The NEW 2019 Kraton is a mean-looking RC machine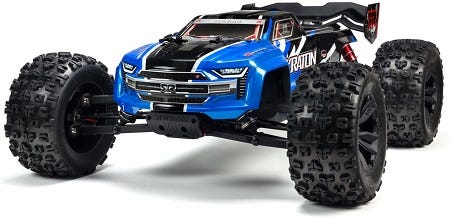 The Kraton has received a host of updates for the 2019 version including the wing, rims and tyres as well as an updated aggressive-looking body shell. Improvements have also been made under the body shell including the tower-to-tower shock brace, sliding motor mount, shock cap protectors, a moulded composite roll cage and IC5 connectors. Like the Talion, you can run this car on 4S or 6S set-up and it has a Spektrum based radio system with the STX2 transmitter. As previously mentioned, this transmitter has a throttle limiting switch for novice drivers. For those drivers with experience, turn it up to the full performance and this car is going to hit just shy of 100km/h on the 6S set-up.
The Kraton is like the Talion Truggy style configuration, however, the Talion is a little bit lower to the ground while the Kraton sits a bit higher, is a bit more aggressive with slightly bigger tyres making it the perfect bashing vehicle as a result. So, if you're wanting to take an RC Car to a BMX track, skate park or just ripping around a park this would be the ideal car – it can eat up anything you can throw at it!
Notorious and Outcast RC stunt trucks
The Arrma Notorious and Outcast RC cars are essentially identical with the main difference being the body styling. A modern, aggressive body shell is featured on the Outcast while the Notorious has a rounder, more old-school, hot-rod style shell. The Outcast has a conventional polycarbonate shell painted from the inside with a glossy finish and if you scratch it, you're just scratching up the outside plastic protecting the paint job. The Notorious body shell, on the other hand, has a "real" steel effect, so they've painted the outside of the shell with a black or blue matte finish and painted the inside silver, so if you do crash, it scratches the paint and you get this silver coming in from the bottom so it looks like you've scratched real bodywork on a car. This is a cool effect, and something different that Arrma have done.

Both the Arrma Notorious and Outcast RC trucks have received updates for the 2019 versions including tower-to-tower braces, sliding motor mounts, IC5 connectors and Spektrum radio systems. Both cars can be run on 4S or 6S set-ups, with the 6S providing a top speed of 96km/h, however, these extremely durable cars are made for performing stunts like backflips, front flips, huge jumps and wheelies.
Go BIG with Losi's Super Rock Rey
Impressive speed, performance, scale looks, size and endurance - we are excited to have just received more stock of Losi's popular Super Rock Rey. This huge 1/6 scale RC truck is available in two officially licensed trim schemes, the Raceline Wheels and Baja Designs and runs on 6-cell or 8-cell set-ups. The 6-cell set-up is going to give you a lot of power but obviously, the 8-cell set-up is going to give you maximum performance - with top speeds of 80km/h! Again, we recommend using the Prime RC LiPo batteries with this RC car as it features EC5 connectors so just plug-in and play with no need to cut and solder. You will also need to add your own charger with a single or dual-port depending on how many sets of batteries you have purchased. Aside from this, the Losi Super Rock Rey is complete.

You'll stay in control with the Spektrum DX2E Active radio system that is included. With features like AVC control, a throttle limiting switch and travel adjust, this radio system is the perfect combination with the Losi Super Rock Rey. There is a lot of scale detail on this RC car and the more time you spend looking at it, the more you appreciate all the details like the LED light bars, full-bodied roll cage, full-size spare tyre, scale Fox Shox, fire extinguisher, suspension limiting straps, mirrors, window netting, fully detailed driver figures and more!
Currently, the Losi Super Rock Rey in on sale! It is part of our FUN'$ OUT promotion where you receive 15% of selected products through until the 2nd of September 2019. There is something for everyone in this promotion including radios, RC helicopters, planes, cars and boats. Click here to check out all the products that are available.
If you have any questions, please do not hesitate to contact our friendly staff who will be happy to assist.