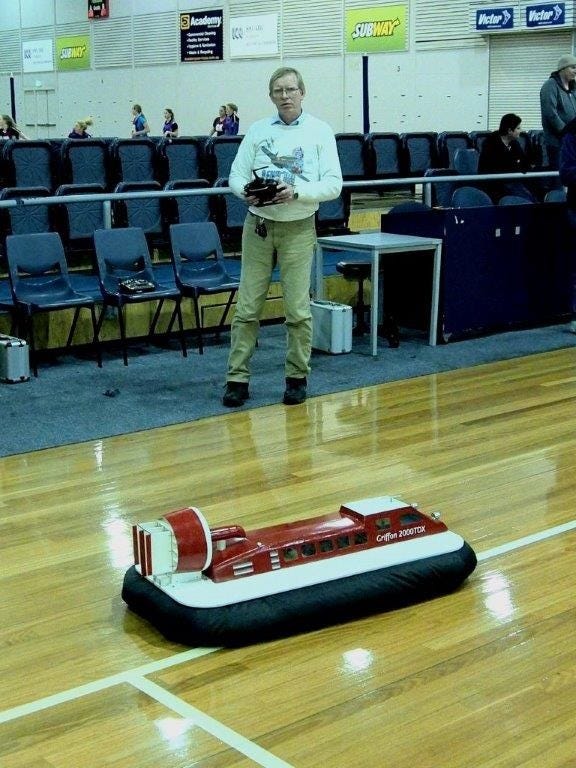 INDOOR AND AGAIN IN THE COLD
Our July Indoor meeting, as one would expect, would turn out to be a freezer that is cold enough to freeze every little thing that one possesses so let me begin on a warm note.
I  have made our good friend Richard Tapp the opening feature of my story.
Richard has had a fairly torrid start to this year and it is most heartening to those of us who have known him for many years, to find him making his way back to the Indoor movement where he is most welcome. Even though he brought a model of his own, I handed him the transmitter for the tenth scale Griffon hovercraft. The Griffon Hovercraft works in the UK are the largest maker of these fascinating machines and they vary in size from the 30m (of which "our toy" is an exact scaled replica) to huge hovering barges that weigh many tons. Most of their full size builds can be seen in action world wide with, probably the most frequent viewing in Europe. Their huge advantage is that they can travel over many different surfaces with less weight than a footprint and, in fact, part of one's flight training in the U.K. is to travel over a dozen eggs (in their cardboard container) without breaking a single egg.
None of that really has anything to do with Richard Tapp at the controls of the model "Griff" as you see in my first picture but it took him a short time to look right at home with a model which, like the full size, is terribly difficult to manage. I hope it was enough to entice him to  return to ETSA Park, Railway Terrace, Mile End, where we fly on the third Thursday of each month from 7.30p.m. to 9.30p.m. A most delightful time slot.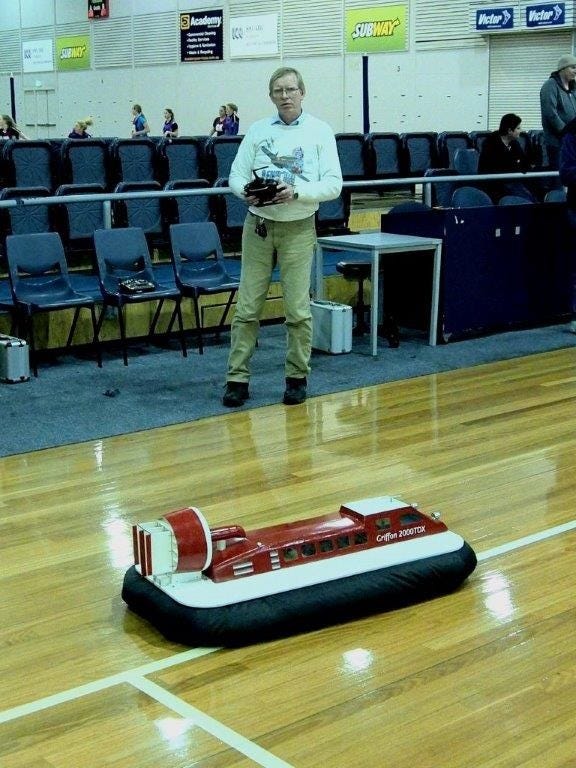 Oh, before I forget, there is one exception to that arrangement and that is - in the month of September, and for that month only, our flying times will be from 8.30 - 10.30p.m.
I spent most of the evening, when I should have been taking pictures, thoroughly enjoying myself with my little Quad, the Blade 180QX hd from Horizon. Ofcourse, the little hd in that title stands for High Definition, which is the video and still camera that is included in the package. It also comes with its own charger for the (included) camera and the battery packs and my next pix shows the battery being re-charged, using the charger, also  included, connected to the huge battery pack that I employ in the Griffon.  I can only add to that topic that if I have stirred your interest a little in the very popular Quad, make a visit to Model Flight's Goodwood Road store, just south of the tram crossing and ask shop manager, Brad or his assistant Klause to give you a private demonstration. You will not be disappointed.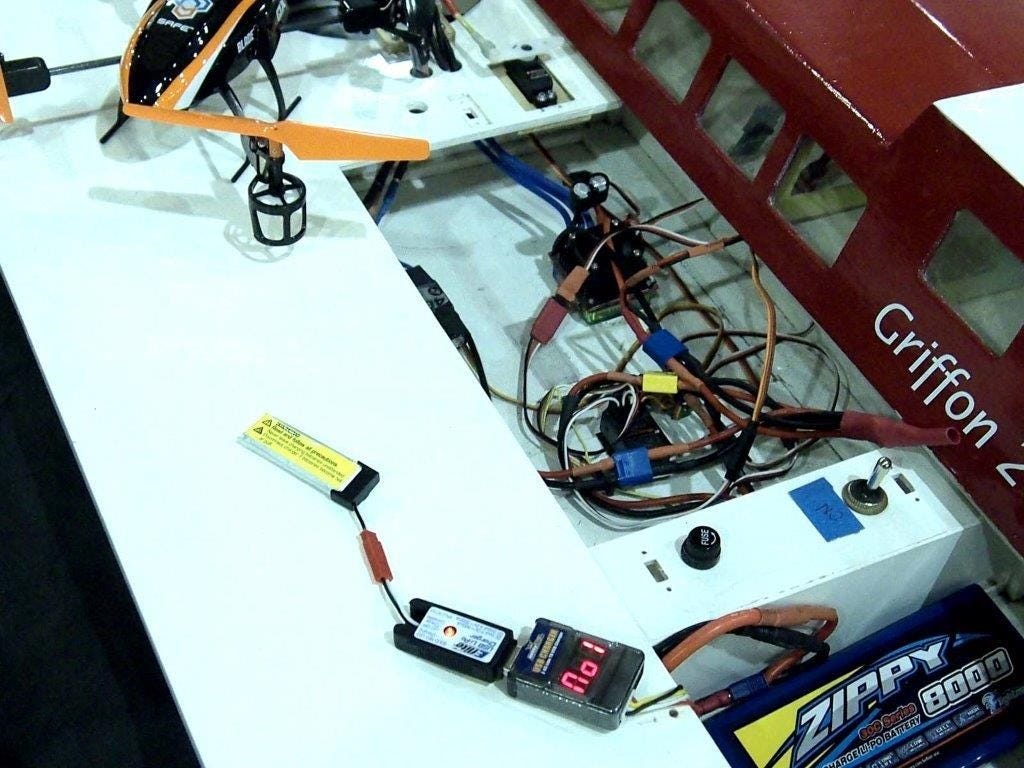 My final pix is of the gang on "Crazy Corner." Note that we have lost one regular to that group but have gained two. Chappy is back after a short interlude elsewhere but J.J. is missing for the second month with "work" being given as the reason. You are needed  to make a return soon J.J. because few of us can keep Mike in control of his "Crack."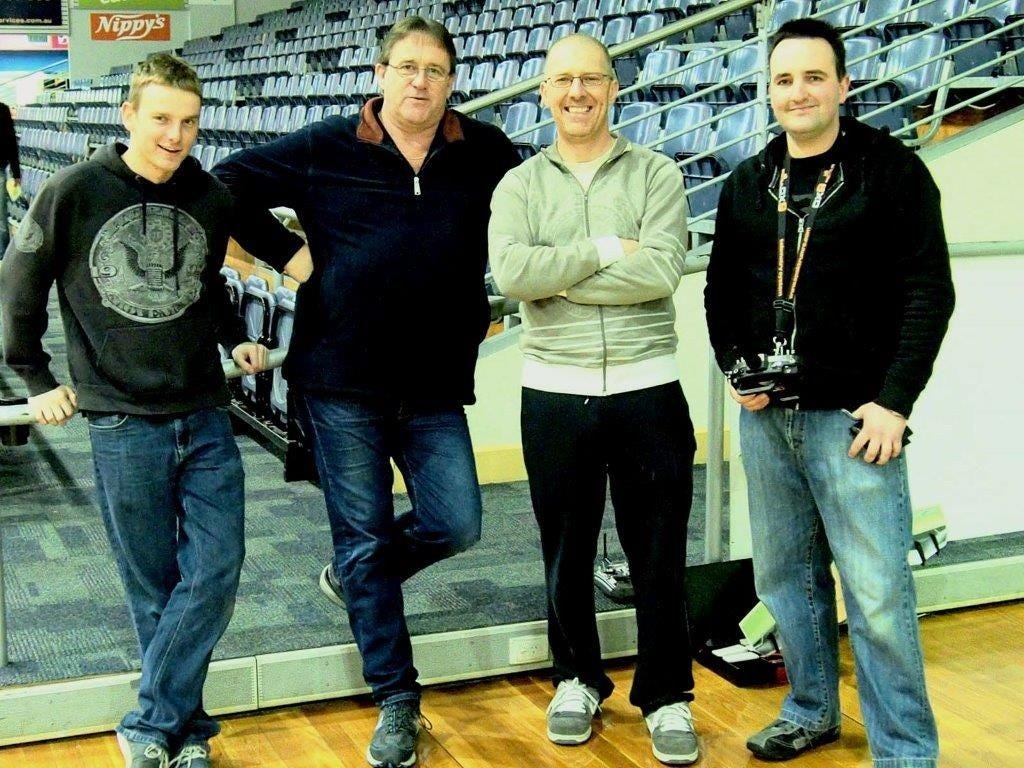 Till August 21st - cheers from your friendly Phoenix.