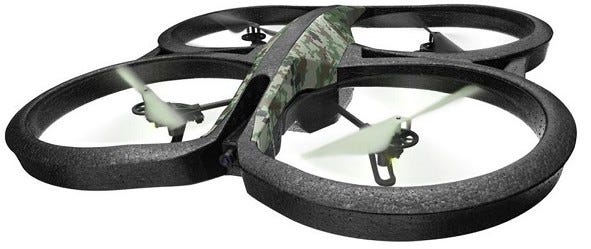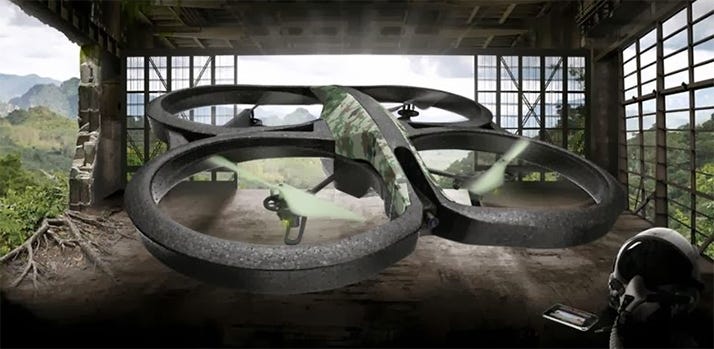 Fans of quadcopters, have we got news for you! The amazing AR.Drone 2.0 from Parrot is coming soon to Modelflight. The AR.Drone is one of the leading models in the quadcopter field and with good reason. This drone comes equipped with many exciting features, which we will be looking at in detail in this blog post.
Flying Modes - Your Sky, Your Way
The great thing about the Parrot drone is that it can be conveniently operated from your mobile device (such as your smartphone or tablet computer). We will go into more details about these controlling devices later, but to begin with, let's look at what the AR.Drone 2.0 is like to fly. The first thing you will notice is how stable the quadcopter is in the air. The on-board technology in this model allows it to hover easily when you are not directly controlling it.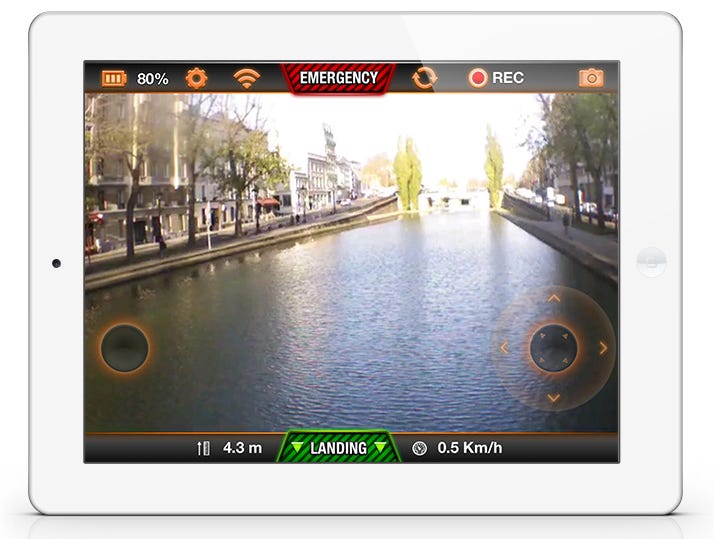 If you have never flown an RC quadcopter before, no need to worry. Thanks to the AR.Drone 2.0's built-in 3D compass, you will have access to its intuitive Absolute Control Mode, which is perfect for beginners. Absolute Control means that the drone will move in the direction that you tilt your mobile device. If you move your device forward, the drone will move forward. If you tilt your device backward, the drone will move backward, and so on. This is a great way to get started flying. If you would prefer, though, the AR.Drone 2.0 also offers the more traditional Relative Flight Mode, whereby the drone's forward or backward direction will be relative to which way the drone is facing.
As your skills progress, you have the option of performing a range of aerobatics, all at the touch of a button on your mobile device. You can begin with basic barrel roll flips before taking advantage of the AR.Drone 2.0's new Multiflip features, which allow you to perform more advanced flips such as forward and backward looping, in addition to left and right barrel rolls. Flying RC quadcopters has never been this much fun!
HD Camera - Your Eye in the Sky
One of the key features of the Parrot AR.Drone is its high definition 720p camera. Whether you are capturing JPEG photos or filming, this camera comes with excellent features. You can utilise low-latency streaming to view live video directly on your mobile device; gaining a cockpit-like perspective from the ground. The 30fps camera has a wide 92 degree diagonal angle lens, allowing you to easily capture your footage and encode it in the H.264 (MPEG-4) base profile. Your video can be stored directly on your mobile device via Wi-Fi, or through a USB which you can insert into the drone.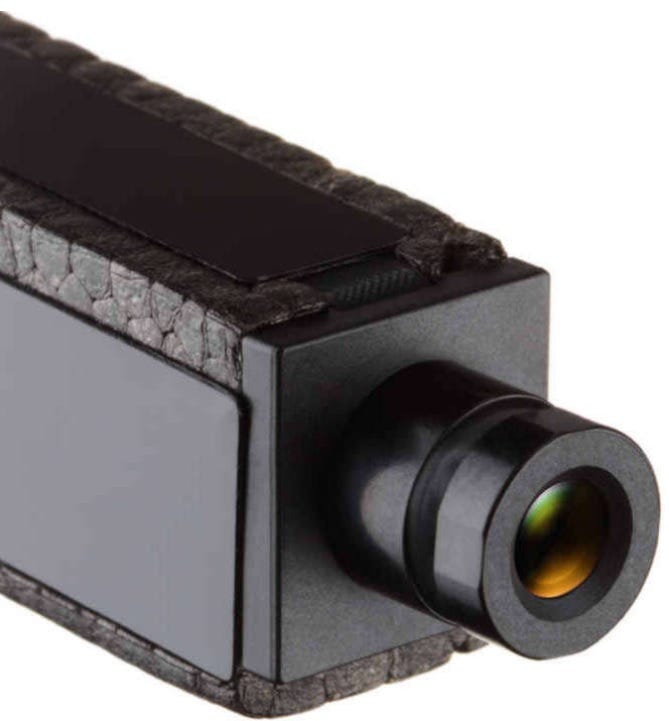 Controlling Devices - Sky Control at Ground Control
As mentioned, you can control this RC quadcopter using your mobile device. This could be a smartphone (iPhone or Android 2.2 and above), a tablet computer (iPad, Android or Windows 8), or an iPod Touch. To access these controls on your device, all you have to do is download the AR.FreeFlight 2.0 control application on the App Store or Google Play. This is a free app and will allow you to access all the controls to pilot your Parrot AR.Drone. From this interface, you will also be able to access other great features, such as the ability to directly upload your aerial pictures and videos to Picasa and YouTube respectively. You can also share this data to your friends on Facebook.
Within the AR.FreeFlight app, you have the option of purchasing Parrot's Director Mode (please note that at the time of writing, this mode is only available for iOS). Director Mode is great if you want to capture some in-air video. The mode allows you to program automatic movements for the RC drone, similar to the camera movements used by film directors. These movements include travelling, panorama (pan), crane and steady mode. Naturally, these movements will be made with the excellent stability that the AR.Drone 2.0 is renowned for. As with any director, you have the authority. You can stop these automatic movements at any time. You may also choose to switch from one movement to another in real time. Additionally, the speed of each movement can be adjusted in real time.

Some of the other features of Director Mode include the ability to fine tune the camera settings. Whether you want to adjust the colour saturation, white balance and/or exposure, Director Mode will allow you to make these changes easily. If you would prefer, there are also a range of presets so you can quickly find a setting that will fit your needs. Once you have captured your footage, Director Mode allows you to access a range of post-production options. For example, you can improve the stabilisation of different sections of your film. There is also the option of stabilising the flight computer to account for misalignment that may have occurred due to windy conditions.
For extra fun, Parrot offers various game apps that you can play in when using your RC quadcopter. For example, AR.Rescue 2 allows you to play as an alien collecting missing rocket pieces for a spaceship. Using augmented reality, you can find these pieces around your RC drone as you fly through the sky, all the while defending yourself against enemy Crunchers! Additionally, AR.Race 2 lets you compete in AR.Drone races with your friends or against the clock. Both of these apps are free to download and are tonnes of fun!
Another notable feature of the Parrot AR.Drone is its compatability with a range of external control devices. For example, you can now pilot your RC drone from a Windows 8 PC or tablet, such as the Surface 2. The Parrot quadcopter is also compatible with an NVIDIA Shield. Parrot are continuing to develop compatability with a range of devices. In time, you will be able to control your drone from devices such as the Myo armband, the Zeiss cinemizer glasses and even Google Glass.
AR.Drone Academy - From the Sky to the Cloud
The AR.Drone Academy allows you to access a range of services from Parrot in the cloud. By connecting to the Academy, your flight data such as altitude, speed and duration can be tracked automatically. Your recorded videos and captured images can also be stored at the Academy, where you can then view them back online. The video playback feature also allows you to view your flight data in graphic or text form as you watch your recordings. This service also doubles as a backup option, allowing you to save your images and video in the cloud. These will remain accessible at all times, even if you delete them from your mobile device.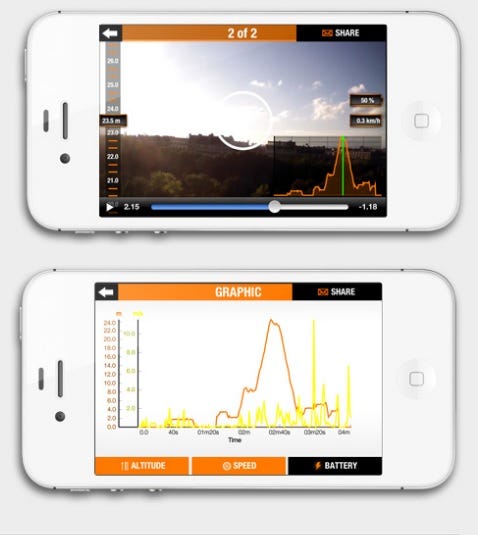 Another great offering with the Academy is the inclusion of a map which allows you to view all your flight locations, anywhere in the world. All your flights are geolocated and added to the map automatically. You can also use this map to view Hotspots; locations that other pilots recommend for flying. These Hotspots also offer tips on dangerous spots to avoid! Speaking of other pilots, the AR.Drone Academy allows you to view shared content from other Drone users anywhere in the world. You can view their images, watch their videos and check out their flight data.
The Sky's The Limit
Modelflight is thrilled to soon offer the Parrot AR.Drone 2.0. This is an exciting product for RC quadcopter pilots, offering cutting-edge technology and a broad range of possibilities. If you cannot wait to experience the AR.Drone yourself, visit our website today to find out more.
Learn more about the Parrot AR.Drone 2.0.