Learn to fly with the HobbyZone AeroScout S
The AeroScout S is a brand-new release from HobbyZone that is an ideal beginner plane which takes ease of assembly to a whole new level. The only thing you need to put this model plane together is one screw for the front nose wheel and three thumbscrews for the wing – no glue or tape is required – meaning you can get out to the field and flying sooner. Not only does the AeroScout make assembly a breeze but learning to fly a model plane is easier than ever thanks to the exclusive SAFE technology. With progressive flight modes, you can advance with this plane as your skills improve and develop.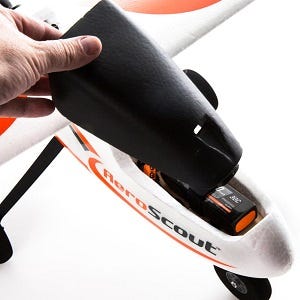 The size of the AeroScout makes it the perfect aircraft to fly around a smaller park, but it is still large enough to fly well in the wind. One of the unique features of this aircraft is that it has a full flying tail so there is no elevator, while the motor has a 'pusher' style set-up, meaning it is located on the back. This prevents damage to the motor and propeller if you happen to crash or bump into things while you're learning to fly. HobbyZone have included the centre of gravity location under the wing so you don't need to measure; you just place your fingers on the locations and check the balance of the aircraft. The large canopy makes battery adjustments and changes an easy task.
Like most HobbyZone products, the AeroScout S is available in two versions: Ready-to-fly and Bind-N-Fly. The Ready-To-Fly version consists of everything you need to fly. Besides the plane itself, included is a DXE radio is that you can use with other aircraft as you progress in the hobby as well as the new Spektrum Smart LiPo battery and S120 USB-C charger. This Smart LiPo battery basically looks after itself. With an integrated microchip, the battery has pre-set charge rate settings, so all you need to do is plug in the battery to the Smart charger and press 'start'. The Bind-N-Fly version is beneficial to those RC pilots who already own a Spektrum transmitter, a LiPo battery and charger, where all you'll need to do is bind your own radio to the aircraft, add your charged battery and away you go.

If you're looking for a beginner aircraft that you can progress with or a capable aerobatic RC plane, the HobbyZone AeroScout may be the one for you. If you have any questions, please feel free to contact one of our Sales Representatives via email, social media or on (08) 8186 4250 and we will be more than happy to help.