If you're looking for your first beginner aircraft, you've come to the right place. We have received some exciting products this week, including the brand-new Apprentice STS RC Plane from E-flite! Let's get into it.
The smartest and best trainer RC plane
The E-flite Apprentice is one of the most popular RC trainers on the market today and for good reason - it is easy to fly with great characteristics. E-flite have taken this tried and true trainer to the next level, adding some great features and extra capability - meet the E-flite Apprentice STS. It is available in both Ready-To-Fly and Bind-N-Fly versions.
The E-flite Apprentice STS has been upgraded with Spektrum Smart technology with a Spektrum Smart LiPo battery and an S120 USB-C Smart charger that can be conveniently used anywhere that has a USB outlet.
Like its predecessor, the Apprentice S 15e, the Apprentice STS includes the ground-breaking SAFE (Sensor Assist Flight Envelope) technology, however, the new Apprentice STS is compatible with two upgrades - SAFE Plus GPS-Enabled Technology and the new Landing Assist Sensor (LAS). SAFE Plus is included in models like the HobbyZone Carbon Cub S+ and is a great addition for beginners learning to fly. It provides you with:
Auto-landing: The aircraft can land itself
Virtual Fence: Sets up a virtual perimeter in the air that the aircraft can't fly out of
Holding Pattern: The RC plane will perform a constant radius circle which is perfect for situations where you need to recollect yourself

The new Landing Assist Sensor (LAS) technology does essentially just that – assists the pilot landing the plane. It monitors how close the model plane is to the ground and just before you land, the LAS brings the nose of the plane up to make the landing nice and smooth, minimising or eliminating bouncing. This results in less stress on the pilot learning to fly, and the plane itself. As your skills progress, you can turn this off to have full control of landing the plane.
These additional features (sold separately) combined with the existing SAFE and AS3X technologies that include Beginner Mode, Intermediate Mode, Experienced Mode and Panic Recovery, make this comprehensively the best trainer plane you could possibly buy. It will teach you how to fly as safely and as easily as possible. You can transition from 'never flown an aircraft before' to a confident flier performing rolls, loops and other aerobatics. They don't call it the smartest and best trainer aircraft for nothing!
The popular Carbon Cub S+ RC plane
One of our most popular trainers has come back in stock! The HobbyZone Carbon Cub S+ is a fantastic flying model and a great looking one at that. One of the main differences of this scale model plane and the Apprentice STS is that the Carbon Cub S+ is a taildragger, meaning it has two wheels at the front and one at the tail. This set up makes it a little bit more difficult to take-off and land for a beginner, however, the Carbon Cub S+ features oversized soft tundra tyres which make it possible to take-off and land on other surfaces that would be impossible for most models of this size. Think farm paddocks for example.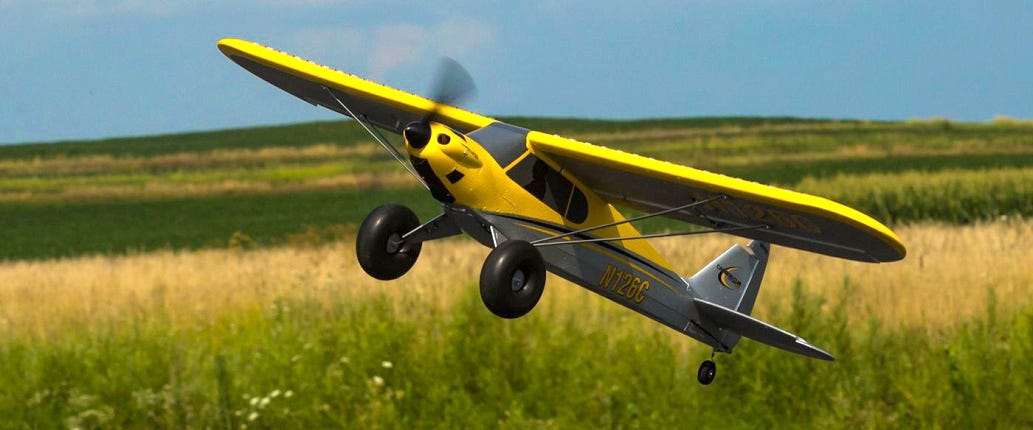 The SAFE Plus GPS enabled drone technology comes as standard on the HobbyZone Carbon Cub S+. As previously mentioned, it includes progressive flight modes, Panic Recovery, Virtual Fence, Holding Pattern and AutoLand.
Ready-to-Fly (RTF) and Bind-N-Fly (BNF) versions are available to purchase. The RTF version consists of everything you need to get in the air, while BNF is perfect for pilots who have a compatible Spektrum radio system already who will need to provide their own battery and charger as well.
We have created a video of this plane over on our YouTube channel with some cool air to air footage. Click here to check it out. We demonstrate that the Carbon Cub S+ is a capable airframe, it does nice aerobatics, is super versatile and can take off a multitude of runways and in very short spaces. If you're looking at getting into the market for a taildragger scale trainer this model plane could be the model for you.
Beat the cold, fly indoors with this micro helicopter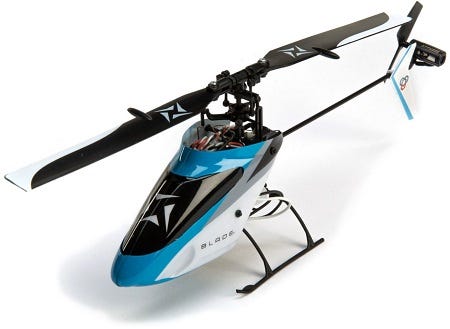 3D aerobatic helicopter fans are going to love this RC collective pitch helicopter that has just come back into stock. The Blade Nano S2 is a lightweight, micro RC helicopter that is perfect for this time of year when it is wet and windy outside, and you can fly inside your house without the risk of damaging your walls and floors.
Both Ready-to-Fly and Bind-N-Fly versions come with factory-installed Spektrum 2.4GHz DSMX receiver, a 150mAh 1S LiPo battery and a USB LiPo battery charger, however, the Bind-N-Fly version will need a compatible DSMX/DSM2 transmitter. The 150mAh battery is super affordable, meaning you can purchase three or four of these and be constantly flying - have one charging, one in the aircraft and you can have hours and hours of fun.
This model helicopter includes Horizon Hobby's revolutionary electronic flight protection system, SAFE technology. Panic recovery mode and three progressive flight modes are present, as well as a new SAFE-Z altitude control feature. There are a lot of things going on when flying an RC helicopter, they can move quickly and to maintain an altitude can be difficult for beginners. Blade have offered a solution in the Nano S2 with the SAFE-Z altitude control system that helps keep the RC heli at a consistent altitude via accelerometer programming. These features allow you to go from a beginner to an intermediate to an advanced RC helicopter pilot who can perform 3D aerobatics.
Ultra-micro, ultra-fun RC electric glider
The UMX Radian from E-flite is an extremely well-liked model, it seems that every time we receive stock of this electric glider, they sell out quickly – and for good reason! It's a fantastic ultra-micro version of the popular 2m Radian glider.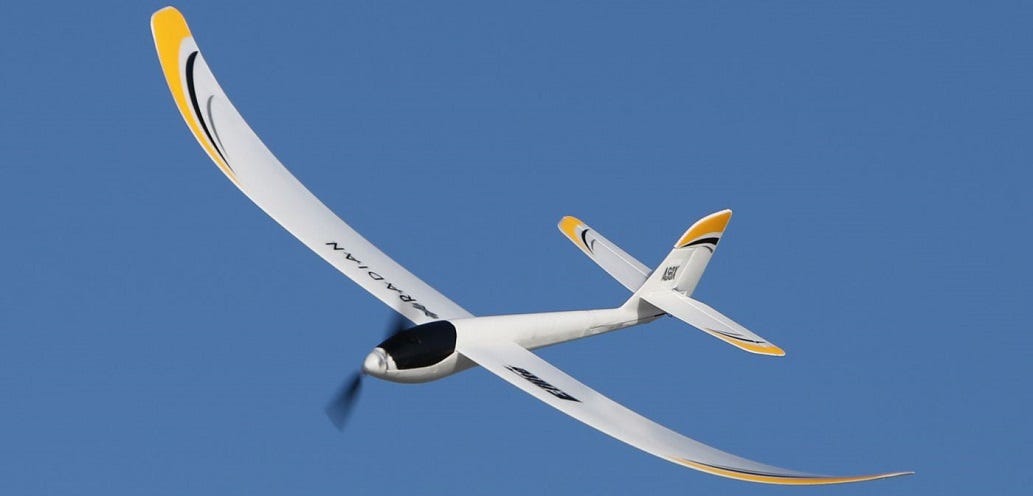 This model comes as a Bind-N-Fly so if you have a Spektrum radio system, a basic 6 channel or the DXe would be ideal. It comes with a convenient USB charger and a 150mAh LiPo battery. If you're flying off a nice slope with some light wind you could be flying for a very long time on one battery, but if you don't have a slope and you're flying off the flat ground this is still a fantastic model. The UMX Radian is a great introduction into the world of RC gliders so if you do want to do some basic slope soaring, or even some flying indoors, this UMX glider does it all.