Click here to check out the Moustache Model Works DeHavilland Canada DHC-2 Beaver on our website.
Build your own DHC-2 Beaver 
Building RC model airplanes from kits are making a comeback in the RC hobby. Nothing can beat the satisfaction that comes from successfully flying a model you built yourself! Unfortunately, most kits today were designed in the days before modern CAD systems, leaving much to be desired in terms of parts fit, ease of assembly, and at times even basic engineering.
Moustache Model Works was established to address this growing niche in the hobby market. By applying modern 3D CAD to the design process, they create kits that remain true to established design and construction principles, but that ensure accurate parts fit, ease of assembly, and scale fidelity. The result is a kit that's a joy to build as well as to fly.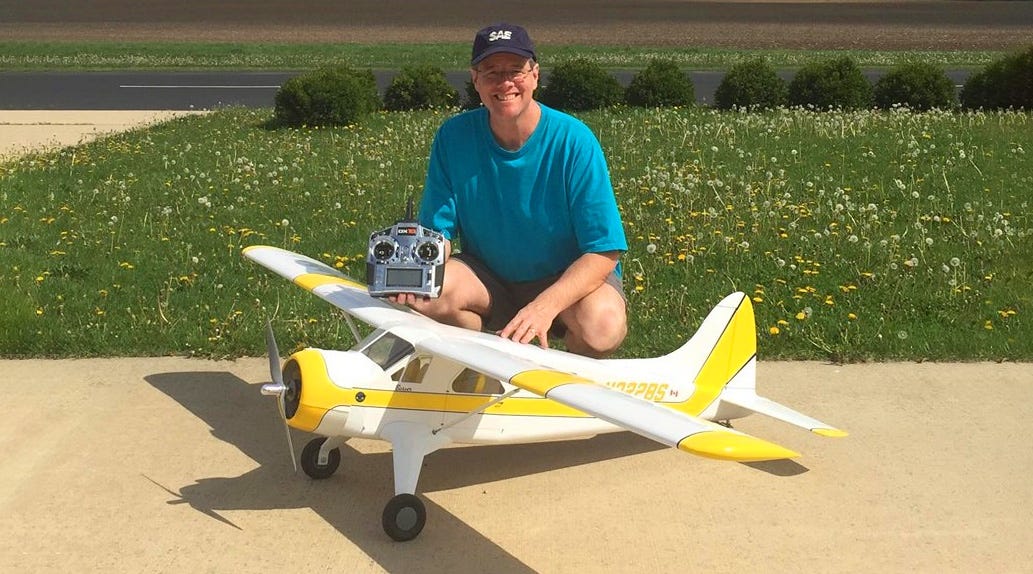 It's all about the details
Moustache Model Works first kit is a 1/6.3 scale DHC-2 Beaver, designed to use a DLE-20 engine or an E-flite Power 60 electric motor with a 6S, 5000mAh Li-Po battery. Drawn from factory blueprints, it features a 100% scale outline. 
Wings and tail surfaces are traditional balsa construction, and the fuselage is primarily lite-ply.  Tab-and-slot construction ensures the straightness of the fuselage while laser-cutting is used extensively to ensure parts accuracy. The cowl, wingtips, and landing gear fairings are fibreglass and are included. The windshield, windows, tail fairings, seats, upper carb intake and oil cooler are all vacuum-formed plastic and are included. Two-piece, plug-in wings make transport and storage convenient, and the entire windshield removes as a large front access hatch to make battery or fuel tank access a breeze.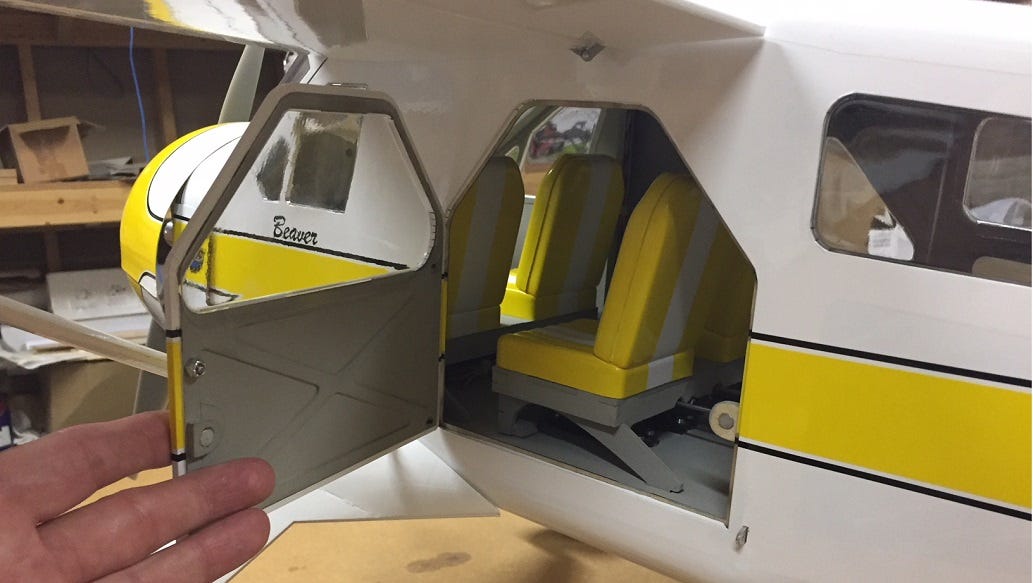 Specifications:
Wingspan -  91.4 in. (2.32m)
Length -       57.6 in. (1.46m)
Wing Area - 904 sq. in. (58.3 sq dm)
Weight -      12-13 lb. (5.4-5.9 kg)
Two areas are provided to allow modellers to customize their kits. First, a fibreglass lower carb intake or "chin scoop" is included, allowing the modeller to choose between upper or lower intakes depending upon the specific Beaver they want to model. Second, and similarly, the kit offers three options for the rear side windows: a single round window, a single rectangular window, or dual rectangular windows.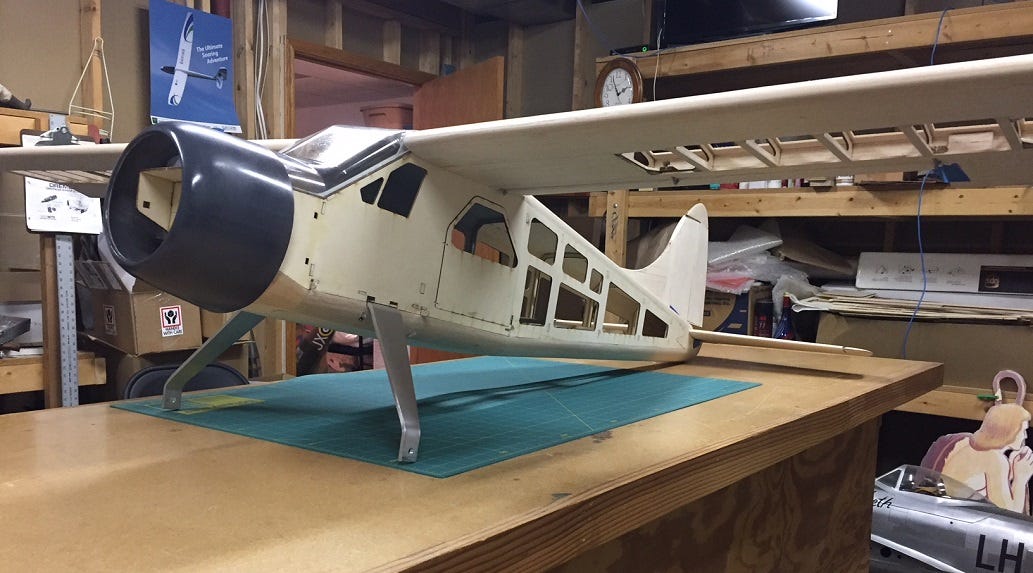 The RC plane kit comes complete with all required wood, fibreglass parts, vacuum-formed plastic parts, landing gear, carbon fibre wing tube, pushrods, hardware, plans, and detailed instruction manual. Depending upon building speed, construction should take approximately 100 to 150 hours.
Required to complete:
Covering material & paint
Wheels
Power system - 20cc gas or Power 60 equivalent/ESC/6S Li-Po
Transmitter, receiver, servos, servo extensions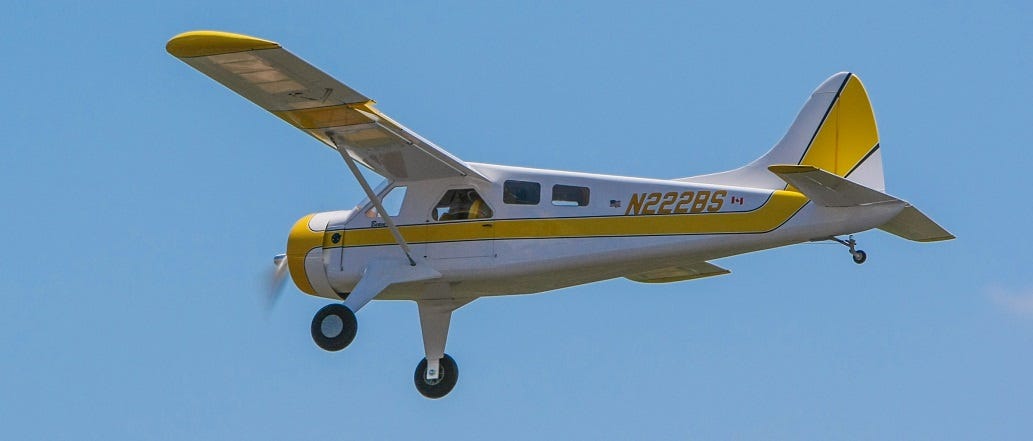 How Moustache Model Works is different
Moustache Model Works is committed to using modern CAD systems to make kit assembly as hassle-free as possible. Your hobby time is precious, and when you hit the shop to build, that's what you want to do: build. You don't want to be forced to stop and redesign much of the kit just to get to something that works.

At the same time, they're committed to scale fidelity and lightness. The former makes your creation a joy to behold and creates a source of pride when you display your creation at the field. The latter just makes models fly better. Light airplanes land slower and stall slower, which makes them easier to fly. Lighter models also don't absorb as much stress in flight and when landing, so they last longer.
Written by David Eichstedt - Product Development Executive of Moustache Model Works