Axial Yeti Jr Can-Am Maverick X3 Rock Racer, RTR, AXI90069
Shrink the size but not the fun! The Axial Yeti Jr is the little brother of the 1/10th scale version and in an 1/18th scale it packs a lot fun into a small body. Fitted out with a licensed Can Am Maverick X3 body the Yeti Jr is the good thing that comes in a small package! 
Looking for spare parts or upgrades?
2.4GHz STX2 Spektrum transmitter
Waterproof Spektrum ESC/Receiver combo
37T brushed electric Dynamite motor
Perfect scale detail in the licensed Can-Am Maverick X3 body and wheels
Plenty of ground clearance with the rock-solid AR18 rear axle
Licensed Bighorn 2.0 tyres by Maxxis
Spektrum powered steering using a metal-geared high torque servo perfectly suited for off-road bashing
Improved handling from the three-linked rear suspension
High-speed stability provided by the independent front suspension
Two removable body clips give you full access to the body mounted electronics
Easy access chassis
Fully adjustable - motor mount, coil over shacks and battery tray
Full ball bearing set for the vehicle
Increase configuration possibilities with 48P gears
The centred rear driveshaft provides efficiency and is paired to the rear differential outdrive captured by a bearing for smoother running
Includes an easy to use USB charger
Axial's Yeti Jr Can-Am Maverick X3
Equipping a 1/18th scale with 4WD is just the start of what makes the Yeti Jr RTR the pocket-sized ultra adventurer that you've been looking for. Perfect scale detail in the licensed Can-Am Maverick X3 body means you can look and act the part of the off-road all-terrain basher that its 1/10th scale big brother was.
Floating solid rear axles and independent suspension used to be the exclusive domain of full-scale off-road vehicles. Until the Yeti came along! As a driver, you can now enjoy Axial's carry over to RC in 1/18th scale. The Yeti Jrs suspension design gives you increased clearance, improved high-speed stability, and, responsive handling. The brushed 380-size motor ensures you have just the right amount of torque and speed. To harness and transfer that power the Yeti Jr is kitted out with Bighorn 2.0 radial tyres by Maxxis which means you get a smooth fast ride over just about any surface you choose to tackle.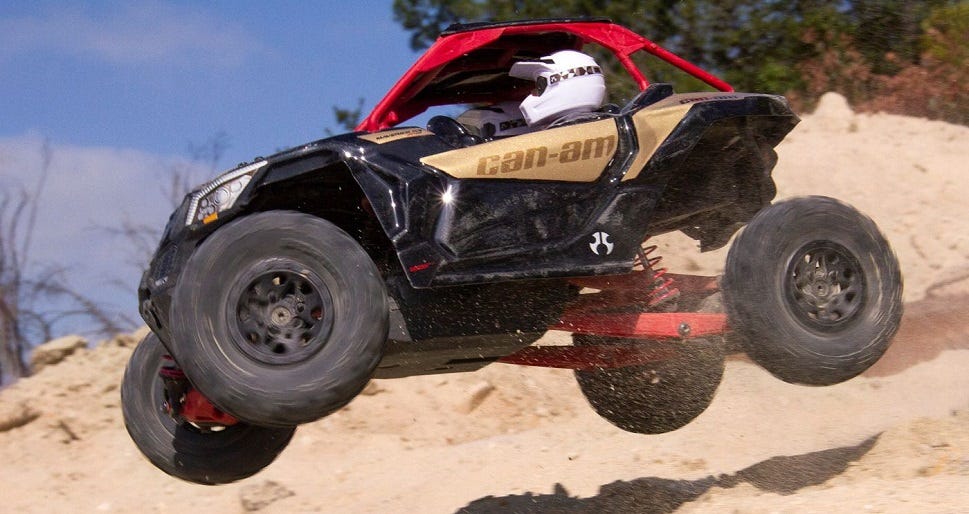 Improved handling and stability
The Yeti Jr has upper and lower mounting points on its rear axle for the trailing arm which enables fine-tuning of your suspension setup.
The Independent Front Suspension (IFS) on the 4WD Yeti Jr allows you to tackle a varied array of terrains while holding stability at high speeds. The IFS enables you to keep your Yeti Jr headed in its intended direction when one side of the car is adjusting to an obstacle without the need to sacrifice speed.
Maxxis Bighorn 2.0 tyres with Can-Am wheels 
The non-directional tread pattern on the Maxxis Bighorn 2.0 tyres makes it suitable for a range of different conditions. Secured with a strong 12mm hex the combination of Maxxis tyres and Can-Am wheels mean you are fully equipped to tackle gravel, dirt, rocks, grass and anything else you may encounter in your backyard.
AR18 Solid Rear Axle
The performance expectations of the Yeti Jr could not be met by simply scaling down an existing axle. In order to achieve sufficient terrain clearance as well as integrating the correct proportions, the AR18 axle came into existence. The new axle features a three-linked rear suspension with a sway-bar built into the design to enhance handling improvements. All of this is packed into a two-piece compact design with a captured pinion gear.
To allow you to tune the dampening rate the threaded shock bodies hold an oil filled single coil over spring.
Despite its 1/18th scale, the Yeti Jr's drive train has 48P gearing rather than micro gearing. This enhances the Yeti's toughness and reliability while also enabling you the option of configuring the gearing to your liking. The 15T metal pinion gear is mated to the spur gear for the best gearing set up for you.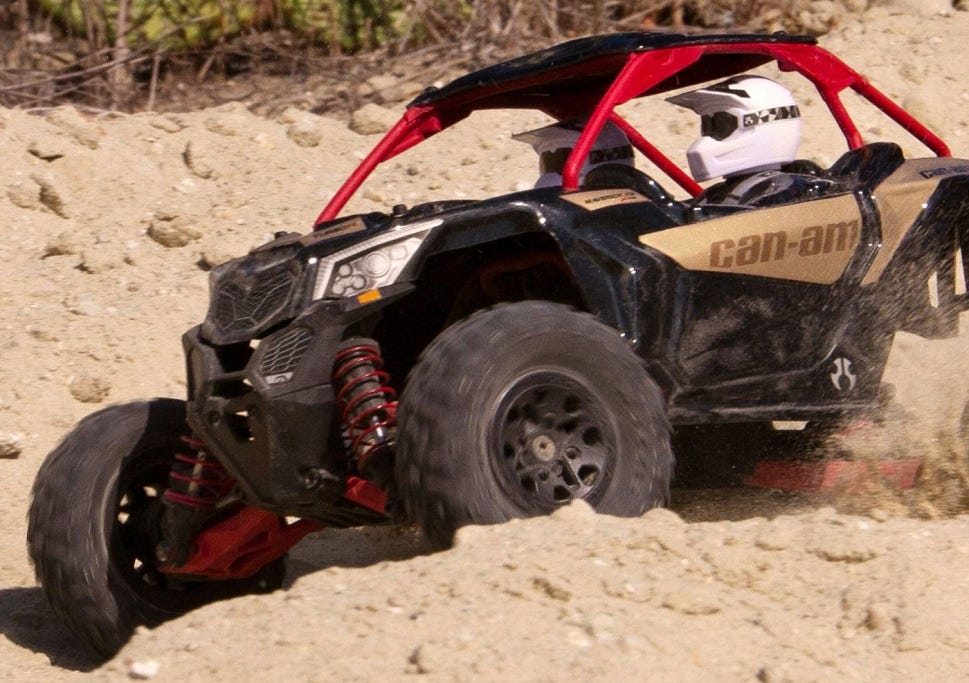 Spektrum technology
The 2.4GHz 2-channel STX2 Spektrum radio transmitter gives the driver ultimate control with features like throttle limiting, steering/throttle reversing, and, steering/throttle travel adjust. Interference-free performance and extended range are also offered with the FHSS 2.4GHz protocol.
The all-in-one ESC/Receiver combo from Spektrum features an easy to use on/off switch, EC3 battery connector and is water resistant for those times when you can't be bothered going around puddles.
WARNING: This product is NiMH battery compatible only. Do NOT use a LiPo battery or fire causing serious injury or damage to property may occur.
Dynamite Tazer motor
Finding the right blend of speed and torque has been expertly achieved in the Yeti Jr with the 37T Dynamite Tazer 380 motor installed. This brushed waterproof power system is designed for extended use with enlarged cooling ports allowing you to avoid overheating. With a 60T spur gear and a 15T pinion, this motor is going to have you moving quickly!
Adjustable motor mount
Axial have used a cam style motor mount design in the Yeti Jr to make adjusting gear mesh easier in order to accommodate the different sized spur or pinion gears. The cam motor plate is secured in place by the front top plate with all screws threading down into the chassis. This enables easier maintenance of the motor and gear mesh.
Dynamite 1300mAh NiMH battery with USB charger
The Yeti Jr runs off NiMH power and includes Dynamite battery pack with a 1300mAh charge capacity and an EC3 connector. For convenience and ease of use, there is a 6-cell Dynamite USB charger that is compact enough to take anywhere you can find a power source.
NOTE: For use with 6-cell NiMH batteries only.
Depending on your driving preference you can adjust the battery tray to one of multiple configurations. You can run with the standard 6-cell NiMH or something smaller depending on what you have in mind. The battery tray is easily accessible without the need to remove body clips and swapping batteries has never been easier.
Full ball bearings
Despite its size, the Yeti Jr. has a drive train that spins on sealed cartridge bearings throughout this pocket dynamo's 4WD frame. There are no bushings just a sold and robust design structure to support the Yeti's intended uses.
Type

Rock Racer

Scale

1/18

Length

11" (279.4mm)

Width

7" (177.8mm)

Height

6.5" (165.1mm)

Ground Clearance

1.1" (27mm)

Wheelbase

8.1" (205mm)

Weight

1.6lbs (0.7kg)

Chassis

Molded tub style w/ rear trailing arms

Suspension

Front-Independent, Rear-3-Link w/integrated sway bar like support, AR18 2-pc solid rear axle w/captured pinion gear

Drivetrain

4WD shaft drive

Tire Type

Non-directional tread pattern for use on a variety of terrain, S30 firmness compound

Motor or Engine

380 Brush Equipped, 37 Turn

Speed Control

ESC/Receiver combo, Water Resistant

Radio

Spektrum FHSS 2.4GHz STX2 2-channel

Servos

Spektrum SX107 high torque micro w/metal gears

Batteries

Dynamite 7.2V 1300mAh NiMH with mini EC3 connector, flat configuration, 2/3A cell size

Charger

USB NiMH with red and green status indicators

Gear Pitch

48-Pitch

Wheel Size

1.2" (30.5mm) Diameter, 12mm Hex

Kit/RTR

RTR

Shock Type

Coil over, oil-filled, 3mm shafts

Body

Can-Am Maverick X3 UTV, trimmed and painted, rear hinge body mount system

Ball Bearings

Full set, sealed cartridge type

Is Assembly Required

No
All product manuals are provided by the manufacturer, If you don't find the manual or information you are looking for, contact our experts for help.