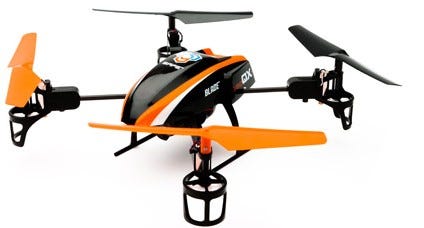 We are very pleased to announce that a new RC quadcopter from Blade is coming to Modelflight. After the huge success of the 350 QX, Blade have launched the
180 QX
. Similar to the 350, this new quadcopter can be used for aerial photography and filming. It comes with an EFC-720 HD flight camera included, allowing you to film, or capture images, as you fly. Another similarity with the 350 is that the 180 QX quadcopter comes with SAFE technology, giving you the choice of three flight modes. There are high and low angle flight modes which allow you to capture stable video footage and images. You also have the choice of agility mode, which allows you to experience aerobatic flight with the assistance of the AS3X stability system. What is unique is that the EFC-720 camera can be operated using the triggers on your transmitter. The camera can be activated at any time while you are flying the 180 QX. You can then use your radio to switch seamlessly between capturing videos and photos. This functionality comes pre-programmed on the 5-channel transmitter included with the RTF versions of the 180 QX.
Modelflight
was fortunate enough to get a sneak peek at the new 180 QX and were able to put together this unboxing and action video below: As you can see, with the
SAFE Technology
included, this Blade RC quadcopter is easy to fly and very stable in the air. The included camera will allow you to capture some great footage or photos. The 180 QX comes with a 2GB micro SD card included, so you will be able to capture lots of video and images with the flick of a switch on your transmitter. We are very excited about this new
remote control quadcopter
. It is coming soon to Modelflight, so visit our website today to find out more.
Click here
to be notified about the arrival of the Blade 180 QX.