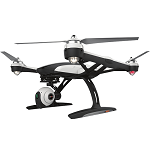 The Complete Aerial Photography Solution
We have seen some fantastic drones during 2014, but this latest offering from Yuneec really is the all-in-one package. The Q500 Typhoon comes ready-to-fly with everything you need for aerial filming and photography. This includes a full HD CGO2-GB camera. This camera comes with a three-axis gymbal and can record 1080p, 50fps video. It also captures 12 megapixel photos. With the included ST10 transmitter, you will be able to view a 5.8GHz video downlink and first-person view (FPV) through its in-built colour screen.
To make the aerial photography and videography easier, the Q500 comes with three different flight modes. The first is Smart Mode, which is an excellent choice if you are a beginner or first-time pilot. In this mode, the aircraft will always move in the direction the control stick is pushed, relative to where you are standing. This occurs regardless of which direction the drone is facing. It is very intuitive control that will make it easier for you to navigate through the skies. Within this mode, you can enable the Q500's "Follow Me" feature, whereby the drone will follow you in the air as you move with the transmitter in your hands. Check out this feature in the video below:
The second mode is called Angle (Pilot) Mode. If you have a little more experience with RC models, this will be a great choice. In this mode, the model will move in the direction the control stick is pushed, relative to the direction it is facing. The angle of movement can be determined by how far you move the stick away from the centre. The final mode is Home Mode, where the quadcopter will automatically fly itself back to a pre-determined home point and land within a 3m diameter circle of this position.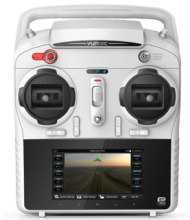 As mentioned, this drone is a superb choice for aerial photographers and/or videographers. With the included batteries, you can achieve extraordinary flight times of 20 to 25 minutes on a single charge. Furthermore, the installed CGO2-GB camera is designed to help you capture your best footage. Its self-stabilising gimbal is driven by a brushless motor. The gimbal offers a pitch range of -90 to +45° and a roll range of +/- 45°. These pitch and tilt positions can easily be adjusted using a slider on the transmitter.
Indeed, the transmitter itself is impressive technology. This ten-channel radio comes with an Android operating system and displays a wealth of telemetry information on its built-in screen. This includes flight mode, altitude and GPS position coordinates. Additionally, this screen can be used for FPV and video downlink. You can also operate this transmitter in Modes 1 to 4, simply by making changes through the operating screen. Check out images of the batteries and transmitter below:
We are very excited about the imminent arrival of this quadcopter at Modelflight. It really is the complete package for aerial filming and photography. If you would like to learn more about this new drone, be sure to visit our website today.
Learn more about this new model.