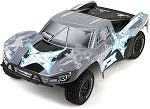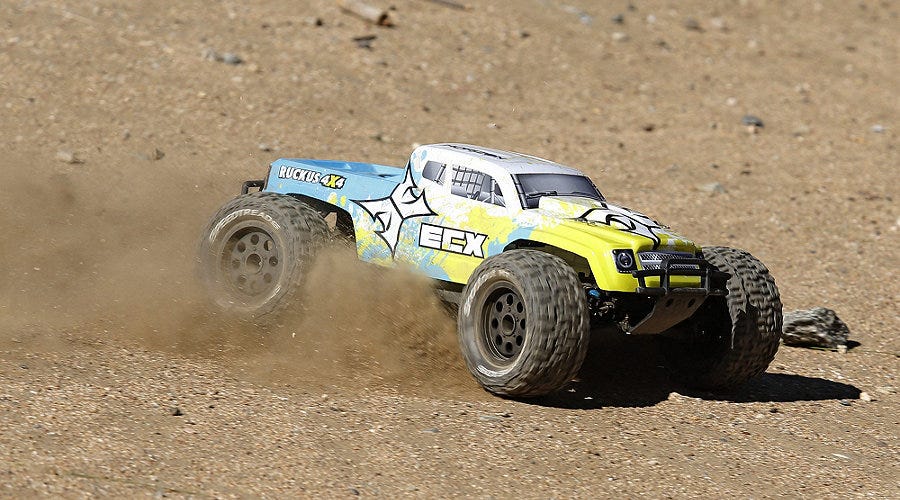 ECX have always had a great range of RC cars and trucks and as in any scenario when you are spoilt for choice, making a final decision can be difficult! Hence the reason why we have put together this buyer's guide for ECX remote control vehicles. We hope that it helps you narrow down your selection to help you find the perfect ECX car or truck to suit your needs.
For The Beginner
A great place to start with ECX remote control cars is the vehicle size. ECX cars come in two sizes: 1/10th- and 1/18th-scale, with the majority of their products falling in the first category. This is quite normal for most RC car brands; 1/10-scale is the standard size for most remote control vehicles. 1/18-scale cars certainly have their benefits, though. If you are looking for a great gift idea (especially for children), 1/18-scale RC cars are lots of fun. Their small size makes them easy to handle and it is quite feasible to drive them both outside and inside the house (without wreaking too much havoc)! ECX have two fantastic 1/18-scale cars that would make for great gift ideas (especially for Christmas).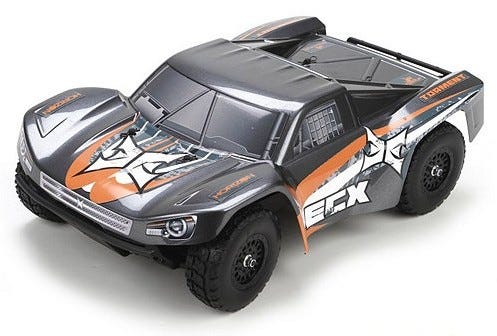 The 1/18-scale Torment is a thrill to drive. It comes with four wheel drivetrain, oil-filled shocks and everything you require included in the box. It has a great short-course truck design with a striking trim scheme that will stand out wherever you go.  It is powered by a Dynamite 380-sized brushed motor and comes with a 6-cell NiMH battery (a charger is also included).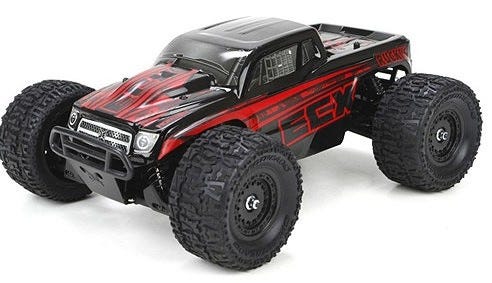 In a similar vein is the 1/18-scale Ruckus. The Ruckus essentially has the same electric setup as the Torment, including the same Dynamite 380 motor. As you can see, though, the key difference is that it has a bold monster truck design. This includes the large, heavy-duty tyres that give you great grip when you are traversing the rough terrains. Depending on your child's driving preferences, either the ECX Ruckus or Torment would be a very well-received gift that will offer hours of entertainment.
For The Off-Road Adventurer
If our aforementioned discussion on the 1/18-scale ECX Ruckus and Torment trucks whet your appetite, you will be pleased to know that there are larger versions of these cars in ECX's 1/10-scale category. Let's start by looking at the 1/10-scale Torments.

As you can see in the image above, the 1/10-scale Torment retains the same bold short-course truck design of its 1/18-scale predecessor. There are two colour schemes available for this RC truck, but there is even more beauty to be seen underneath the surface! The Torment comes ready-to-run with a Dynamite 15T brushed motor and a Tazer 15T ESC. These components are powered by a Dynamite Speedpack 1800mAh NiMH battery. This RC truck comes with a two wheel drivetrain, which will give you great performance on and off-road. However, if you are looking for something a little more powerful, you have to check this out.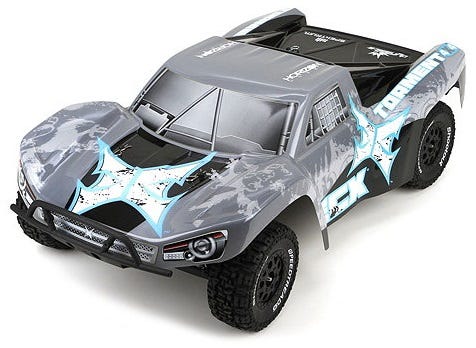 This is one of the latest trucks to come from the ECX garage - the 4WD Torment. Not only does it include a four wheel drivetrain, but it is equipped with a more powerful 550-sized 15T motor and an ESC that will suit LiPo batteries. This combination will deliver performance above and beyond the original Torment trucks. Its sealed differentials also gives it great versatility when driving off-road. While it is priced slightly higher than the 2WD Torments, this truck is one of the best vehicles ECX has to offer.
As mentioned, there are also larger-scale versions of the Ruckus available. In the picture above, you can see the 1/10-scale Ruckus trucks available in the green and blue colour schemes. The great thing is that the same electronics used in the large-scale Torments are also used in these RC trucks; you will get the same Dynamite 15T motor, Tazer ESC and 1800mAh NiMH battery. It's ECX Torment performance in a heavy-duty monster truck! So if you are tossing up between an 1/10-scale Torment or Ruckus, the key question to ask is what kind of driving you would like to engage in. Both trucks will offer similar levels of performance, but if you really want to venture off-road, the Ruckus was built for extreme driving. It is worth mentioning here that there is a third Ruckus available, if you are looking for the ultimate off-road adventurer.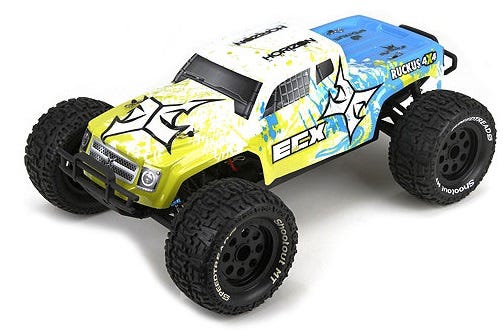 Here it is! A 4WD version of the ECX Ruckus. This recent release from ECX is similar to the 4WD Torment. It comes with a 550-sized 15T motor and a Dynamite 2400mAh 7-cell battery preinstalled. The included ESC, however, can work with a LiPo battery if you want to take the truck's power to a whole new level. Again, the electronic setup of this truck is very similar to the 4WD Torment. If you are in the market for a serious off-road truck, this is the perfect choice for you.
For Racers
Perhaps the off-road adventure doesn't inspire you as much as claiming first place? If you fit in this category, ECX have cars for you too! Their range of stadium trucks and buggies are designed for the RC car racer in you. Best of all, these cars come ready-to-run with everything you need included in the box. They are a great choice if you are a beginner in the racing field and will give you a solid foundation before you can advance to more powerful cars from brands such as Losi or TLR. The only question you need to ask yourself, is which style of car do you prefer? Stadium trucks or buggies? Let's look at each in turn.

Introducing the Circuit stadium trucks from ECX. These are 2WD trucks that are designed for racing. They come with Dynamite 20T motors pre-installed, which work in conjunction with 1800mAh NiMH batteries (also from Dynamite). Included in these ready-to-run packages are Spektrum DX2E transmitters, which connect to SR201 receivers. This setup as a whole will allow you hit the race track with speed and agility. As you can see in the photo above, the Circuit trucks come in two different colour schemes, giving them a bold appearance on and off the track. If, however, you would prefer a more traditional style of racing, check out these next two ECX cars.

Pictured above are the final two ECX cars we wanted to discuss in this blog post. These are the Boost buggies and as the name suggests, they are zippy vehicles! Buggies feature prominantly in remote control car races, so if this is a field you want to enter, the Boost is a great way to start. These cars come completely ready-to-run with Dynamite 20T motors, Speedpack 1800mAh NiMH batteries and waterproof servos. The Boost has a very low stance, allowing it handle tracks with ease. If racing is in your blood, the Boost needs to be in your garage!
Conclusion
As you can see, there are a wide range of ECX cars available. Irrespective of whether you are looking for a big or small car, on-road or off-road vehicle, two- or four-wheel drive, you will notice the same ECX quality throughout. We can only hope that this article has helped you find a starting point on what should be a very enjoyable drive!