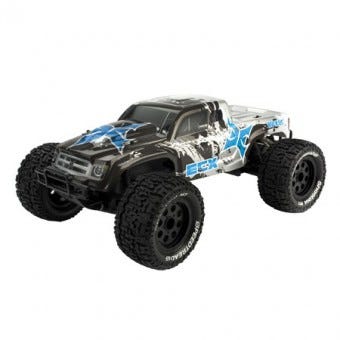 Are you looking to buy a remote control car?  Whether you are driving on- or off-road, RC cars are great fun and Modelflight is proud to offer an excellent range of cars for beginners, all the way up to professional RC car racers. Given this broad range, finding your first remote control car is not always easy, so this post will review some of our great cars and recommend the best remote control cars for beginners.
What Should I Look For in a Remote Control Car?
When choosing the best beginner RC car for you, there a few things to take into account.  Firstly, it is worth checking whether the car comes ready-to-run (often abbreviated as RTR).  Some remote control cars require you to supply a few components to complete the model (such as a transmitter or battery).  If you have had some previous RC experience, you may have access to a transmitter and other car components, but if this is not the case then it would be best to select an RC car where everything you need to start driving can be found included in the box.
It would also be good to look into the car's durability.  Especially when you are starting out, having a car that comes with features such as a thick chassis, bumper bars and strong wheels can be really beneficial.  Another question to ask is what kind of driving do you want to do?  There are different beginner RC cars for off- and on-road driving.  Some cars can easily be driven indoors, whereas others would be more suited for rough outdoor terrain.  Some remote control cars are designed for the race track and we even have cars specific for on-road racing, and drifting.  Identifying where you want to be able to drive, and the kind of car you want is the first step in narrowing your selection.  It could also be good to select an electrically-powered remote control car before you enter the world of nitro powered vehicles. Some cars are powered by gas or nitro (otherwise known as "glow") fuel.  Many find the electric cars to be more convenient, as it requires less maintenance and cleaning.
In summary, first time RC car drivers should look for these important characteristics:
Ready-to-run – all you have to do is charge the batteries and start driving
Durable – strong enough to handle the occasional bump and bash
Suitability for preferred driving style – make sure the car is designed for the driving you have in mind
The Best Remote Control Cars for Beginners
Let's check out 5 of the best RC cars for beginners at Modelflight.  Up first is the Losi 1/14th Mini 8IGHT Buggy.
Losi 1/14th Mini 8IGHT Buggy
The Mini 8IGHT is an RC buggy from Losi.  It is 1/14th scale, making it one of Modelflight's smaller RC cars.  The Mini 8IGHT is a small-scale version of the legendary Losi 8IGHT; an RC buggy that won the Remotely Operated Auto Racers (ROAR) Championship in North America.  The Mini 8IGHT is like a championship car for beginners!  Just like other RC buggies, this car is ideal for outdoor driving and can easily handle dirt tracks.  It is run by a 4500Kv brushless motor, giving you plenty of power to speed across the surfaces.  Recently, Losi announced the release of a Mini 8IGHT Phend Edition and a Mini 8IGHT Drake Edition, featuring new bodies named after champion RC drivers, Dakotah Phend and Adam Drake.  All these versions of the 8IGHT come ready-to-run (RTR) with an electric motor, transmitter and all the parts pre-assembled, so you can really hit the ground running.  For a beginner's remote control car that excels in performance and appearance, the Mini 8IGHT certainly stakes its claim.
Vaterra 1/14th Kalahari 4WD Desert Truck
If you are a beginner with a sense of adventure, the Kalahari RC truck from Vaterra is your vehicle.  This RC truck is modelled on the desert trucks that take on rally raids around the world. As you would expect, this is a true off-road car.  Sand, scrub or other uneasy terrain can be tackled with the Kalahari, thanks to its 4 wheel independent suspension and the realistic tread on its wheels.  Similar to the Mini 8IGHT, the Kalahari is a small 1/14th-scale vehicle, but it is certainly big on performance!  Equipped with a 4500Kv motor and waterproof electronics, this RC truck comes ready-to-run with all the components you need included in the box.  As a similar alternative, Vaterra also offer the 1/14th-scale RTR Kemora RC car.  The characteristics of the Kemora are very similar to the Kalahari, making it a suitable remote control car for beginners.  The key difference is that the Kemora is modelled on rallycross cars; offering the same off-road adventurous driving you will find in the Kalahari.  In the below video, you can learn more about both these Vaterra cars:
ECX 1/10 Boost Buggy
As it is 1/10th-scale, the Boost RC Buggy from ECX is larger than the other remote control cars we have discussed and comes with some really exciting features. This ready-to-run RC buggy comes with a Dynamite 20T motor and a Dynamite 15T ESC.  These electronics will give you excellent power and control as you take on dirt tracks or bitumen roads. ECX are well known for their beginner-friendly RC cars and the Boost is a perfect example of this.  With the included Spektrum DX2E radio system, this remote control car comes completely ready-to-run.  You will find that the DX2E transmitter allows you to easily steer the Boost across your chosen course.  What's more, all the important electronics in this car are waterproof, so you won't have to worry about speeding around a wet track!  The Boost is lots of fun and comes available in a white and red colour scheme and a black and green colour scheme.
ECX 1/10 Ruckus Monster Truck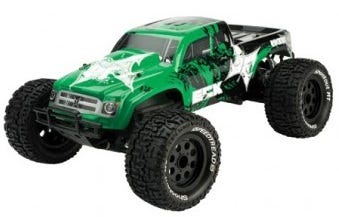 If you are a beginner looking for something gutsier, the Ruckus RC monster truck is the heavy-hitting vehicle for you.  This remote control monster truck has an imposing presence; equipped with large 2.2in wheels and long-travel shocks. The Ruckus is equipped with a 15T Dynamite motor to give you the heavy-duty power you need to bash through your backyard or the bush.  Similar to the Boost Buggy, this ready-to-run monster truck comes with waterproof electronics and a Spektrum DX2E transmitter.  ECX have given you the option of a charcoal and silver coloured Ruckus or a black and green version.  Whichever one you choose, you are certain to have hours of off-road tackling fun with the Ruckus.
Vaterra 1/10 2012 Nissan GTR GT3              
Now this is a beginner's on-road RC car that makes a bold statement.  The 2012 Nissan GTR GT3 V100-C RC car from Vaterra has a 1/10th scale officially-licensed GTR body and comes ready-to-run with all the components you need for some serious on-road RC drifting.  Underpinned by Vaterra's V100-C chassis, the Nissan GTR GT3 comes with a shaft-driven 4WD and a built-in front splitter and rear diffuser; similar to what you would find on a full-scale racer.  With low profile tyres and large-diameter wheels, this remote control car is equipped for sharp handling and cornering.  It offers neutral handling, and there are many tuning options available as your RC driving skills progress.  If you would prefer, Vaterra also offer the sleek Nissan GTR V-100S RC car, which also comes ready-to-run with the V100-S chassis.  Both of these beginner remote control cars are true on-road performers and are certain to turn heads when you take to the streets!
Our Top On-Road Pick: Vaterra 2012 Nissan GTR GT3 V100-C.  Buy the Vaterra Nissan now.
Our Top Off-Road Pick: ECX Ruckus. Buy the ECX Ruckus now.
Our Top Mini Remote Control Car: Vaterra Kalahari.  Buy the Vaterra Kalahari now.
We hope this blog post has given you some ideas for buying your first remote control car. If you would like more information about our range of RC cars at Modelfight, visit modelflight.com.au/cars/beginner-rc-cars. Modelflight fully supports its range of RC cars, so if you are looking for spare parts for the aforementioned cars (or any other RC cars), feel free to use our online Spare Parts Finder to find the parts you need for your remote control car. Whether you are going on the road or off-road, have a great time driving!