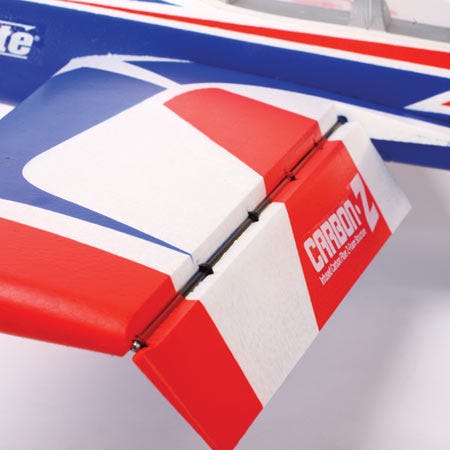 Z-Foam planes have become very popular in the hobby because of their robust durability and overall great flying qualities. They are easily repaired by the CA glues of today or with new spare parts, the choice is yours. E-flite brings you a new level of Z-Foam, called Carbon-Z. Using an entirely new design philosophy in the structure, Carbon-Z structure combines a blend of carbon, plywood, and Z-Foam. No longer are wings completely solid, with Carbon-Z they are molded in a built-up format with ribs to include a full composite structure inside to deliver rigidity only found in the past in higher-level wood model aircraft. This composite blend gives you the highest level of quality in a foam model to help deliver only the highest level of performance at the flying field. Because of the internal structure there is no maintenance, incredible strength, and great looks for the most demanding modelers.
World renowned Quique Somenzini has imbedded his expertise and knowledge into this new design. This technology currently has patents pending and is the future of lightweight, extreme performance foam
rc aircraft
. The 
Carbon-Z Yak 54
has been designed for extreme 3D flight, but as Quique explains, this technology could be used in models of all sizes. We believe after reviewing the incredible strength, rigidity, and great looks you will find this new level of technology is just what you have been waiting for.
Specifications:
Exceptionally strong and lightweight Carbon-Z airframe
High-performance prop optimized for precision and 3D flying
Low friction carbon rod hinges
Replaceable wings, stab, landing gear and control surfaces
Quickly disassembles for transport or storage in the box