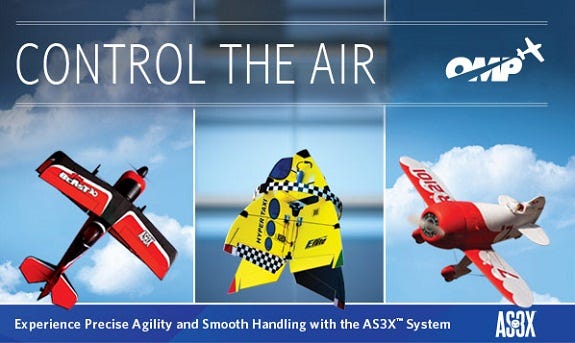 So what is AS3X?  AS3X™ System delivers breakthrough performance for UMX™ airplanes and the freedom a pilot can use to experience RC flight that's more enjoyable than ever dreamed possible. The Horizon Hobby world-class team of RC pilots developed the AS3X System exclusively for airplanes based on the successful use of AS3X with ultra micro flybarless helicopters. An industry-first, 
AS3X technology in UMX airplanes
 is exciting because it helps the pilot focus more on the thrill of being the pilot of an expertly tuned airplane, rather than working to stay in smooth control. No longer will you have to deal intensely with flight complications such as turbulence, torque and tip stalls. All you feel is ultra-smooth control — even outdoors in moderate wind — so that you're allowed to naturally experience exhilarating aircraft agility that will allow you to quickly build skills as an RC pilot. E-flite introduces the radical AS3X System with three acclaimed airplanes that demonstrate the inspiring potential of this exclusive technology. Enhanced with the AS3X System the Beast 3D®, 
Hyper Taxi™
, and 
Gee Bee® R2
 UMX models are the friendliest airplanes ever offered in their class, yet are more capable and fun to fly than ever dreamed possible. Each is painstakingly tuned so that you enjoy that best flight, every flight. AS3X will innovate the way you'll want to fly now and in the future.