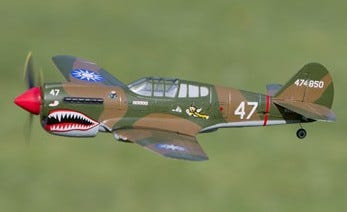 New Releases from Parkzone & Spektrum
Parkzone Ultra-Micro P-40 Warhawk & Parkzone VisionAire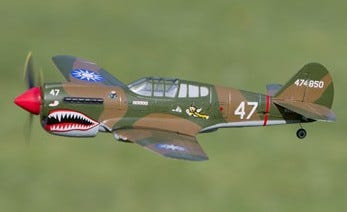 2013 got off to a stellar start with the release of several brand new products on
Modelflight's website.
  One that we had been eagerly awaiting was the
UM P-40 Warhawk
from
ParkZone
.  ParkZone have brilliantly recreated this famous WWII fighter and included extensive scale details.  We had the pleasure of taking the P-40 Warhawk for its maiden flight straight out of the box.  Needless to say, it was a thrill to fly.  The AS3X technology on this remote control plane gives you incredible stability.  You really do feel like you are flying a larger plane, despite the fact that it is a ultra-micro!  We were able to capture this maiden flight on
film
.  If you would like to read more about our filming of the P-40 Warhawk, we recently published a
blog post
about it.
Another exciting arrival was the
ParkZone VisionAire
.  This plane is RC at its cutting edge.  The VisionAire gives sport flyers the chance to fly 3D.  Similar to the Warhawk, this remote control plane comes with AS3X.   The stability you will experience when flying this plane will allow you to perform amazing 3D manoeuvres such as harriers, hovers and torque rolls.  Designed by 3D champion, Quique Somenzini, this RC plane has to be seen to be believed.  Mike recently reviewed this plane for our
You
Tube channel
.  You can read more about the filming of this video in a recent
blog post
. Furthermore, Modelflight is ready to receive pre-orders for the brand new
AR635 receiver
from
Spektrum
.
The genius of the AR635 receiver lies in its ability to combine DSM2 and DSMX technology with
AS3X
; an extraordinary partnership that offers superb security and precision.  If you are the owner of a RC park flyer, sport or 3D plane, you should really consider investing in this Spektrum receiver.  Offering the high-tech features you would come to expect from Spektrum, this is a very exciting product. Stay tuned for updates as more new products are made available at Modelflight.com.au.