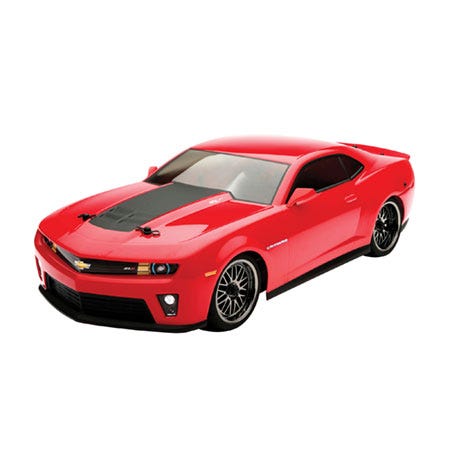 We have always been impressed with Vaterra's range of scale RC cars and there has often been a consistent theme running through this collection: American muscle cars. In this blog post, we wanted to showcase these cars in all their glory. Just for fun, we have also included a series images showing the original American car and Vaterra's RC version (pictured on the left and right respectively). Let's start our journey through time with some of the classic Vaterra models.
Classic RC Cars

A classic in every sense of the word, the original 1967 Ford Mustang was equipped with a 315hp V8 engine and has only grown more revered over time. Vaterra's answer to this beast of an RC car is as close as you can get to the real thing! It comes with an officially-licensed body, underpinned by their solid V100-S chassis. The RC Mustang is powered by a Dynamite brushed motor and 1800mAh NiMH battery. This remote control car certainly does the original justice.

The next car we wanted to focus on is the Chevrolet Corvette Stingray. This is probably one of the most recognisable cars on the road. The Stingray's shape was a gamechanger. Even today, the classic lines of this car continues to draw attention from passersby. The Vaterra version certainly captures this striking appeal. Accurately recreating the bold curves of the original, the RC Corvette has true street cred. Similar to the 1967 Mustang, this Vaterra RC car comes with the V100-S chassis and a Dynamite power system.  You will also notice the great scale details of in this vehicle, including low-profile tyres, brake discs and calipers. This is certainly an RC car for the ages!

The next car in the Vaterra garage is the 1969 Camaro. Epitomising all that was good in the year of its creation, the original Chevrolet Camaro was sheer muscle. Vaterra have done a fabulous job of giving the RC version the same bold appearance with performance to match. The RC Carmaro SS comes with metal shaft-driven 4WD, large diameter wheels and waterproof electronics. It comes ready-to-run with a Spektrum DX2E transmitter and batteries included.
Modern RC Cars

Let's fast-forward several decades and have a look at a more modern American car (which you may recognise from the Transformers movies)! The 2012 Chevrolet Camaro is a beautiful model which maintains the striking appearance of its 1960s forefathers. True to form, Vaterra have recreated this modern incarnation with great skill. This remote control Camaro comes with sealed differentials, a motor guard with cooling vents and wider rear tyres for better grip. In terms of on-road performance, this RC car delivers. Whether you are dragging or crusing, the 2012 Camaro is unmissable.

If you consider yourself to be more of an enforcer than a rule-breaker, this next car is for you! The Vaterra 2012 CHP Camaro is modelled on the 585hp Camaro ZL1 and features details that are inspired by the recognisable vehicles used by the California Highway Patrol. These include a CHP push bar and an LED flashing light bar. Even the trim scheme has been officially licensed by the CHP. This car certainly has quite a pace! It boats a Dynamite 15T brushed power system and NiMH battery. As with the real CHP cars, it is unwise to try and outrun this Vaterra RC car!

For the final remote control car, let's look at the very latest offering from both Chevrolet and Vaterra! The 2014 Corvette Z51 Stingray has been named 2014 North American Car of the Year. It is only fitting, therefore, that Vaterra created a remote control version for the most ardent Chevrolet fan (or fans of beautiful cars in general)! The 2014 Corvette RC car comes with a Dynamite 540-sized brushed motor, adjustable shocks and shaft-driven four wheel drive. If you want to be at the cutting edge of driving, this Vaterra Corvette is for you.
We hope you have enjoyed looking at these All-American RC cars from Vaterra. Whether you like the classic or the modern (or perhaps both), you can be rest assured that these Vaterra cars will deliver on performance time and time again.